Coachella hasn't had a lot of Latin music. That changes this year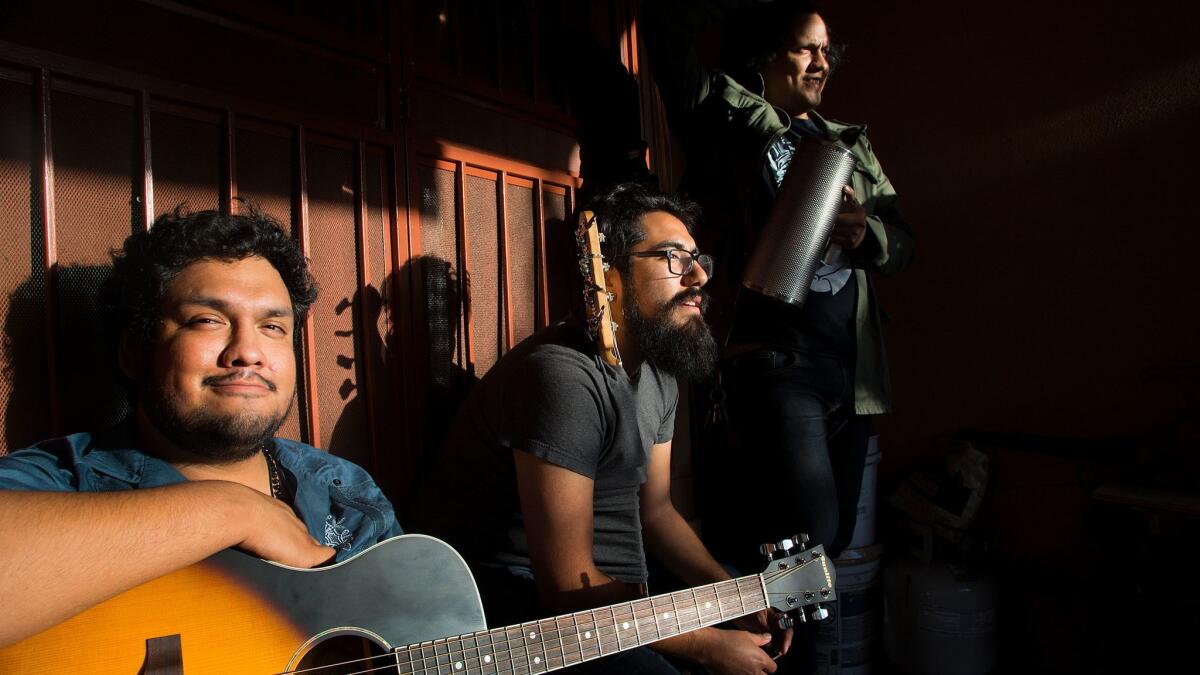 Since it emerged out of the alternative rock scene in 1999, the Coachella Valley Music and Arts Festival has featured many acts spanning hip-hop, folk, EDM, pop, heavy metal and classic rock.
Yet one style of music has long been underrepresented on the grounds of the posh Empire Polo Club in Indio: Latin music. That changes this year.
Coachella's 2017 roster includes the highest volume of Latino and Spanish-language bands in its 18-year history. Given Southern California's demographics, some might say this is a long time in coming, especially when one takes into account that the actual city of Coachella is more than 96% Latino or Hispanic.
"I thought we existed outside of what Coachella had to offer," said Daniel Gomez of Inland Empire band Quitapenas. "But things are changing. The gatekeepers are looking more like us."
With President Trump pledging to build a wall along the southern border and Latino communities being shaken by an uptick in Immigration and Customs Enforcement raids, artists say that building bridges between the English-speaking Coachella crowd and Latino communities presents real-world opportunities.
Jorge Avila of the Los Angeles-based Qvole Collective, a booking and artist management company focused on what it calls "the black/brown avant garde," describes the climate as "the perfect storm of circumstances."
"There's an urgency for us to come together," he said. "Our place here is literally being threatened. People are getting deported."
The shift in direction at Coachella caught many by surprise — even U.S. immigration agents.
Last month members of Argentine guitar band Las Ligas Menores (The Minor Leagues) learned that their work visas had been denied. U.S. immigration officials had never heard of the Spanish-language quintet and required documentation of its popularity.
It wasn't enough that the band presented a signed contract or that the band's name was on the Coachella festival poster. "VISA 911," read a desperate email from keyboardist Nina Carrara to a reporter on the day the band received the bad news.
"They asked us to present evidence such as newspaper clippings, YouTube videos, awards (we never got any...), old contracts, letters of recommendation of acclaimed artists. And we did, but apparently they need more," Carrara explained.
The band filed an appeal and, 10 days before the start of the festival, the visas were approved. (As part of the appeal process, The Times supplied a letter confirming that it had interviewed Las Ligas Menores about the band's Coachella booking.)
One of the gatekeepers responsible for giving the band its chance at the festival is 25-year-old promoter Rene Contreras, who is also making his Coachella debut. He was in an economics class at Cal Poly Pomona, when he was contacted by Goldenvoice, a division of AEG, to help anchor a new Coachella stage dubbed the Sonora.
"It all started with a text from him, while I was sitting in class," Contreras wrote via email from the Coachella grounds on Wednesday, referring to festival architect Paul Tollett.
Tollett described his idea for the Sonora stage, recalled Contreras, "and told me I had full creative control over it. It personally took me about two weeks to process everything that was happening."
Not that Contreras lacked the experience. The first-generation Mexican American founded the annual Viva! Pomona music festival in 2011. It has since grown into a must-see event that celebrates the blurred-line bilingualism of Southern California's underground music scene.
Contreras' musical epiphany occurred when he and some friends road-tripped a few years ago to Tijuana for the All My Friends Music Festival.
"When I got there I was amazed on how much we all had in common with the crowd that lived across the border and on how we were so unalike but loved similar things," he said. "Here I discovered newer bands and was exposed to a new culture of progressive creative ideas."
Among those booked for Coachella are Boyle Heights cumbia-punk band Thee Commons; Argentine expat Tall Juan; Colombian rock group Diamante Electrico; Mexico City punk band Los Blenders; and Providence, R.I., band Downtown Boys, a self-described "bi bilingual political dance sax punk party."
We're an economic force to be reckoned with and now they understand that,
— David Pacheco, co-founder of Thee Commons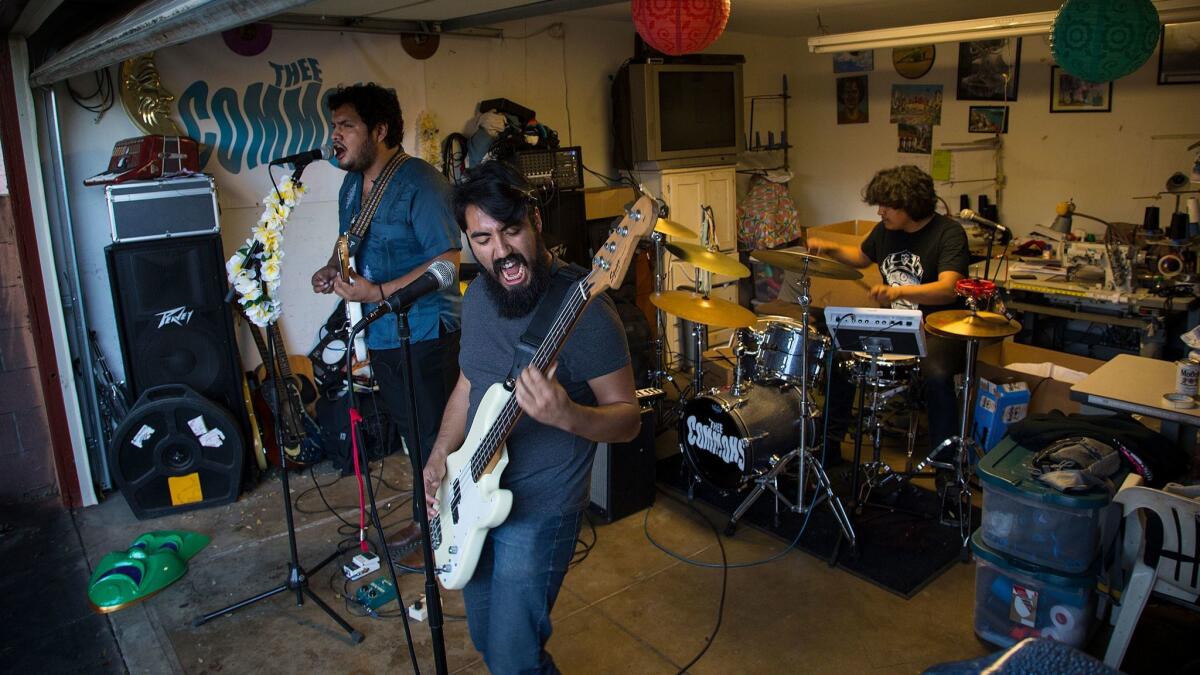 Add in the ascendant Los Angeles band Chicano Batman, which will perform at Coachella for a second time, the returning Venezuelan American singer-songwriter Devendra Banhart and the Spanish band Hinds, among others, and there's a clear Latin bent among the more than 100 acts that will perform at the festival, which launches Friday and repeats again next week.
"It's just a good, positive indicator that we're an economic force to be reckoned with and now they understand that, to a certain extent," said David Pacheco, co-founder of Thee Commons.
He calls the political climate and increased awareness of deportations "an unintended spotlight. Obviously there's a bad side, but on the plus side we now have more attention to say something and do something meaningful."
Quitapenas' David Quintero said, "Our parents are from Mexico and we're first generation, so we grew up around a lot of Mexican folk music. But since we're from Southern Cali we're into a lot of different kinds of music."
Although they listened to a lot of English-language music, they opted to sing in their native tongue, Gomez said, as "a way for us to be creative in a different way, and try and say something that maybe we hadn't heard growing up."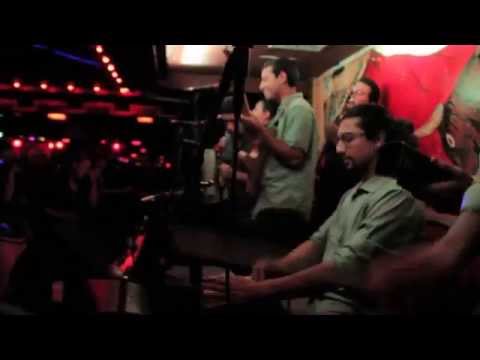 Things are changing. The gatekeepers are looking more like us.
— Daniel Gomez, Quitapenas
For the Boyle Heights band Thee Commons, which will close out the Sonora stage on Saturday, their direction was set after discovering the influential 2007 collection of Peruvian guitar music, "Roots of Chicha: Psychedelic Cumbias from Peru, Vol. 1," said David Pacheco, who founded the band with his drummer-brother Rene.
It was their father who suggested they might like classic Mexican cumbia as well.
Because of the music's foundations, singing in Spanish was a given but not a requirement, David said. "It just naturally flows just to sing in Spanish. We have some songs in English as well. It's just whatever feels right."
Carrara of Las Ligas Menores says that many Argentine bands face a similar dilemma.
"There are many bands in South America that think that to be popular you have to sing in English, because it's what the masses think," she says. "But for us it is really important to sing in our native language. It's who we are."
For tips, records, snapshots and stories on Los Angeles music culture, follow Randall Roberts on Twitter and Instagram: @liledit. Email: randall.roberts@latimes.com.
ALSO
What will Lorde and Kendrick do? Will open arms greet Lady Gaga? Let the Coachella speculation begin
With his new show 'Close,' Richie Hawtin will DJ without his decks at Coachella
Aimee Mann on how she allowed herself to 'roll around' in the biggest stereotype about her music
Get our L.A. Goes Out newsletter, with the week's best events, to help you explore and experience our city.
You may occasionally receive promotional content from the Los Angeles Times.