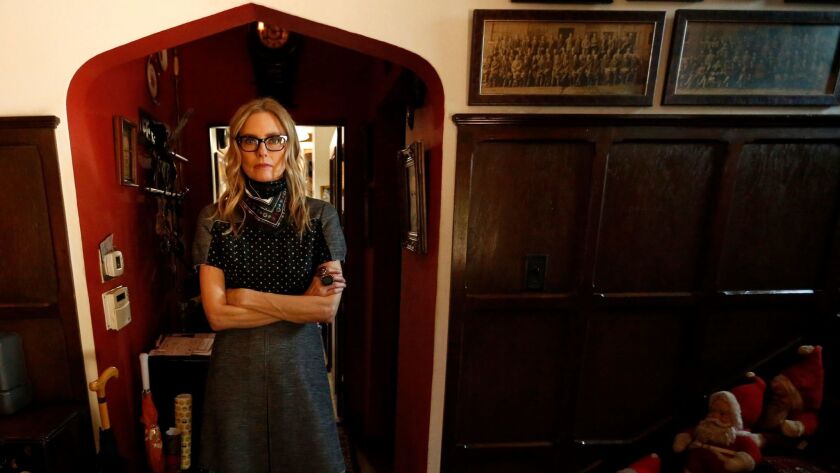 The Los Angeles songwriter Aimee Mann will issue her new solo album, "Mental Illness," on Friday. The 11 new ballads, waltzes and weepers — from one of the most acclaimed songwriters of her generation — resonate through lines and rhymes that capture characters drowning in hard emotions.
Last month The Times sat down with Mann at her home in Los Feliz to talk about the inspiration for "Mental Illness," writing in tumultuous times and doing so while listening to soft rock and Miles Davis' "Kind of Blue."
Here are excerpts from that conversation, edited for length and clarity.
In the advance notes for "Mental Illness," you mentioned that you decided to embrace a cliche that you thought people had of you as a writer of depressing songs.
Honestly, I think that's my manager's brief on me probably more than other people, because he's always anxious about trying to get me to write more uptempo stuff.
But my own interest in music, and my relationship to music is, sad songs or introspective songs or songs about emotionally complicated things, I just love that. That's really interesting to me. I didn't like anybody more than Elliott Smith. That was some dark stuff but you felt ... I don't know.
Emotional honesty is uplifting, and it doesn't really matter what the emotion is.
Aimee Mann
Here's why: Because emotional honesty is uplifting, and it doesn't really matter what the emotion is. It's just uplifting, so that's how I approach it. Writing these songs is never depressing for me, and I don't think you can write out of a position of depression anyway.
I mean, you can be sad, but that's not the same thing. Depression is kind of like the act of trying to suppress a feeling, so it's not really conducive to writing.
So I just thought, take the cliche — or what I think is my stereotype — and just allow myself to roll around in it, because, honestly, that's what's most fun for me anyway. I like writing songs. I write songs on acoustic guitar. I like keeping stuff really simple, and it's more fun playing live when things are really simple. I think that's more the music I grew up on, like Neil Young's "Harvest," that kind of thing.
A voice and an acoustic guitar — I like the simplicity of that. But then, of course, Paul Bryan, my producer, comes in with all these stringed charts, and they were so great.
I love that about the album.
The strings are really lovely.
Did Paul pitch that idea to you?
He did pitch it a little bit. It's not that I objected to the idea of strings, but I really wanted to try to keep it simple, so I was very wary of adding anything.
I listened to his arrangements, and some we went through and tweaked a little bit. But one thing I was impressed with was that each song gets a different treatment. The last song on the record, "Poor Judge," gets the real Paul Buckmaster/Elton John treatment.
Other songs might just be a string quartet or mostly a cello in a verse or two, and then a swell of violins on the bridge. Each song definitely uses the strings in a different way, so it doesn't just sound like strings, strings, strings. That was something I kept in mind.
And in the rare moments when there's percussion, it really jumps out.
Oh yeah, well, Jay Bellerose is the drummer and he's the most instinctive, musical nondrummer — in that he's not attached to playing a drum kit. He's got a whole collection of weird percussion and drums and mallets. He just really listens to it and kind of fit in what he thinks is.
It was an interesting thing with "Patient Zero," because I had this story about a guy who comes to Los Angeles, was promised a part in this movie and then he kind of gets betrayed. And the picture I had was the grid of L.A. with the traffic moving through it like blood through veins.
I'd just seen the movie "The Fantastic Voyage," where a vessel gets shrunk and they go into a person's veins. And [Bellerose] was playing percussion — that's what his percussion sounded like. He said that he got that same image, too. It was just really interesting where everybody's instincts really lined up.
Do you talk about lyrics with the band as you're working on the record?
Not really.
What about themes?
Maybe themes or a feel. It depends. Like, in "Good for Me," in the in the bridge, I wrote that because I kept having this image of a helicopter with a spotlight — that's probably living in Los Angeles, too — with, like, the searchlight kicking up dust. And that became written into the lyrics with an image.
I wanted the strings to echo that; I wanted to have, like, that swirling thing. So that sort of stuff gets incorporated sometimes. But, you know, you don't want to be the person who's like, "This needs to be more violet. I need a swirly, cloudy ..." [Laughs.] I'm not above saying stuff like that. I probably do.
The other thing that surprised me was your mention of Bread and Dan Fogelberg as inspirations. I came up in punk rock, so I learned to hate that music growing up.
I know, right? That stuff was the un-coolest. And I think when I was a kid, I was like, "This is pretty, but at the same time, boy is it soft." I liked soft and it was like a little too soft for me.
And then Ted Leo and I — we have a band together, the Both — when we were on tour, we started listening to "The Best of Bread," and we were like, "Oh my God, this is so good." The sounds are so good. David Gates' voice is so beautiful and it's so unashamedly soft and round, like a soft underbelly exposed. In fact, all his songs are like, "I'll wait around for you. Whatever you need. I'll be here."
I think they call that a 'cuck' now.
I know, right? These days. But I really appreciate it. In a way it's really balls-out. Like, "Yeah, I'm just going to wait. You're wonderful and I'm going to wait around for you. You do whatever you have to do." No shame. Just saying it soft and proud — soft and not loud.
It keeps your mind occupied and soothed — music from before the time when democracy was crumbling.
Aimee Mann on listening to Miles Davis' "Kind of Blue"
Are you a disciplined songwriter? What's your process?
I started to get disciplined for this record when I decided I was going to make another record and needed to write songs.
My method is that I say, "OK, 15 minutes every day, sit down with a guitar. Maybe listen to old work tapes and see if there's any ideas there. Maybe you'll just strum some chords. When 15 minutes is up, put it down and you're done."
It doesn't matter, because if you come up with something, then you're off and running and you can work as long as you feel like. But just put in that 15, because it's not going to happen if you don't pick up the guitar.
Inspiration is not going to come when you're walking around the neighborhood or watching TV. If it does, well then, you blew it because you didn't have a guitar. So you have to at least just show up.
I found that that sort of takes the pressure off, because it's like, "Sure. Fifteen minutes? I can do that." And then there are times where I come up with something and work happily till it is done.
Do you listen to a lot of music?
You know, I don't listen to a lot of music. I'll kind of get on a jag. Bread was really a jag, and then I would just listen to Bread radio on Pandora. I've been on a real Steely Dan thing for the last year.
Since the election, all I listen to is jazz. Like a soft, Miles Davis "Kind of Blue" vibe because I've just been so anxious. I'm just doing crossword puzzles and listening to jazz.
That's the only thing that can calm me down — like, audible Xanax. It keeps your mind occupied and soothed — music from before the time when democracy was crumbling.
For tips, records, snapshots and stories on Los Angeles music culture, follow Randall Roberts on Twitter and Instagram: @liledit. Email: randall.roberts@latimes.com.
---