What will Lorde and Kendrick do? Will open arms greet Lady Gaga? Let the Coachella speculation begin
With Coachella around the corner, many questions still linger. (April 7, 2017) (Sign up for our free video newsletter here http://bit.ly/2n6VKPR)
As the Coachella Valley Music and Arts Festival approaches, devoted music fans have been in the midst of another rite of spring: speculating on what's going to happen when the music starts.
In years past, after all, we've paid witness to Roger Waters' flying pig and Arcade Fire's glowing orbs. Tupac Shakur came back from the dead — in the form of a hologram-like concoction.
Chance the Rapper's 2014 first-weekend debut saw Justin Bieber pop by for a cameo. In 2007, an unknown Amy Winehouse established a stateside presence during a sunset performance in the Gobi tent. Portishead followed by Prince in 2008? Epic.
These kinds of moments often arrive without notice but immediately become touchstones. What follows is a rundown of questions and story lines to watch during the annual Indio festival.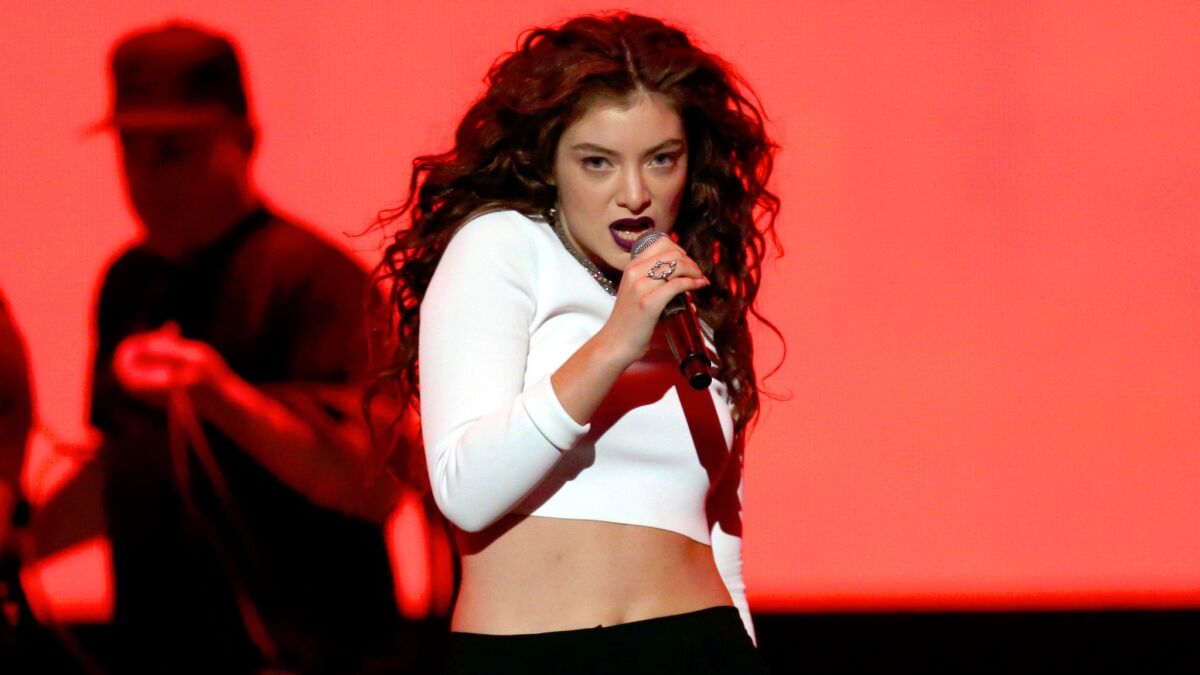 How will Lorde mark her return? Aside from a few TV performances, the New Zealand singer hasn't done a full major concert since the end of 2014. That will change at Coachella, where Lorde will return in advance of her forthcoming album.
How many guests will DJ Khaled have? The producer, hitmaker and Snapchat star seldom does solo tracks, so who will grace his stage? Will T-Pain arrive with Ludacris, Snoop Dogg and Rick Ross for "All I Do Is Win?" Khaled's previous album, "Major Key," featured Drake, Nas, J. Cole, Jay Z and Kanye West, so there's that. Rappers Future and Travis Scott are on the record. They'll already be in Indio, so that's a no-brainer. Expect fans to flock to Khaled's set to find out.
What's with the new acreage? This year the Coachella grounds will be larger than ever, with more room and potentially more people. Indio last year gave Goldenvoice the green light to gradually up capacity from 99,000 to 125,000. More people means bigger grounds — specifically, the line of performance tents that includes the Gobi, Sahara and Mojave will be pushed east. How will the new space — and bodies — affect the vibe?
How will attendees respond to Lady Gaga? Coachella and mainstream pop music make for strange bedfellows. Long lauded for its adventurous rosters, the festival seemed to cross a threshold when it booked pop superstar Beyoncé. After she canceled, Gaga was announced as the replacement. What's next, Maroon 5? How fans react during Gaga's set could help shape future bookings.
Hans Zimmer, film composer, Coachella star? Best known as the composer of scores for blockbuster movies including "The Dark Knight," "Inception," "The Da Vinci Code" and dozens of others, Zimmer has created work that's reached as many ears as Lady Gaga's. His booking at Coachella raised a few eyebrows. What will he do with his platform? Will a Batmobile be involved?
Where will the Beyhive swarm? With their queen at home resting in anticipation of future twins, many of Beyoncé's obsessed fans in the Beyhive who bought tickets will be without direction. Where else will they swarm? Or maybe they'll be at Lady Gaga's gig with their backs turned to the stage?
What will Kendrick do? As headliner, rapper Lamar will be making his Coachella mainstage debut, and will do so shortly after the release of new material. How will he seize the moment? Will he land onstage with label-mate Schoolboy Q for "Collard Greens"? Will bassist Thundercat be involved? Please?
Is Marshmello the next mega-star? Depending on your EDM preferences, the anonymous producer Marshmello is either an entertaining purveyor of hardened beat music or the dumbest thing to happen to electronic dance music since Pauly D of "Jersey Shore" took to the decks. The dude, who is signed to Skrillex's OWSLA imprint, performs in a mascot-style outfit that looks like the Stay Puft Marshmallow Man with a white bucket on his head, and the kids eat it up. Will Coachella make him a superstar?
Where will Ariana Grande show up? Rapper Mac Miller and pop star Grande are an item, so there's a good chance she'll be at the polo field. While there, will she land onstage with Future to perform "Everyday"? Will her beau invite her onstage to do "My Favorite Part"?
Will any of the international acts be denied entry? With immigration issues front and center at U.S. borders, musicians will be arriving from Argentina, Colombia, Australia, Germany, New Zealand, England and elsewhere. Will the current political situation cut into Coachella's international flavor?
For tips, records, snapshots and stories on Los Angeles music culture, follow Randall Roberts on Twitter and Instagram: @liledit. Email: randall.roberts@latimes.com.
ALSO:
Metallica, the Who, Gorillaz top 2017 Outside Lands lineup
At the Desert Hearts festival, a chance to escape life and start over
Skipping Coachella? YouTube will once again livestream some of the action
---
Get our L.A. Goes Out newsletter, with the week's best events, to help you explore and experience our city.
You may occasionally receive promotional content from the Los Angeles Times.