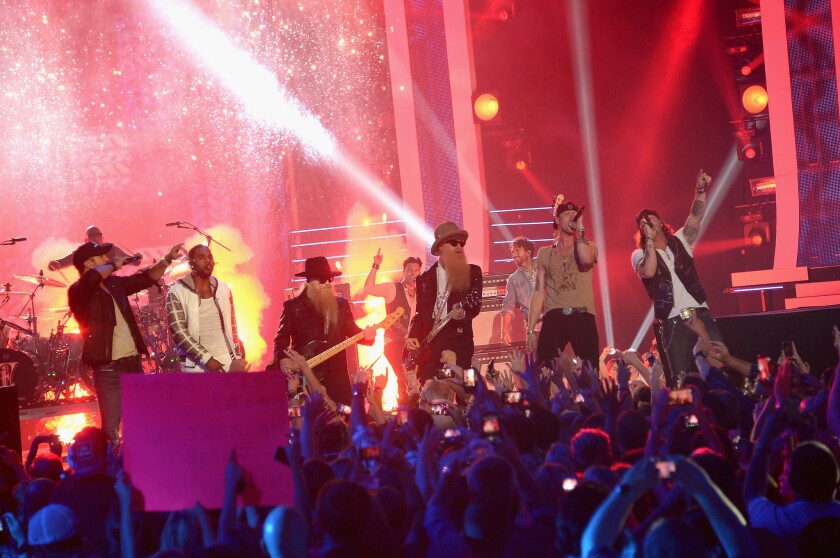 Why can't "Grammy moments" be this much fun?
At Wednesday night's CMT Music Awards, the country network took a page from the Grammy Awards by grouping a handful of seemingly disparate acts for a one-time-only collaboration -- the kind of performance the Recording Academy refers to proudly with the aforementioned phrase.
But where the more established show too often plays it safe with these mash-ups -- think of this year's snoozy Sara Bareilles/Carole King pairing -- CMT scored Wednesday by going delightfully, almost comically overboard.
The bit in question begins with ZZ Top doing its deathless boogie-rock hit "La Grange" -- always a welcome sight.
Then, after about two minutes, the lovable lunks of Florida Georgia Line appear out of nowhere and steer "La Grange" into "This Is How We Roll," the duo's own collaboration with Luke Bryan, who -- surprise! -- shows up to sing and gesture at people enthusiastically.
At this point everybody appears to be having a heck of a good time (except for maybe Billy Gibbons and Dusty Hill of ZZ Top, who've more or less disappeared).
But if there's one thing Bryan and Florida Georgia Line know how to do, it's pump up a party that's already pretty well pumped.
So that's when Bryan introduces Jason Derulo, of all people, and the whole crew starts singing Derulo's "Talk Dirty" while country stars such as Jake Owen and the lady from Lady Antebellum look on with astonishment and/or jealousy.
It's loud, it's lewd, it makes no sense at all -- in other words, the ideal awards-show moment.
---