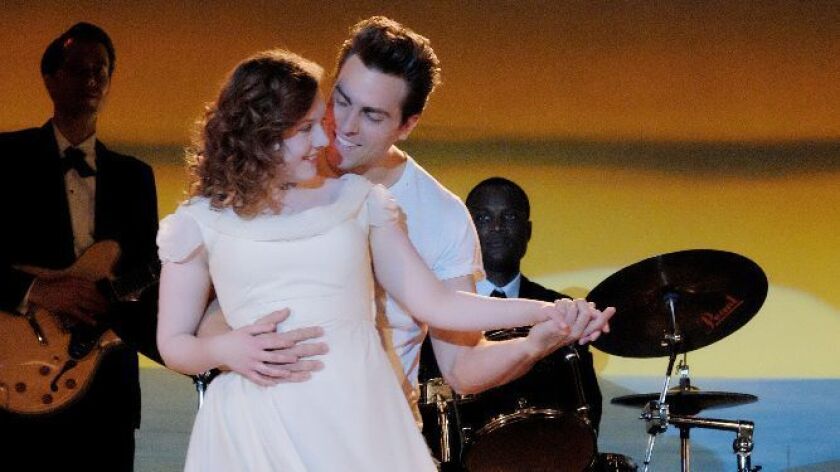 SUNDAY
Cher — the one and only — is feted as part of the "2017 Billboard Music Awards." Slated performers include Drake, Bruno Mars, Celine Dion, Lorde, Nicki Minaj and Miley Cyrus. 5 and 8 p.m. ABC
An abused woman takes her kids and goes on the run in the TV movie "Escaping Dad." With Sunny Mabrey and Jason Wiles. 8 p.m. Lifetime
------------------------
FOR THE RECORD
An earlier version of this post incorrectly listed the Grateful Dead documentary series "Long Strange Trip" as premiering Friday, May 26. It actually premieres Friday, June 2, on Amazon Prime.
------------------------
That girl is poison: "Downton Abbey's" Joanne Froggatt portrays Mary Ann Cotton, a real-life Victorian-era serial killer, in the thriller "Dark Angel" on "Masterpiece." 9 p.m. KOCE
I've got good news! That gum you like is going to come back in style. On a related note, David Lynch's dark and deliciously surreal 1990s-era mystery drama "Twin Peaks" returns as a limited series, with Kyle MacLachlan reprising his role as FBI agent Dale Cooper. 9 p.m. Showtime
Chef Joel Gamoran takes "Waste not, want not" to a whole new level by making delicious meals out of "Scraps" in this new series. 10:30 p.m. FYI
MONDAY
The new special "Princess Diana: Her Life — Her Death — The Truth" says goodbye to England's rose all over again. Gayle King hosts. 8 p.m. CBS
They'll be singing their lungs out on the two-night season finale of "The Voice." 8 p.m. NBC; also Tue., 9 p.m.
They'll be dancing their feet off on the two-night season finale of "Dancing With the Stars." 8 p.m. ABC; also, Tue., 8:30 p.m.
The squad weighs in on the Billboard Music Awards on a new "Fashion Police." 8 p.m. E!
"The Bachelor's" Rachel Lindsay is "The Bachelorette" this time around on the return of that reality series. 9 p.m. ABC
James Corden takes pop-music's Katy Perry for a ride in "The Late Late Show Carpool Karaoke Primetime Special 2017." 10 p.m. CBS
Sterling K. Brown ("This Is Us") goes "Running Wild With Bear Grylls" through the wilds of Colorado on the celebrity outdoor-adventure series. 10 p.m. NBC
"Independent Lens" presents "They Call Us Monsters," a documentary about violent juvenile offenders held in a Los Angeles lock-up. 10 p.m. KOCE
Michelle Williams and Matthias Schoenaerts find that all is fair in love and WWII in the romantic 2015 drama "Suite Française." Margot Robbie and Kristin Scott Thomas also star. 10 p.m. Lifetime
TUESDAY
Michaela Watkins is still keeping it "Casual" as the dramedy returns for a third season. Any time, Hulu
The new comedy "Downward Dog" moves to its regular night and time. With "Fargo's" Allison Tolman. 8 p.m. ABC
"Frontline" profiles Steve Bannon, one of President Trump's closest and most controversial advisors, in the new episode "Bannon's War." 10 p.m. KOCE
WEDNESDAY
See who outwitted, outplayed and outlasted whom on the "Survivor" season finale, followed by the usual reunion special. 8 and 10 p.m. CBS
Nobody puts Abigail Breslin in the corner in "Dirty Dancing," a star-studded remake of the romantic 1987 blockbuster about a young woman coming of age at a Catskills resort one memorable summer. With Bruce Greenwood, Debra Messing, Katey Sagal and "Modern Family's" Sarah Hyland. 8 p.m. ABC
"Law & Order: Special Victims Unit" ends it kajillioneth season with a two-part episode. 9 and 10 p.m. NBC
"Ghost's" Demi Moore puts in an appearance on the season finale of "Empire." 9 p.m. Fox
Arrr! An archaeologist surveys the waterlogged ruins of Port Royal, Jamaica, in the new special "Drain the Pirate City." 9 p.m. National Geographic Channel
L.A.'s new Wilshire Grand Center skyscraper is ready for its close-up in a sneak peek of the new series "Project Impossible." 10 p.m. History Channel
THURSDAY
"Arrow's" Stephen Amell and "Today's" Natalie Morales are among the celebs taking part in a special edition of "American Ninja Warrior." 8 p.m. NBC
"Name That Tune" gets a digital-age makover in the new series "Beat Shazam" hosted by Jamie Foxx. Then, sexy singles look for a "Love Connection" in a reboot of that dating show hosted by Andy Cohen. 8 and 9 p.m. Fox
Oscar winner Julia Roberts goes "Running Wild With Bear Grylls" in Kenya on a second new episode. 9 p.m. NBC
This year's "Red Nose Day" special includes a mini-sequel to the 2003 rom-com "Love Actually" that reunites original cast members Liam Neeson, Colin Firth, Hugh Grant, Keira Knightley, Laura Linney, Bill Nighy, Rowan Atkinson and "The Walking Dead's" Andrew Lincoln. 10 p.m. NBC
The cast of the Netflix sci-fi series "Stranger Things" — minus Barb, we assume — competes on a new "Lip Sync Battle." 10 p.m. Spike
FRIDAY
The twisted Florida-set family drama "Bloodline" is back for a third season. With Kyle Chandler, Linda Cardellini, Sam Shepard, Sissy Spacek and new cast members Mia Kirshner and Chloë Sevigny. Any time, Netflix
Brad Pitt plays a U.S. general who makes a mess of cleaning up the mess in Afghanistan in the 2017 satire "War Machine." With Anthony Michael Hall, Topher Grace, Tilda Swinton and Ben Kingsley. Any time, Netflix
Celebrity chef Jacques Pépin is the next famous foodie featured on "American Masters." 9 p.m. KOCE
SATURDAY
When a newborn absolutely, positively has to be there overnight, it's up to "Storks" to deliver in this computer-animated 2016 comedy featuring the voices of Andy Samberg, Jennifer Aniston and Kelsey Grammer. 8 p.m. HBO
A fertility doctor has the worst bedside manner ever in the 2016 thriller "Give Me My Baby." With Kelly Sullivan and Sofia Milos. 8 p.m. Lifetime
"Less Than Perfect's" Sara Rue plays a romance novelist who finds romance — bet you didn't see that coming — in the new TV movie "All for Love." 9 p.m. Hallmark Channel
---
Customized TV Listings are available here: www.latimes.com/tvtimes
Click here to download
TV listings for the week of May 21 - 27, 2017
---