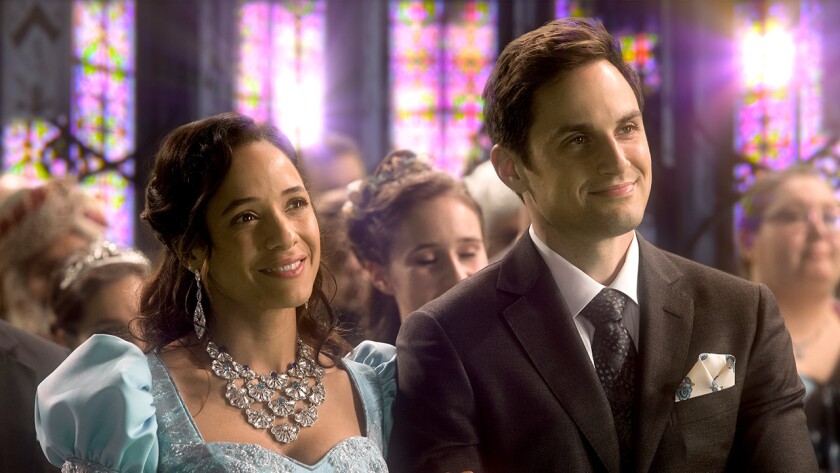 SERIES
Undercover Boss: Celebrity Edition Idina Menzel ("Frozen") goes undercover with a group of Broadway hopefuls in this new episode. 8 p.m. CBS
Blindspot Jane and Weller's (Jaimie Alexander, Sullivan Stapleton) pursuit of Roman (Luke Mitchell) leads them back to where it all started, in the season finale. David Morse, Gloria Reuben and Tori Anderson reprise their guest roles. 8 p.m. NBC
Once Upon a Time The fantasy-drama series ends its seven-season run with a finale that will reveal the fates of many characters. Alison Fernandez, Dania Ramirez and Andrew J. West star and former cast members Jennifer Morrison, Ginnifer Goodwin, Josh Dallas and Emilie de Ravin return for the final episode. 8 p.m. ABC
MasterChef Three finalists prepare for their last culinary challenge with a three-course meal as the centerpiece in the final. Host Gordon Ramsay and fellow judges Christina Tosi and Joe Bastianich select the winner. 8 p.m. Fox
Hawaii Five-0 A foreign submarine turns up near Waikiki, alerting McGarrett (Alex O'Loughlin) and the team to a spy operation in Oahu. Scott Caan, Chi McBride, Jorge Garcia and Beulah Koale also star in the season finale. 9 p.m. CBS
Life Sentence Stella and Wes' (Lucy Hale, Elliot Knight) plans are thrown disrupted by startling news in this new episode. 9 p.m. KTLA
American Masters This new special profiles actress Hedy Lamarr, whose pioneering work as an inventor became the basis for multiple modern technical advances, including cellular networks, Wi-Fi, GPS and Bluetooth. 9 p.m. KOCE
America Divided Diane Guerrero travels to Houston to witness the growing conflict over sanctuary cities, and Nick Offerman is in eastern Kentucky investigating the collapse of the coal industry and meeting some of those who are calling for change. 9 p.m. EPIX
Marvel's Agents of S.H.I.E.L.D. The ultimate fate of Agent Coulson (Clark Gregg) hangs in the balance as his colleagues have a decision to make that could cause the destruction of Earth in the season finale. Adrian Pasdar and Jeff Ward continue their guest roles. Ming-Na Wen and Elizabeth Henstridge also star. 9 p.m. ABC
Rellik This unconventional crime thriller reaches its conclusion by returning to the beginning. Richard Dormer, Jodi Balfour, Ray Stevenson, Paterson Joseph, Shannon Tarbet and Kieran Bew star. 10 p.m. Cinemax
ROYAL WEDDING
Royal Wedding Pre-Coverage The happy day is finally here, with marathon coverage on a number of news and entertainment channels. The ceremony is scheduled for noon, Saturday, in London (4 a.m. Pacific). CNN gets the ball rolling with "Royal Wedding Countdown" (7 p.m. through 1 a.m.) Prince Harry and Meghan Markle are featured in the Sky News documentary "Harry and Meghan: A Love Story" (8 p.m. KTLA). TLC airs profiles of Prince Harry (8 p.m.); bride-to-be Meghan Markle (9 p.m.); and a preview of the ceremony ( 10 p.m.). BBC America offers "Harry and Meghan: A Very Modern Romance" (9 p.m.). David Muir and Deborah Roberts cohost a special royal wedding episode of the news magazine "20/20" (10 p.m. ABC). The PBS series "Royal Wedding Watch," which has aired all week, concludes (10:30 p.m. KOCE and 11 p.m. KPBS).
The Royal Wedding of Prince Harry and Meghan Markle Live coverage begins at 1 a.m. CBS, KOCE, CNN and MSNBC; 1:30 a.m. NBC; 2 a.m. ABC, E!, Freeform, KMEX (in Spanish) and TLC; 3 a.m. KTLA; 4 a.m. BBC America
The Royal Wedding Live With Cord and Tish! Will Ferrell and Molly Shannon re-create the roles they introduced at the Rose Parade, providing a humourous look at the wedding, live from London. 4:30 a.m. HBO
Rebroadcasts and Highlights Taped coverage of the ceremony and festivities will air at more civilized hours on various channels Saturday, including 6 a.m. KMEX (in Spanish); 8 a.m. and 4 p.m. CNN; 9 a.m., 5 and 10 p.m. BBC America; 3 p.m. MSNBC. BBC America will also air highlights Saturday at 6 and 10 p.m.
MOVIES
Fifty Shades Darker Director James Foley's 2017 sequel picks up the kinky saga of Anastasia Steele (Dakota Johnson) and Christian Grey (Jamie Dornan) with the couple estranged. Eric Johnson, Kim Basinger and Bella Heathcote also star. 8 p.m. Cinemax
TALK SHOWS
CBS This Morning Keith Mills, chairman of the Royal Foundation of the Duke and Duchess of Cambridge and Prince Harry. (N) 7 a.m. KCBS
Today Broadcasting from Windsor, England. (N) 7 a.m. KNBC
KTLA Morning News (N) 7 a.m. KTLA
Good Morning America Countdown to the royal wedding. (N) 7 a.m. KABC
Good Day L.A. Chris Wallace; Grae Drake, Rotten Tomatoes; Dennis Quaid; The royal wedding: James McCourt. (N) 7 a.m. KTTV
Megyn Kelly Today The royal wedding. (N) 9 a.m. KNBC
Live With Kelly and Ryan Saoirse Ronan ("On Chesil Beach"); Rachel Bloom. (N) 9 a.m. KABC
The View Alyssa Milano; Erika Jayne. (N) 10 a.m. KABC
The Wendy Williams Show Dr. Miami and Jenelle Salazar Butler discuss surgically enhanced body parts. (N) 11 a.m. KTTV
The Talk Mary Steenburgen; Morena Baccarin; Carrie Ann Inaba. (N) 1 p.m. KCBS
The Dr. Oz Show Experts discuss research that may offer hope to people affected by Alzheimer's; Marcia Gay Harden. (N) 1 p.m. KTTV
The Doctors A school policy tells girls they can't say "no" when boys ask them to dance. (N) 2 p.m. KCBS
Steve Garcelle Beauvais, Kim Caldwell and Summer Sanders. (N) 2 p.m. KNBC
Harry Akbar Gbaja-Biamila and Matt Iseman ("American Ninja Warrior"); Lawrence Page ("Hustle & Soul"). (N) 2 p.m. KTTV
Dr. Phil A woman accuses her ex-husband of domestic violence and molesting their children. (N) 3 p.m. KCBS
The Ellen DeGeneres Show Jason Bateman ("Arrested Development"); the Lab performs. (N) 3 p.m. KNBC
The Real Ziggy Marley ("Rebellion Rises"). (N) 3 p.m. KTTV
Washington Week The first year of the Russia investigation: Kristen Welker, NBC; Devlin Barrett, the Washington Post; Mark Landler, the New York Times; Kelsey Snell, NPR. (N) 7 and 8 p.m. KOCE
Real Time With Bill Maher National security analyst Clint Watts; economist Dambisa Moyo; Evan McMullin; columnist Dan Savage; Bari Weiss. (N) 10 p.m. and Midnight HBO
Amanpour on PBS (N) 11 p.m. KVCR; 11:30 p.m. KOCE
The Tonight Show Starring Jimmy Fallon Sterling K. Brown; Willie Geist; Pete Lee. (N) 11:34 p.m. KNBC
The Late Show With Stephen Colbert Benedict Cumberbatch; Mary Gallagher. (N) 11:35 p.m. KCBS
Jimmy Kimmel Live Ryan Seacrest; Gillian Jacobs; Julia Michaels performs. (N) 11:35 p.m. KABC
Nightline (N) 12:37 a.m. KABC
Customized TV listings are available here: www.latimes.com/tvtimes
Click here to download TV listings for the week of May 13 - 19, 2018, in PDF format
---