What's on TV Saturday and Sunday talk shows: 'Planet Earth: The Hunt' on BBC America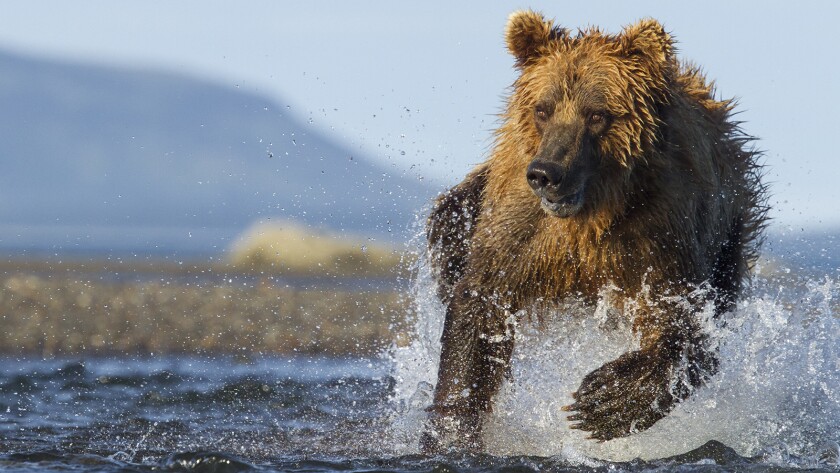 SERIES
Sesame Street Cookie Monster, Elmo and Chris are very excited to check out a new museum until the paintings begin to disappear and the guards suspect Cookie Monster of stealing the cookie art in the season finale. 9 a.m. HBO
Injustice With Nancy Grace The former prosecutor dives deeply into some of the most challenging and multilayered true crime stories, in this new documentary series. 6 and 11 p.m. Oxygen
Dr. Jeff: Rocky Mountain Vet Dr. Jeff returns from a free vet care clinic with a dog that was hit by a car. Also, Dr. Baier falls for a rescued puppy in this new episode of the unscripted series. 8 p.m. Animal Planet
Planet Earth: The Hunt BBC America continues its "Wild Summer" programming with this new documentary narrated by David Attenborough that takes an in-depth look at strategies used by nature's top hunters. 9 p.m.
SPECIALS
JFK Jr. and Carolyn's Wedding: The Lost Tapes This new special celebrates the lives and relationship of John F. Kennedy Jr. and Carolyn Bessette with an in-depth look at their wedding weekend with never-before-seen footage from the ceremony on Cumberland Island in Georgia. 8 p.m. TLC
2019 Christmas: A First Look Preview Special Hallmark leading lady Lacey Chabert hosts this early look at Hallmark Channel's holiday fare, which begins airing sometime around Halloween. With Larissa Wohl. 10 p.m. Hallmark
MOVIES
Fantastic Beasts: The Crimes of Grindelwald Eddie Redmayne returns as magizoologist Newt Scamander in a second entry in the "Fantastic Beasts" film franchise, a spinoff of J.K. Rowling's "Harry Potter" universe of stories. Set in 1927, this 2018 fantasy finds Newt pressed into service with Albus Dumbledore (Jude Law) to track down fugitive wizard Gellert Grindelwald (Johnny Depp), who escaped while being transported to stand trial for multiple misdeeds. Katherine Waterston, Dan Fogler and Ezra Miller also star. 8 p.m. HBO
Stalked by My Doctor: A Sleepwalker's Nightmare Eric Roberts returns to his role as creepy Dr. Albert Beck in this latest installment of the "Stalked by My Doctor" TV movie franchise. This 2019 entry finds the not-good doctor trying to keep a low profile while being sought by authorities for multiple earlier crimes. After waylaying a doctor en route to a new job at a sleep clinic, Beck takes his place and immediately starts putting the moves on patients. Emilie Ullerup and Angeline Appel also star. 8 p.m. Lifetime
WEEKEND TALK
SATURDAY
Good Morning America (N) 7 a.m. KABC
SUNDAY
Good Morning America (N) 6 a.m. KABC
State of the Union With Jake Tapper Immigration: Ken Cuccinelli, Acting Director of US Citizenship and Immigration Services. ICE Raids; 2020 elections: Presidential candidate Mayor Bill de Blasio (D- New York City) Panel: Rep. Nanette Barragán (D-San Pedro); Scott Jennings; Andrew Gillum; Amanda Carpenter. (N) 6 and 9 a.m. CNN
CBS News Sunday Morning The seamstresses who sewed the suits for Apollo 11; Colson Whitehead; breakfast; Michael Collins. (N) 6:30 a.m. KCBS
Fareed Zakaria GPS The Iran deal; Iran and the U.S.: Ernest Moniz. UK's ambassador to America resigns; Brexit: David Miliband. Israel: Thomas Friedman, the New York Times. LGBTQ rights in India: Human rights attorney Menaka Guruswamy; Human rights attorney Arundhati Katju. (N) 7 and 10 a.m. CNN
Face the Nation Mark Morgan, acting Commissioner of U.S. Customs and Border Protection. Sen. Dick Durbin (D-Ill.); former Sec. of Homeland Security Jeh Johnson. Jim Bridenstine, NASA. Author Douglas Brinkley ("American Moonshot"). Panel: Ben Domenech, the Federalist; Paula Reid; Toluse Olorunnipa, the Washington Post; Kelsey Snell, NPR. (N) 8 a.m. KCBS
Meet the Press (N) 8 a.m. KNBC; 3 p.m. MSNBC
This Week With George Stephanopoulos (N) 8 a.m. KABC
Fox News Sunday With Chris Wallace (N) 8 a.m. KTTV; 11 a.m., 4 and 11 p.m. FNC
Reliable Sources with Brian Stelter President Trump invites social media provocateurs and extremists to the White House; a preview of 2020: Jane Coaston, Vox; Samantha Vinograd, CNN; Robby Soave, Reason. Big Tech and bias: Renee DiResta; Oliver Darcy. Another Trump official resigns: Katie Rogers, the New York Times. Florida news outlets work together to Cover Global warming: Julie Anderson,the South Florida Sun Sentinel and Orlando Sentinel; Mark Katches, the Tampa Bay Times; Alex Harris, the Miami Herald.(N) 8 a.m. CNN
MediaBuzz (N) 8 a.m. and midnight FNC
60 Minutes Artificial intelligence; John Green; chef Massimo Bottura. (N) 7 p.m. KCBS
Richard Engel on Assignment "Made in China." (N) 7 p.m. MSNBC
SPORTS
European PGA Tour Golf Aberdeen Standard Investments Scottish Open, Third Round, 7 a.m. Golf; Aberdeen Standard Investments Scottish Open, Third Round, 9:30 a.m. NBC
PGA Tour Golf John Deere Classic, Third Round, 10 a.m. Golf; John Deere Classic, Third Round, noon CBS
Baseball The Chicago White Sox visit the Oakland Athletics, 1 p.m. FS1; the Dodgers visit the Boston Red Sox, 4 p.m. Fox; the Angels host the Seattle Mariners, 6 p.m. Fox Sports Net
NBA Summer League Basketball Quarterfinals: 1:30 p.m. ESPN; 3:30 p.m. ESPN; 5:30 p.m. ESPN; 7:30 p.m. ESPN2
For more sports on TV, see the Sports section.
Customized TV listings are available here: www.latimes.com/tvtimes
Click here to download TV listings for the week of July 14 - 20, 2019, in PDF format
---
From the Emmys to the Oscars.
Get our revamped Envelope newsletter, sent twice a week, for exclusive awards season coverage, behind-the-scenes insights and columnist Glenn Whipp's commentary.
You may occasionally receive promotional content from the Los Angeles Times.