Appreciation: Remembering the one-of-a-kind Jerry Van Dyke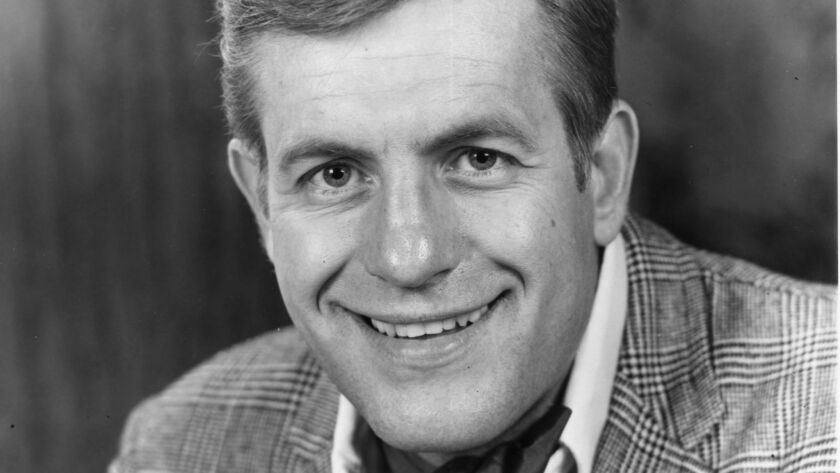 Television Critic
He was the younger brother of a more famous performer, but it is perfectly possible that Jerry Van Dyke was the sibling whose work you knew or liked best.
On and off television from the early 1960s to 2015, including eight seasons of "Coach" and a late-career recurring role on "The Middle," Van Dyke, who died Friday at age 86, may have shared a name and DNA with the star of "Bye, Bye, Birdie," "Mary Poppins" and, of course, "The Dick Van Dyke Show."
But he was an original, not a knock-off, funny and charming — funny and testy, later — in ways unmistakably his own.
The Van Dykes hailed from Danville, Ill., in the rural Midwest, and compared to Dick's bright-eyed, polished persona, Jerry kept something of the country about him — he was a dropper of Gs, a user of "ain't." His manner was softer than that of his older brother, sweet and sleepy and a little slow — boyish even when, in later years, his body had grown thick and creaky. Young and old, his comedy — much the same when he was being interviewed as when he was reading lines — was a tangle of unfinished sentences and abandoned thoughts, of enthusiasm tripping over hesitation.
Van Dyke began as a comedian while still in high school. He twice won the All Air Force Talent Show and traveled with the institution's Tops in Blue entertainment unit. Such details, along with his propensity to sleepwalk, were adapted into his first acting job, in 1962, as a guest on "The Dick Van Dyke Show," memorably playing Rob Petrie's shy, banjo-playing military-vet brother, Stacey. (It also gave him an opportunity, as other shows subsequently would, to perform bits of his stage act.)
The young actor was reportedly offered and turned down the role of Gilligan on "Gilligan's Island," which, after all, might have led to Bob Denver's career. The sitcom he did take, the short-lived reincarnation comedy "My Mother the Car," whose name perfectly explains its premise, is sometimes used to characterize television at its nadir — at times by Van Dyke himself. (I say "short-lived," but in the 1965-66 season, that was enough to produce 30 episodes.)
Watching it now, one would say it is rather strange — oddly Oedipal, to start — but not uninteresting, and Van Dyke is appealingly low-key in the role of the son whose mother is a car. (Co-creator Allan Burns, who claims it was a satire aimed at other supernatural comedies of the day, like "Mr. Ed" and "My Favorite Martian," later co-created "The Mary Tyler Moore Show" with "My Mother the Car" writer James L. Brooks.)
In the 1960s, Van Dyke came on as a good-looking, clean-cut, second-tier leading man type upon whom bets were repeatedly cast. He had parts in movies, including John Wayne's "McLintock!"; hosted a summer-replacement celebrity game show, "Picture This," in 1963; and the same year was a regular on "The Judy Garland Show" for its first 10 episodes. His notices for the Garland show were apparently bad, and he disappeared from the cast, but clips reveal him to be winning and natural — too natural for the time, possibly.
After "My Mother the Car," there was "Accidental Family" (1967), also short-lived, with the great Lois Nettleton, in which he played a nightclub comic and single father (again using his stage act). A show about a Las Vegas comedian may not have been the best fit, culturally, for the fall after the Summer of Love; it lasted only until January.
For whatever reasons, nothing connected.
In the 1970s and '80s, Van Dyke continued to work nightclubs and make television guest appearances — including two on "The Mary Tyler Moore Show," on which he once again played an aspiring comedian and where he kissed his brother's former television wife. (It will be a slightly disturbing moment for some of you.)
But it wasn't until ABC's "Coach" came along in 1989 that he found his defining, and longest-lasting role. As assistant football coach Luther Van Dam, a part written for him by series creator Barry Kemp and which offered Van Dyke plenty of space to bumble, he earned four Emmy nominations.
That recognition came late, when he was already in his late 50s, did not bother him.
"You make it older, it's easier, because you [don't] have to worry — I'd probably have screwed it up anyway if I'd made it," he told David Letterman in 1994. "But you make it as an older [person], then people know you as being older…. If I'd had made it earlier, people would say, 'Look how old he's got.' So I was old going in. I want to be like Walter Brennan; no one ever said, 'Walter Brennan's gotten old.' He was born old."
After "Coach," he embraced old, playing fathers and grandfathers and eccentric duffers, as a guest or recurring player on series including "Yes, Dear," "Teen Angel," "My Name Is Earl" and "Raising Hope." Best of all, and last of all, were his appearances on "The Middle" as Tag Spence, the father of Patricia Heaton's Frankie Heck.
Marsha Mason played his wife, and, closing a circle, Dick Van Dyke appeared as Tag's estranged brother in the 2015 episode "Two of a Kind" — also the title of the song the Van Dykes sing under the closing credits.
As a sentiment, it was sweet, and as a moment, moving. (It's Jerry's last performance, and the brothers' last work together.) But that title is misleading: There was Dick, and there was Jerry Van Dyke, and there was never any mistaking the two. Each was one of a kind.
Follow Robert Lloyd on Twitter @LATimesTVLloyd
ALSO
Jerry Van Dyke, comic actor known for TV's 'Coach,' dies at 86
Brothers Dick and Jerry Van Dyke clash in 'The Middle,' bond off-screen
---
The complete guide to home viewing
Get Screen Gab for weekly recommendations, analysis, interviews and irreverent discussion of the TV and streaming movies everyone's talking about.
You may occasionally receive promotional content from the Los Angeles Times.