Jerry Van Dyke, comic actor known for TV's 'Coach,' dies at 86
Jerry Van Dyke, the comic actor and younger brother of Dick Van Dyke who was featured in several TV series including "Coach" and "My Mother the Car, died Friday at his ranch in Arkansas. He was 86.
Van Dyke's wife, Shirley Ann Jones, told The Times on Saturday that her husband had been convalescing at their home for the past two years following a car accident. She said the couple were alone together at the time of his death at the 800-acre ranch they've owned for 35 years.
The actor discovered his comic ability early on, performing stand-up routines at his high school in Danville, Ill., where he was born on July 27, 1931. After graduation, he joined the Air Force in 1952 with his comedy act, twice winning the "All Air Force Talent Show".
His first big break outside the service came a decade later, when he scored a guest-starring role — playing his real-life older brother's brother — on CBS' "The Dick Van Dyke Show."
That role led to a contract with the network, where he became a series regular on "The Judy Garland Show" and hosted the game show "Picture This." He also starred in the short-lived but fondly remembered television series "My Mother the Car."
But Van Dyke would become best known for his co-starring role as assistant football coach Luther Van Dam, the scatterbrained, somewhat daffy assistant coach to Craig T. Nelson's college football leader. on ABC's "Coach," which aired from 1989 to 1997. The role earned him four Emmy nominations for supporting actor in a comedy series in the early 1990s.
"I never knew what success was like, or having a hit series, or even doing something good," Van Dyke told the Chicago Sun-Times in 1994. "Finally, I got a job that I enjoy doing, that's not hard to do — and I get paid a lot of money."
Nelson added in the same story, "What all this means to me is that old people with bad knees and a grizzly bear disposition can be funny, and more often than not can crack everybody up."
Van Dyke continued to act well into his 80s, starring as a grandfatherly curmudgeon on ABC's "The Middle" from 2010 to 2015. During his last year on the show, he and his brother appeared on the program together, playing estranged siblings.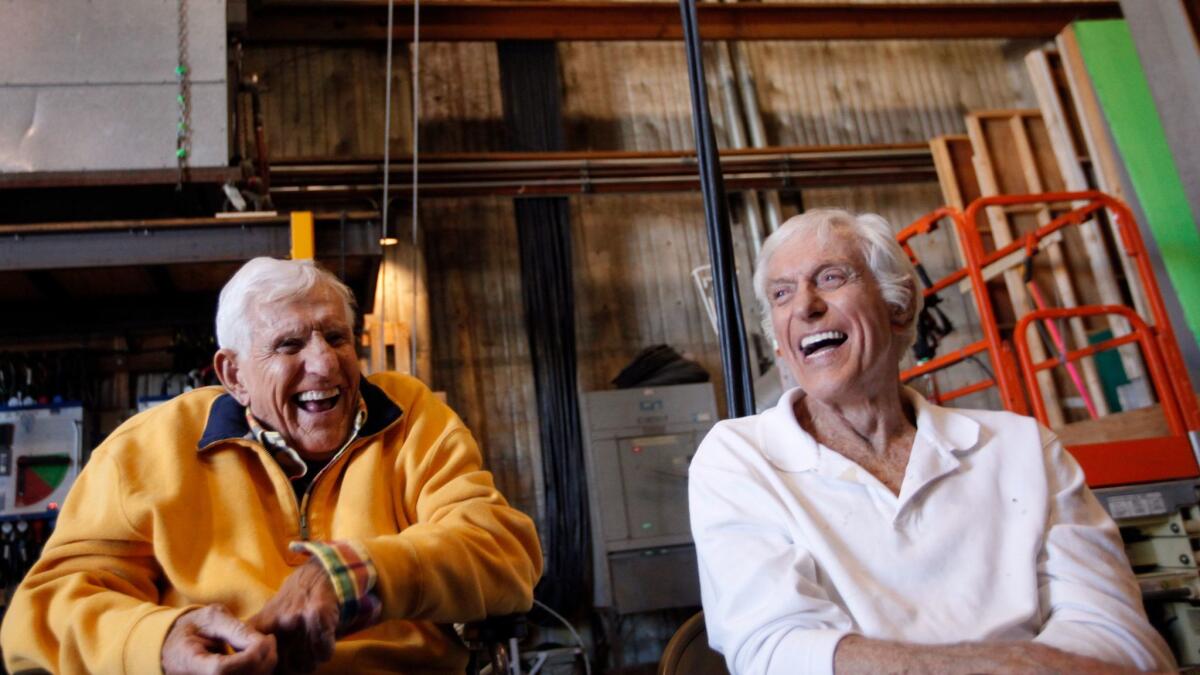 The two brothers weren't especially close during their youth, given their six-year age difference. But they'd strengthened their relationship in recent years, they told The Times during a joint interview in 2015.
"We are becoming closer," Jerry said. "I'm really getting to know him better at this age."
"It's because we have been working together more," Dick added.
"The nicer he is to me," Jerry joked, "the more I think he thinks I'm going to die."
Jerry Van Dyke is survived by Jones, who was his second wife, and children Jerri Lynn and Ronald. Jones said funeral plans were still in the works, but she intended to hold a memorial in Los Angeles for her husband's industry friends.
Follow me on Twitter @AmyKinLA
Get the Indie Focus newsletter, Mark Olsen's weekly guide to the world of cinema.
You may occasionally receive promotional content from the Los Angeles Times.