Television Critic
A Shakespearean history play for a history that hasn't happened yet, Mike Bartlett's 2014 blank verse drama "King Charles III" makes its way Sunday night to the PBS showcase "Masterpiece." As he did onstage in London and New York, Tim Pigott-Smith (who died suddenly a little more than a month ago) plays Prince Charles in the days after the death of his long-lived mother, the current and seemingly permanent Queen Elizabeth II.
That Charles' great frustrated desire has been to wear the crown his mother keeps from him is one of those things many people think they know, outside of British Commonwealth as well as in. And Bartlett's Charles does conform to that view, confessing, in an early address to the audience, that in his youth he imagined the Queen the victim of "a helicopter crash, a rare disease, so at an early age I'd be in charge, before me years of constant, stable rule."
But now that the day has arrived ("The Queen is dead is dead, long live the King, that's me"), disorder follows apace. The political event that sparks the drama — the new (though as yet uncrowned) king's opposition to a bill limiting freedom of the press — pits Charles against his Prime Minister (Adam James), Parliament and members of his family.
As written by Bartlett and movingly imagined by Pigott-Smith, Charles is heroic and hapless, eager to find actual meaning in the effectively meaningless job he's been raised for, a weak character whose sudden expression of spirit is potentially his undoing.
"For if my name is given through routine and not because it represents my view, then soon I'll have no name, and nameless I have not myself," he says of his refusal to be a royal rubber stamp.
By putting Charles on what most would consider the right side of the question, and suggesting that the voice of the people is not always a principled one, Bartlett protects his hero from buffoonery. Charles' worry that "once fragile politicians can, whilst claiming public sensitivity, go censoring what is writ or not, it will be easier to govern as corrupt than bother being held unto account" is, after all, familiar and timely.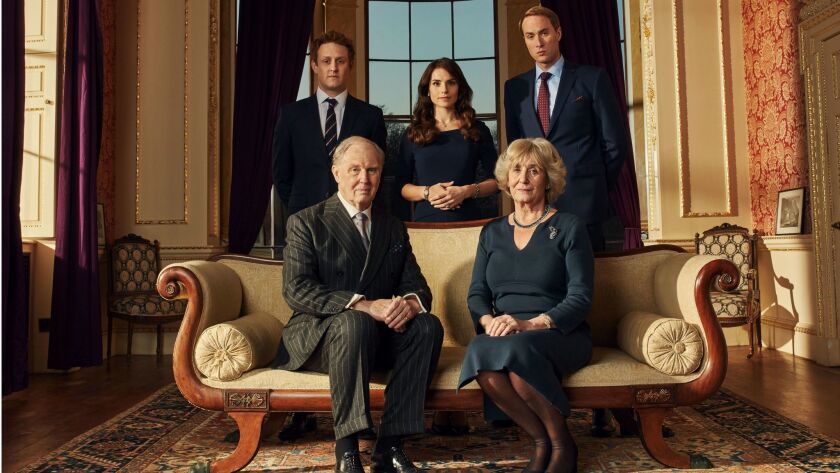 If "King Charles III" never quite escapes its ruling conceit, it nevertheless makes for a pleasurable experience. It allows fine actors to speak in iambic pentameter, the mightiest of all metrical lines, which confers a sort of dignity on any character that speaks it. It's a literary game, a character study, a meditation on the enduring power of Britain's powerless monarchy, and a Shakespeare pastiche that incidentally has the flavor of a modern-dress version of an actual Shakespeare play. Director Rupert Goold, who earlier directed the Ben Whishaw "Richard II" and Patrick Stewart "Macbeth" for television, gives the production a solemn weight that does not get in the way of the fun.
The real figures of the royal family easily fit into this neo-Elizabethan intrigue. Even the suggestion that Prince Harry (Richard Goulding) might be what the Bard would have called a bastard, conforms to the canon. (That he is involved with "a commoner," played by Tamara Lawrance, merely prefigures reality.) Diana (Katie Brayben) is here, too — as a prophesying ghost, of course — along with her successor Camilla (Margot Leicester) and royal couple William (Oliver Chris) and Kate (Charlotte Riley), called "the king and queen of column inches" and fashioned here into something to remind you of "Macbeth." Kate, for her large part, is not satisfied to be "a plastic doll,…. a male-created bland and standard wife whose only job is prettying the prince" and to "produce an heir — and spare."
One suspects that life within the family, though not without ambitions and resentments and Buckingham Palace intrigue, would remain more settled than this, even in a crisis. Yet, if events as they play out do not seem entirely likely, especially given the levels of official chaos the actual people of Earth have proved capable of tolerating, as imagined here they make for a smart, dark, amusing good time.
Follow Robert Lloyd on Twitter @LATimesTVLloyd
ALSO
Review: 'The Hollow Crown' on PBS a princely Shakespearean treasure
'The Hollow Crown: The Wars of the Roses' is bloody, muddy, loud and grand
---