How 'Outlander's' costume guru makes the show's historical fashion mash-up work so well for Claire and Jamie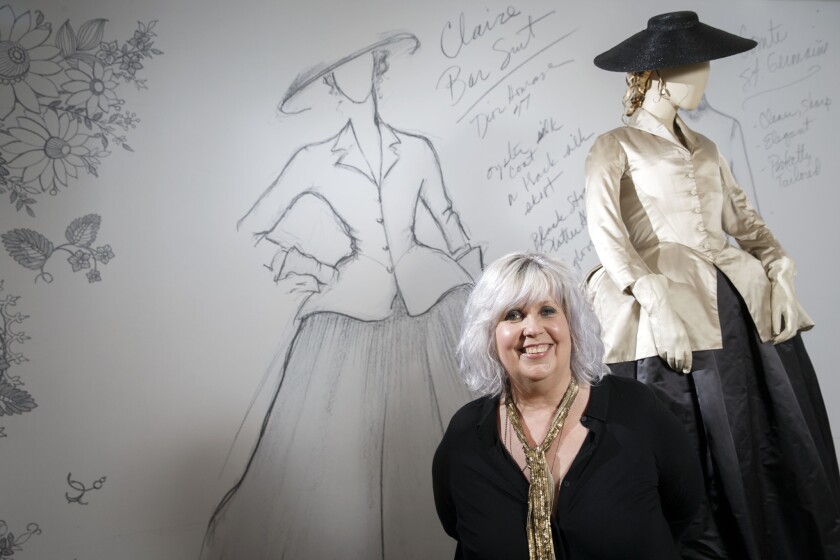 Terry Dresbach was expecting a bit more of a fuss from her family when she returned to the workforce after a hiatus of about a decade to become costume designer for the Starz hit show "Outlander."
"You don't seem any different than you ever were," her teenage son told her. "It doesn't seem to matter if you're putting on the Halloween carnival or working on a TV show. It sort of feels exactly the same."
Dresbach laughs at the thought. "I did my job too well," she says, from her home in Los Angeles.
We've caught the costume designer in a rare moment stateside. Most of her time these days is spent rattling around a 700-year-old house in the Scottish countryside, a necessity for the marathon hours required to design the wardrobe for one of the most elaborately costumed shows on television.
One reason she's returned home is to attend the opening of "The Artistry of 'Outlander,'" an exhibition at Beverly Hills' Paley Center for Media, where many of her elaborate costumes are on display this summer.
"Outlander," the historical epic adapted from a series of bestselling novels by Diana Gabaldon, pulled up its Scottish roots partway through Season 2, as protagonists Claire and Jamie Fraser played politics at Versailles, requiring Dresbach and her team to temporarily shelve the tartans of Scotland and create an entirely new wardrobe fit for a French king (and his court).
SIGN UP for the free Essential Arts & Culture newsletter »
Beginning a full year before filming on Season 2 began in Scotland, southern England and Prague (where some of the Paris scenes were shot), Dresbach's team crafted nearly 1,000 costumes for extras alone. The sheer number of costumes forced the designer to search for an answer for a very specific question: How do you produce that volume of 18th century clothes using contemporary mechanics?
The answer? Very carefully.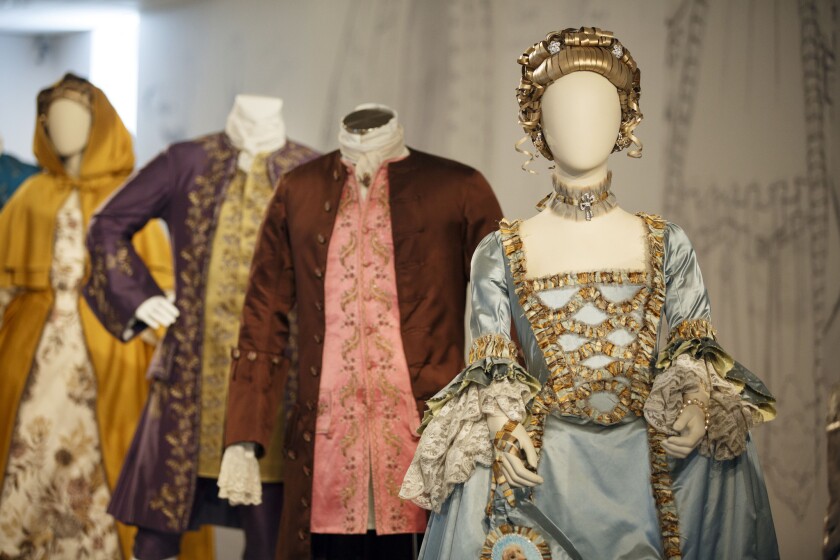 "Contemporary clothing manufacturers don't make period clothes," Dresbach explains. "We used wedding dress manufacturers. But to do so, we had to take period patterns and redraft them for modern manufacturers. It was quite the challenge."
If the devil is in the details, then the fashion of the French court is surely hell. For Dresbach there was no end to the fires she had to put out, hardly squaring away one aspect of garment production before another element demanded addressing.
"It's not just costumes, it's shoes. It's buttons. It's gloves. It's purses. It's petticoats. It is everything from the skin out," Dresbach says. "I'd say to my team, 'OK, guys, we need to make hats. Who's ever made hats before? No one? OK, let's all learn together.' The next week we were on to fans."
Sam Heughan and Caitriona Balfe talk about their Starz show "Outlander."
Dresbach gushes about her team like a proud parent, appropriate seeing as how many of her staff are recent college graduates. They are theater majors, sculptors, painters ... it takes all kinds to populate the "Outlander" costume department and Dresbach appreciates the vision brought by each individual.
"They bring an openness, an excitement," she says. "They're full of ideas and a willingness to go places and do things because they haven't done any of it before."
It's only upon seeing the garments up close that Dresbach's team of young artisans begin to make perfect sense. At "The Artistry of 'Outlander'" exhibition, fans can see many of the show's iconic costumes, most of them hand-dyed, many of them hand-painted, each an example of Dresbach's specific artistic vision.
Overseeing her team of nearly 100 individuals requires Dresbach to spend 75% of her time managing, a task that perhaps best exhibits her unique blend of Northern California communal sensibilities acquired during her childhood and unwavering self-assuredness.
She is not, however, she insists, a perfectionist.
"I think I'm very flexible. I never lock into something. There's always a million ways to do something."
For his part, her husband Ronald D. Moore agrees.
"I think she's an idealist," Moore says at the recent preview of his wife's work at the Paley Center event.
Moore, who also created and serves as show runner of "Outlander," would know. The couple met and fell in love while working on the HBO series "Carnivale," after which Dresbach largely retired and focused on raising their family. It was only at Moore's insistence that she agreed to return to work. He told her he couldn't imagine anyone else doing the costumes of "Outlander" justice.
"We have all these dog-eared copies of the book in the house, some of them so broken and bent that they've clearly traveled with her through the years," Moore explains. "She and I had talked about doing this for so long that I wouldn't have wanted to do it without her."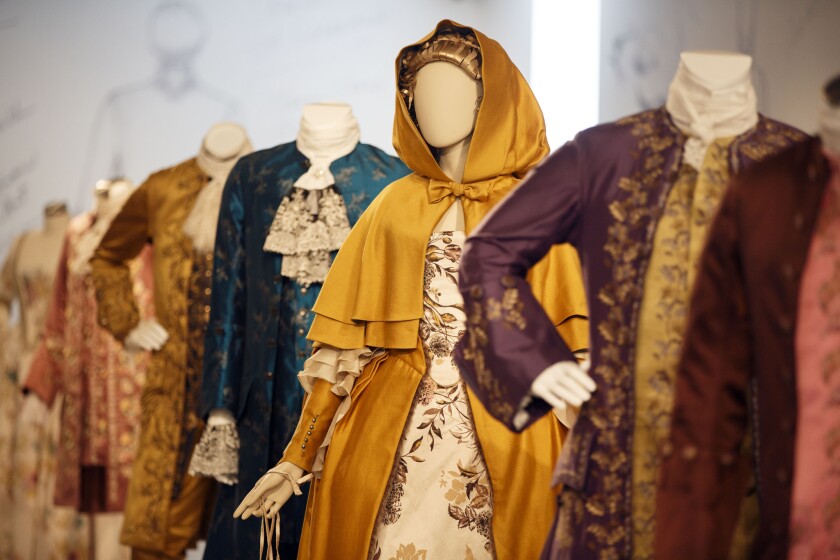 Dresbach's costume design choices spurred much conversation as the show's second season unfolded, particularly the decision to have protagonist Claire Randall Fraser, a woman who slips through time from a post-World War II world to 18th century Scotland, bring a unique '40s fashion sense to the French court. Of particular note was a signature look inspired by Christian Dior's iconic bar suit.
"Terry has such a passion for and innate knowledge of Claire. Watching her bleed that into her costumes and watching her design very much for character is always such a great thing," says Caitriona Balfe, who plays Claire. "I love the way she incorporated the 1940s, as it was this beautiful melding of two times, because that's who Claire is. She's a woman of two times."
Balfe says that Dresbach provides far more than just costumes on set. There's also plenty of comfort to go around.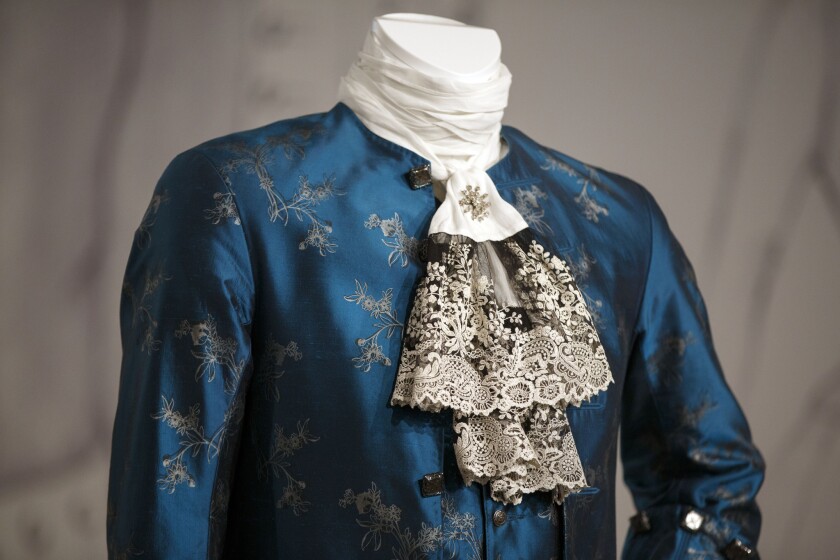 "Every time I can, I go and hide out in her office and we have a chat," Balfe says. "She's a mama bear."
And yet, Dresbach cautions, the crew isn't always one big happy family. Sometimes "you're having a fight with your husband at 2 a.m. because you made a costume he forgot to tell you wasn't in the script anymore," she says with a laugh.
The key, she says, is to keep her work brood fed and unified while she tries to keep her own family happy while she is away.
"I have a team of people who are still with me three years into this craziness," Dresbach says. "I can't really lose."
"The Artistry of Outlander: An Exhibit of Costumes and Set Design"
Where: The Paley Center for Media, 465 N. Beverly Dr., Beverly Hills
When: noon to 5 p.m. Wednesdays through Sundays through Aug. 14.
Admission: Free
Info: www.paleycenter.org
Follow me on Twitter @midwestspitfire
ALSO
How 'Nashville' and 'Jane the Virgin' have changed the conversation about postpartum depression
La Brea Tar Pits roar back to life as the Ice Age Hair Ball raises $650,000
Wolk Morais runway collection pays homage to L.A.'s well-heeled nightlife
Swiss luxury timepiece maker Patek Philippe unveils new watches in Beverly Hills
---