Have you seen the new Gucci? Thank its latest creative director and Beyoncé
Big statement sunglasses, grandma-chic pearls and pops of color mark the fall/winter looks from Gucci.
(Daniel Dal Zennaro / EPA)
A look from the Gucci fall/winter collection.
(Daniel Dal Zennaro / EPA)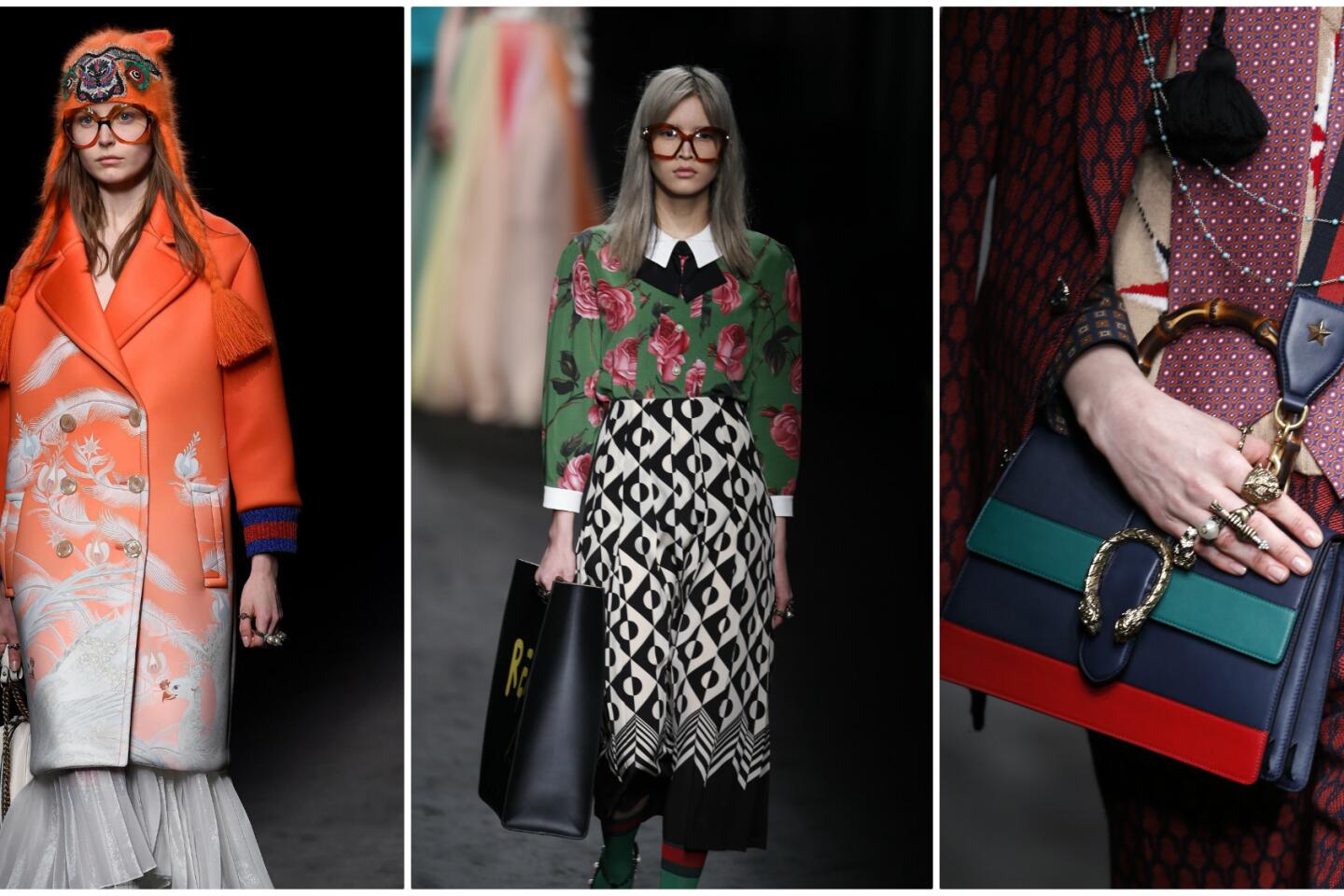 The fall/winter 2016 Gucci women's selections.
(Daniel Dal Zennaro / EPA, left; Luca Bruno / Associated Press, center and right)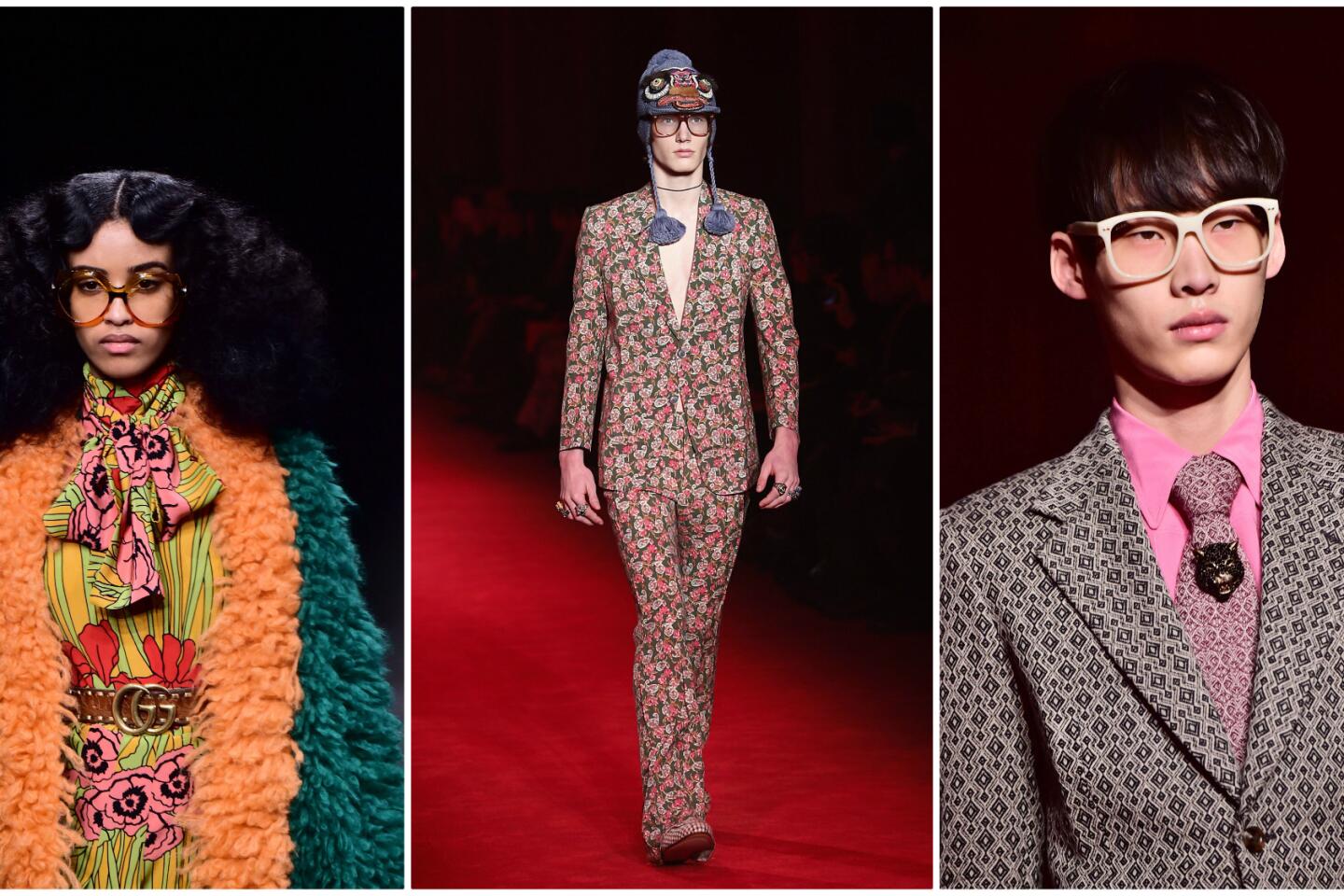 Gucci's fall/winter 2016 men's collection at Milan Fashion Week.
(Giuseppe Cacace / AFP/Getty Images, left and right; Antonio Calanni / Associated Press, center)
The Gucci women's collection on the Milan Fashion Week runway.
(Giuseppe Cacace / AFP/Getty Images)
The Gucci women's collection on the Milan Fashion Week runway.
(Daniel Dal Zennaro / EPA)
Gucci creative director Alessandro Michele greets the crowd after the presentation of the women's fall/winter 2016 collection during Milan Fashion Week.
(Luca Bruno / Associated Press)
We're living in a time when old things are consistently getting a second spin cycle. Think "Full House," "Baywatch," Cadillac and a Clinton for president. This reboot madness has spread to the fashion industry, which is going through the aches and pains of disruption in a technology-hungry world along with a high turnover of designers at major fashion houses.
One brand in the midst of a return to creative prominence is Gucci, the storied Italian fashion house that has had major highs (the Tom Ford era) and the lowest of lows (1972 AMC Hornet Sportabout Gucci Edition, anyone?). Since Guccio Gucci put out the welcome mat in 1921 for his small luggage and leather goods company in Florence, Italy, the brand has become a global billion-dollar brand with a name that's been recognizable for generations.
The name came onto my radar in 1995, after Madonna wore head-to-toe Gucci — a teal-blue satin top and black hip-hugging satin pants — to the MTV Video Music Awards.
Though today it's a different Gucci era, I've never doubted the imagination of its new creative director, the once mostly unknown Alessandro Michele, who favors neckerchiefs and antique rings, thinks about the colors in Fellini and Alejandro G. Iñárritu films and has enough chocolate-brown locks for a big, old man bun.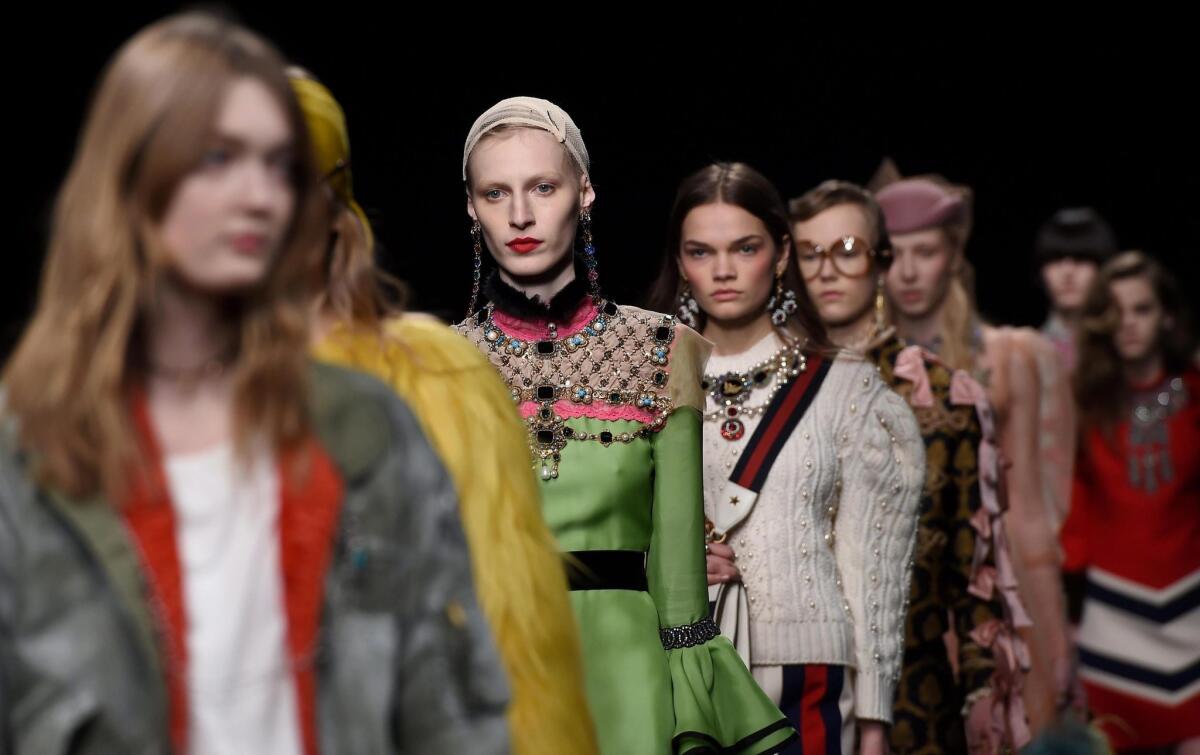 And his recent reboot is gaining traction and fans. Just check out one of Gucci's newer projects with graffiti artist Trouble Andrew, who tagged bags, skirts and furs for a GucciGhost collaboration.
Also, in the video for her hot-sauce-carrying, Red Lobster-eating, power-to-the-people, booty-popping song, "Formation," Beyoncé gives props to all things Gucci. She wears custom Gucci booty shorts in an all-female dance sequence and the high-necked red-and-white dress from Gucci's spring 2016 ready-to-wear collection while sitting on the roof of a police car that is in water.
'Yoncé's stylist Marni Senofonte told Vogue magazine in February, "I just love Alessandro's work. I just love what he's doing with that collection."
And high above Sunset Boulevard last week, I took notice of the giant billboard near the Chateau Marmont capturing the '70s styles that make one thing clear: Michele's wildly creative reboot is different than Ford's and predecessor Frida Giannini's.
Gucci's latest red-hot comeback wasn't built on the sexual nostalgia of Ford's era of racy advertising. And it doesn't remind us of how fly we thought we looked in our old double-G logo sunglasses or how fashion illuminati once referred to themselves as Gucci Girls (or Boys) and why without saying a word, you meant business, to seize the world, when you wore your double-G logo belt.
That was then, and this is now. Michele worked his way through the brand, starting during the Ford days, and was appointed creative director of the billion-dollar brand at the start of 2015. A year later he was walking the red carpet during the Oscars with Gucci-clad Academy Award winner Jared Leto, whose black suit with red piping was set off with a red silk flower tie.
Michele has elevated Gucci in a way not seen since Ford's days of sexualized vixens and playboys. His hits? Oscar winner Brie Larson's striking belted blue Gucci gown at the Academy Awards. The moon, stars and cowgirl coolness of the pink frock on singer and Gucci timepiece ambassador Florence Welch at the Grammys. And the colorful, embroidered Latin/Gypsy pieces for Madonna's recent Rebel Heart Tour.
I'll admit this new Gucci takes some getting used to because at first glance it looks très grandma chic. The Gucci Girl of yesteryear probably won't get this new Gucci swing, but her daughter and son might.
And what's most fascinating is how Michele has mismatched global fashion trends and old lady styles, while adding dashes of comical, clownish, western, peasant, cinematic, Eastern bloc, Gypsy, Asian, animal, street and theatrical takes with traditional Gucci prints for these almost absurd-yet-thrilling looks.
"When I started the first collection," Michele told Vogue in 2015, "I was thinking not in terms of fashion but in terms of attitude, that sense of beauty which I tried to find for an old and beautiful and charming brand like Gucci."
In Michele's world, however, Gucci is almost void of sexual energy. It's now about empowering forms of self-expression. It's about different gender identity themes, with men wearing lace tops and big flowers, as well as an expression on luxe — the need for big baubles and gold crackle-leather bomber jackets and fancy jersey sweat shirts with bird appliqué.
So every generation, it seems, gets a fresh Gucci. What's exciting for Gucci's future is that Michele is still early in his tenure. On the runway, we're seeing inside the head of a man who hasn't short-changed us à la "True Detective's" riveting Season 1 versus a messy Season 2.
Little more than a year on the job as creative director, Michele has created collection themes encouraging us to be peacocks, standing out in the world of cellphone-obsessed Instagrammers who thrive on taking selfies with little, if any, clothes on (did someone say "Kim Kardashian West"?) or showing off their perfect abs and perfect homes and perfect vacations and perfect farm-to-table dinners.
Michele's Gucci wants us to play and smile. Have you seen his wide-legged, embroidered suits fit for a modern-day version of fat Elvis? The fresh Gucci pieces also would be perfect for Joaquin Phoenix and Tilda Swinton in a Wes Anderson film.
So as we put on our new, oversized Gucci statement sunglasses that go with new, naturally curly hairdos, we should remember that freedom of self-expression is everything. And that once more, Gucci hasje ne sais quois that not only elevates the luxury brand's cred in the social media age but also adds a fresh dose of magic, artistry and pure fun back to fashion. And in these questionable times, we could use a little more of that.