N.Y. Fashion Week trend takeaways: If you liked the '80s, you're probably going to love fall 2018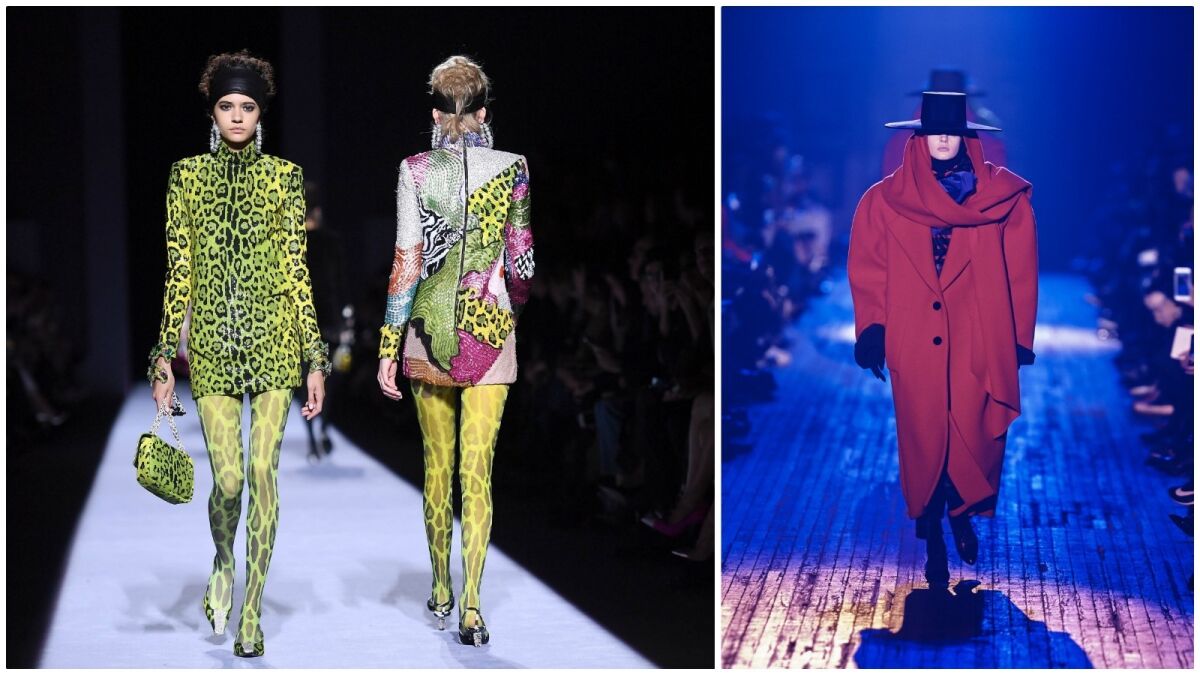 The big takeaway from this round of New York Fashion Week shows? If you liked the '80s, you'll love what's headed to stores this fall. That's because the fall and winter 2018 collections that came down the runway here had a definite nod to the Decade of Decadence thanks to strong-shouldered silhouettes, bold colors and a menagerie of animal prints. (Thankfully designers appeared to have skipped over the whole MC Hammer pants thing.)
With the New York shows firmly in the rearview mirror, here's a look at fashion week's top trends — and the designers who made them most memorable.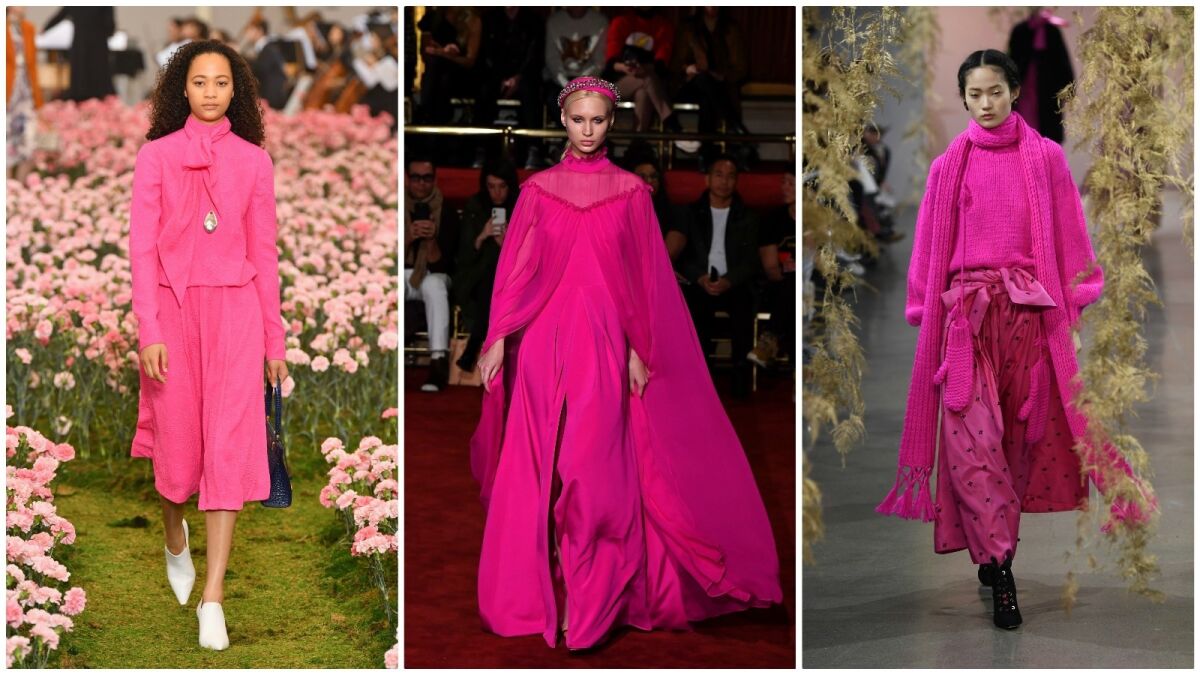 Think Pink
An overabundance of bold, bright colors was the biggest story of the week. In addition to a surfeit of sunny yellows (a holdover trend from the spring and summer 2018 shows), the collections were a jelly-bean bowl of blazing oranges, lime greens and cherry reds. But it was the range of springy pinks on the runway that really caught our attention.
Adam Selman, Christian Siriano, Alexander Wang and Ulla Johnson were among the designers with one-off pops of vibrant pink in the mix, and Jeremy Scott, never one to shy from bright colors, accented his pink velvet track suits with chunky, thigh-high Moon Boots covered in neon pink faux fur.
But it was Prabal Gurung who made the color choice most meaningful. The colors of his fall collection, he explained in his show notes, had their inspirational roots in India's Gulabi Gang, a group of female activists who made the bright pink sari a symbol of power and fearlessness. The hue appeared throughout the collection on silk crepe skirts and trousers with pink chiffon draped like sarongs as well as on chunky wool mandala-print scarves.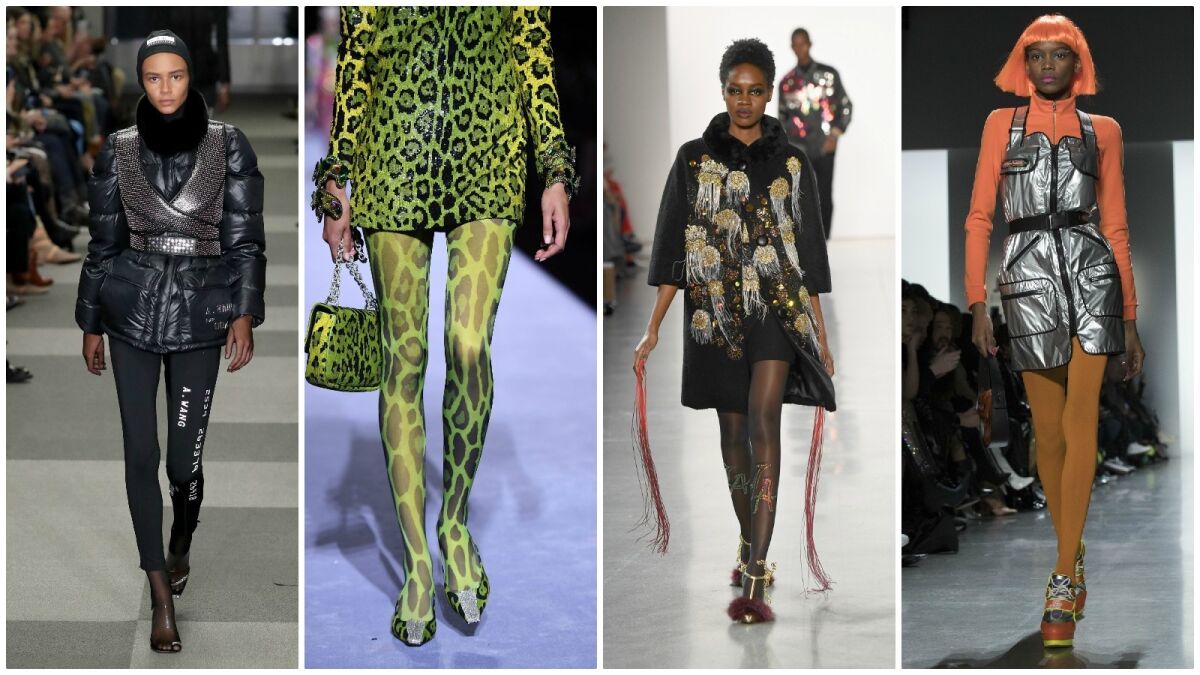 A colorful leg up
The bold colors weren't confined to the clothes that came down the catwalk, either. Bright, patterned and bedazzled statement tights graced the gams of many a model. The week's hosiery highlights included hometown-brand Libertine and the sparkly "LA" logo on the shins and calves of stockings; and Scott served up color-coordinated blunt-banged wigs and tights in shades of lilac, orange and teal.
For Wang's collection, which was chock-full of references to '80s-era corporate excess, stocking embellishments included a string (or series) of credit card digits running down stocking legs.
But most deserving of the season's over-the-top-tights prize is Tom Ford, whose collection featured second-skin gold lamé leggings, fluid silver stockings and wildly colored leopard-print patterns (cherry red and lemon yellow, to name just two) that leapt from frilly minidresses and leather biker jackets to matchy-matchy leggings.
Animal (print) instincts
Ford was far from alone in taking a walk on the wild-animal side for fall — although, perhaps, the only one to conjure images of sunburned cheetahs. Selman stocked the zoo with zebra prints that appeared in a range of colors across tops, slip dresses, slouchy one-shouldered sweaters, suits and trench coats, and the pattern-palooza that was the Michael Kors Collection included zebra stripes and leopard spots.
The latter appeared alongside an assortment of bold tartans and florals — sometimes in the same look — served up in shearling jackets, chunky mohair stoles and calf-hair boots, as well as fedoras in which the pattern was pieced in with men's suiting checks. The standout of the spotted bunch was a camel-colored, calf-hair trench coat paired with matching-pattern pumps for a fierce female feline look that was the cat's meow and then some.
Soft parade
There was a noticeable softness to many of the collections in terms of cocooning, insulating pieces and in terms of romantic flourishes and embellishments. Standouts in the first category included Gurung's boldly patterned knits, hand-cut fil coupé fringe and ostrich-feather-trimmed cable-knit sweater dresses, and Christian Siriano's regal-themed 10th anniversary collection, which opened with a troika of robe-like, floor-length, faux-fur coats.
A notable entry here (and a label to watch in future seasons) is Marina Moscone, a New York Fashion Week first-timer, whose fall and winter collection included oversize hand-knit cashmere sweaters with extra-long sleeves and an elegant, mossy green and purple strapless fil-coupé gown that approached the snuggliness factor of an adult swaddling blanket.
In the second category were the designers who loaded up on lace, ruffles, black velvet bows and all manner of feminine frills. The best of the bunch could be found on the runways of Johnson and Brock Collection, both of which had a distinct Victorian-era-on-the-prairie vibe, as well as Tory Burch's floral-filled collection (inspired by the style of Jackie Kennedy's sister Lee Radziwill) with its assortment of dresses in flocked lace and crepe de chine.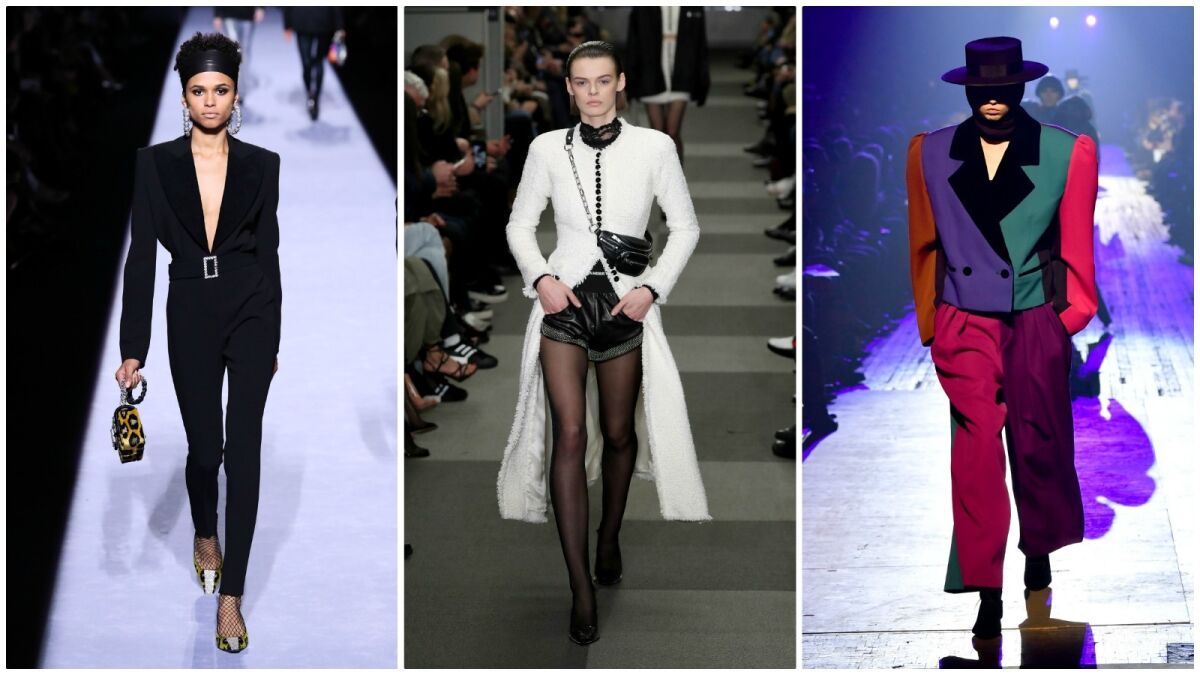 The bold shoulder
That emphasis on softness notwithstanding, the season's standout silhouette turned out to be the broad, sharp shoulder (another '80s trend that appears to have elbowed its way back into the collective consciousness of the designers showing here last week including Ford); boxy knee-length, leopard-print coats; sharp-shouldered, snakeskin-patterned suits; and peak-lapel tuxedo jackets; and, at Wang's show, double-breasted suit dresses; knit turtleneck sweaters; and zipper-embellished minidresses — all with broad, well-defined shoulders.
But the sharpest shoulders of the week turned out to be the ones that closed out the run of shows on Wednesday night at Marc Jacobs, whose fall and winter 2018 runway collection was full of linebacker-broad shoulders swathed in double-faced cashmeres and tweeds, the outfits narrowing precipitously toward the toes to form the once-popular inverted triangle silhouette. Throw in dramatic fabric floral flourishes and the razor-sharp Stephen Jones hats, and it didn't feel like the designer was referencing or paying homage to the '80s or the '70s or any era at all. It felt like a Hail Mary pass toward something bigger and bolder than all that — something timeless; Jacobs' collection for the ages.
From where we were sitting, Jacobs' carried it over the goal line on the impossibly broad shoulders of this collection.
For more musings on all things fashion and style, follow me at @ARTschorn.
---