Reporting from New York —
One of the recurring themes in this round of New York Fashion Week shows has been female empowerment. There's no surprise there, really, given it's the first fashion week to roll around in the post-Weinstein-scandal-#MeToo-Time's-Up era. And it has been interesting to watch the myriad ways the subject matter has been addressed.
Some designers tackled the topic a bit ham-handedly. Designer Tom Ford sent the slogan "pussy power" down the catwalk on bags and shoes. ("If he was trying to show support, it would have been better not to say anything," a fashion colleague remarked to me), while others tackled it head on and over the top. (Alexander Wang's CEO collection falls into this category.)
Others this week have taken a more nuanced approach including Prabal Gurung whose fall/winter 2018 women's collection, presented Sunday, was among the week's most memorable for the clothes and the inspiration behind them.
Gurung was the designer who made a memorable political statement on the fashion week runway last February when he filled his finale with social-cause slogan T-shirts. (Examples included "the future is female" and "revolution has no borders.") This time around, the slogan tees were nowhere to be seen, but the sentiment was loud and clear.
For fall 2018, the Nepalese-born designer drew on the matrilineal Mosuo tribe of China's Yunnan province and the Gulabi Gang (described in the show notes as "a community of female activists who adorn themselves in pink saris symbolic of their self-proclaimed power and fearlessness") to create a colorful collection that warmed the heart and body at the same time.
Rooted in a palette of pinks, purples, blues and dove gray, the looks included quilted cashmere puffer jackets, diamond-quilted wrap skirts and Mongolian shearling-trimmed cashmere puffer vests inspired by mountain trekking but luxurious enough for a night at the opera; eye-catching multicolored mandala-stripe wool scarves; and slouchy cable-knit sweaters. The mandala-inspired patterns also appeared on hand-sequinned lurex chiffon skirts and slip dresses. In a further nod to the collection's inspirational roots, many of the looks were designed to wrap and drape like saris.
Despite using heavier-weight fabrics including panne velvet for a bodysuits and cascading gowns and the aforementioned quilting and cable-knits, the collection actually came across as lighter, almost buoyant, coming down the runway, thanks to the liberal use of Mongolian shearling, hand-cut fil coupé fringe and ostrich feathers.
At the end of the show, the models walked out en masse and arm-in-arm clutching white roses. Without any accompanying music on the soundtrack, they stood at the end of the runway staring out toward the photographers with an aura of calmness and serenity, making for one of the most memorable runway finales of the week.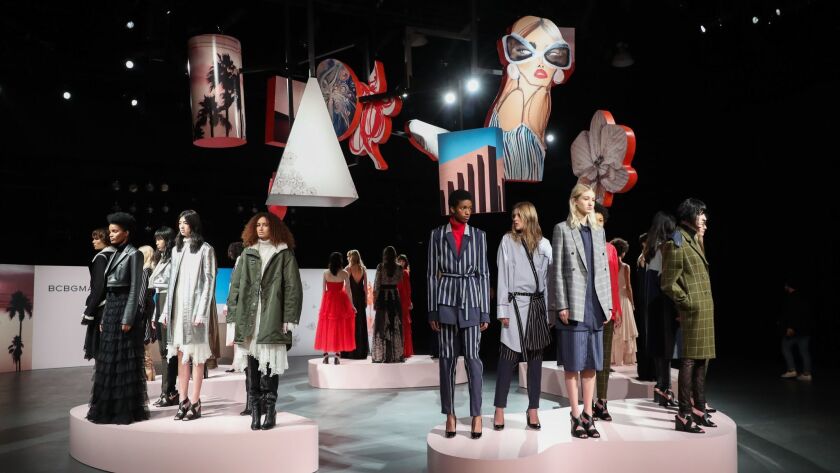 At BCBG Max Azria's runway show
Another testament to the strength of women would be to hire them to do more than just model the clothes you're trying to sell. That's the approach that BCBG Max Azria's Bernd Kroeber took in presenting his second collection for the Vernon-based label.
The fall/winter 2018 Rough Glamour collection presented at Pier 59 Studios on Feb. 9 was a mix of masculine and feminine pairings such as a biker jacket worn with a tiered fringe skirt; an olive drab parka layered over a white lace dress with an asymmetrical hem and skirts; and loungewear-style suits made from striped suiting fabrics.
While that didn't necessarily chart any new territory, what you didn't see (but was detailed in the show notes) was the fact that women were responsible for the styling (Kate Young), the set design (Anna Karlin) and the soundtrack to the presentation (Mimi Xu). In addition to that, Kroeber said he'd made a point of tapping exclusively female artists — five in all — to collaborate on the art that filled the presentation space. They were illustrator Langley Fox, painter Katie Rodger, fashion illustrator Blair Breitenstein, photographer and art director Adrienne Raquel and photographer/filmmaker Sinziana Velicescu.
Game-changing? Probably not. But as my own mother, one of the strongest women I know, often says: "You can do better than you can do worse."
And we definitely put Kroeber's efforts here in the "done better" category.
For more musings on all things fashion and style, follow me at @ARTschorn.
---