Shopping for dried herbs and spices? Don't go to the grocery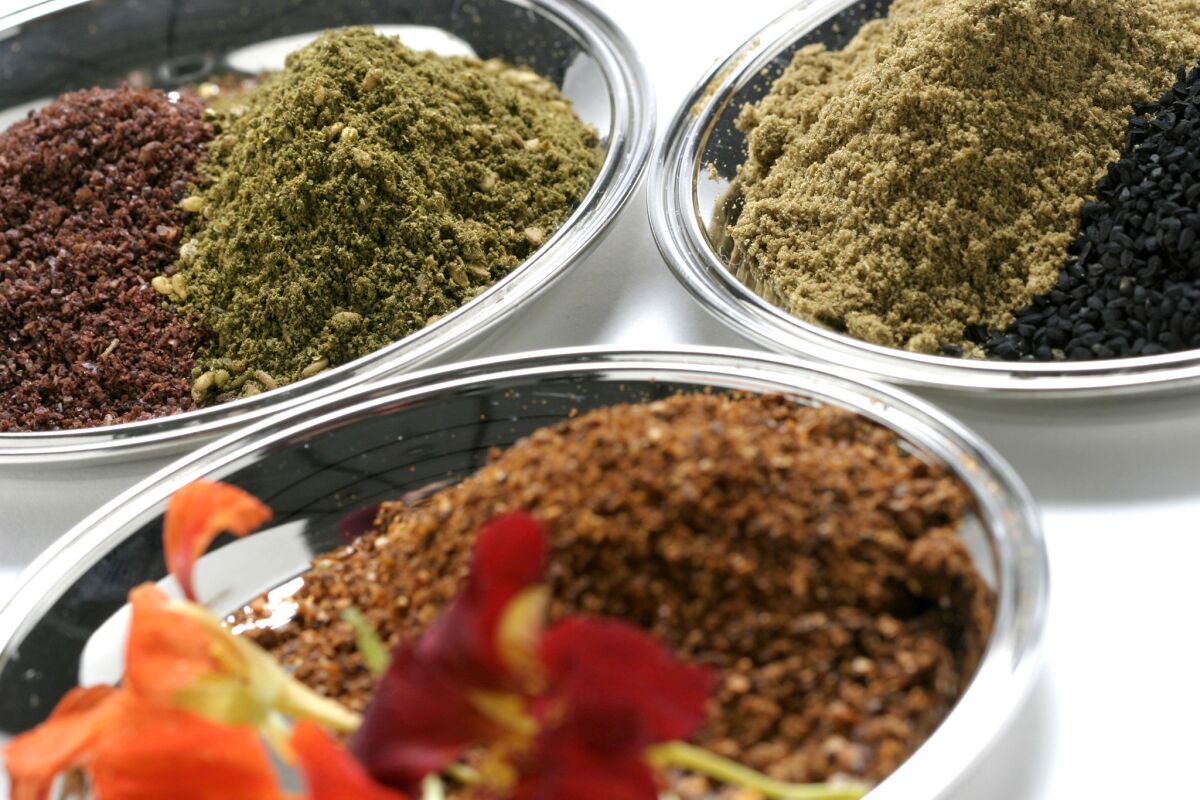 Need to buy some dried herbs or spices? The last place you should go is your neighborhood grocery store.
After comparing the prices for some commonly used ingredients at a half-dozen Southern California shops, it turns out supermarkets consistently charge prices that are three to 20 times as high as those at other stores.
Needing to replenish my spice cabinet after a little rainy-day housecleaning, I surveyed prices for six ingredients at popular websites Penzeys Spices, World Flavorz Spice & Tea Co., Surfas Culinary District and Spice Station, as well as my neighborhood grocery (an Albertsons) and a local Smart & Final. [UPDATED: The story originally misspelled Penzeys]
Penzeys, World Flavorz, Surfas and Spice Station all have local brick-and-mortar outlets as well as websites. World Flavorz also sells at the Sunday Hollywood farmers market (its website is being updated, so for right now it's probably better to shop with them in person).
Dried sage, which sells for as little as 76 cents an ounce at other places is a whopping $16 an ounce at the grocery (a spot check of other supermarkets turned up pricing similar to that at my local Albertsons). Dried oregano, which sells for as little as $1 an ounce elsewhere, is $10.98 an ounce at the supermarket. And dried thyme, which can be found for as little as 62 cents an ounce, was $7.50 an ounce at the grocery.
Granted, the supermarkets do offer convenience — if you're shopping for pork chops and forgot you needed sage, you're happy not to have to make an extra stop.
Plus, if you order on the Web you'll have to wait several days for delivery, and even though these spice-selling websites have locations in Southern California, they may not be near you.
Furthermore, to cash in on some of the best deals, you have to be willing to buy in restaurant-sized quantities (to get that 62 cents an ounce price for thyme at Surfas, you have to buy a nine-ounce package, enough to last most cooks several lifetimes).
There are other factors as well. Dedicated spice specialists offer a range of products. At Penzys, for example, cinnamon comes in several dozen types and configurations. You can buy whole sticks, ground cinnamon or cinnamon chunks coming from Ceylon, China, Indonesia or Vietnam and in a variety of quantities.
Of the spice specialists, there wasn't one that stood out for consistently lower prices. Surfas was usually among the leaders, but because you have to buy in such large quantities, that undercuts the value for the home cook.
ALSO:
RECIPES: Make those Meyer lemons sing
---
Get our L.A. Goes Out newsletter, with the week's best events, to help you explore and experience our city.
You may occasionally receive promotional content from the Los Angeles Times.