Scouting report: Sushi of Gari in Hollywood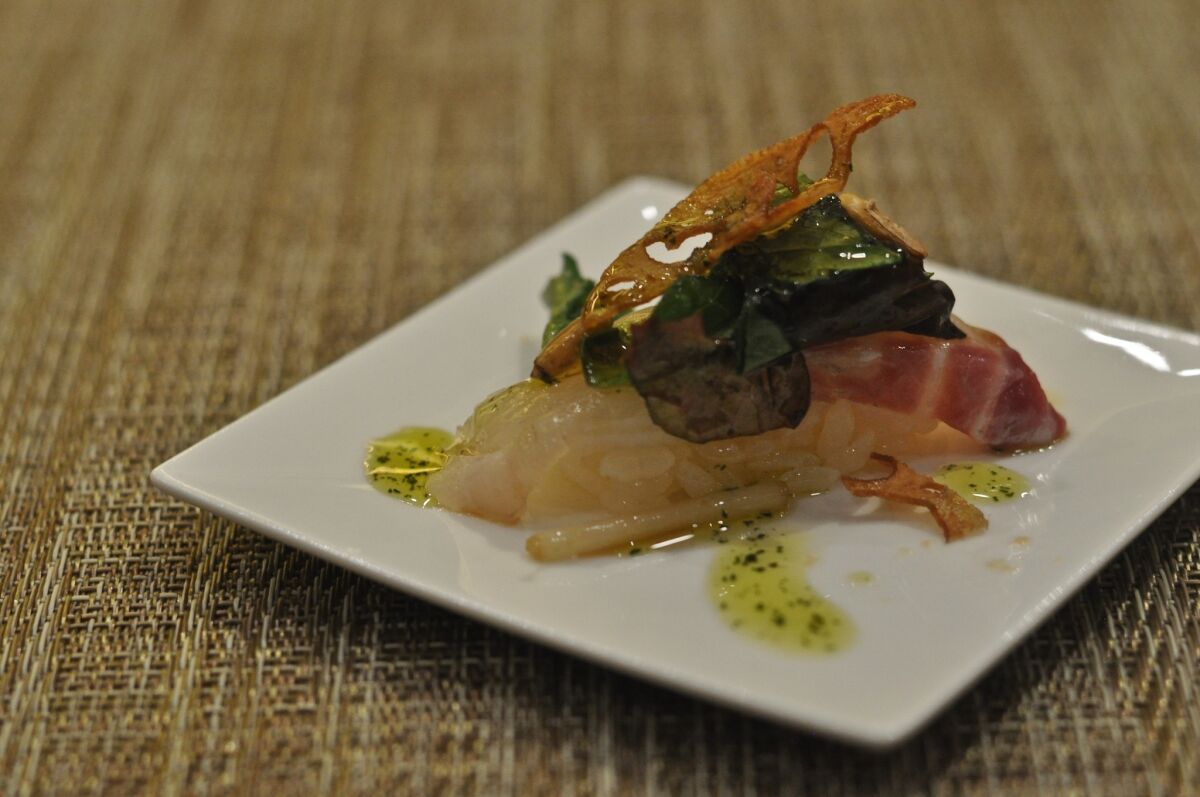 Name of restaurant: Sushi of Gari. Sushi of Gari Hollywood, to be specific, to distinguish it from the four restaurants in New York by the same name, owned by chef Masatoshi "Gari" Sugio, who began a career in Japan as a sushi chef when he was a teenager and later came to the U.S. to work at sushi restaurants before opening them himself. Gari is also the Japanese name for the pickled ginger you get at sushi bars.
Where you are: This new sushi bar, which opened two weeks ago, is in the swank new Eastown mixed-use complex on Hollywood Boulevard. Why this might sound vaguely familiar: It's where the new Hollywood Shake Shack is opening. Get a parking spot while you can.
What you're eating: If you're going for lunch, there's a la carte sushi and sashimi, rolls (one has natto!) and specials. But if you go at night, as you should, it's omakase-only. So sit there and let one of the four sushi chefs — two of whom are veterans of Mori Sushi in Sawtelle, back when Mori Onodera owned that beloved sushi bar — determine your dinner. Start a conversation with them, which is half the fun of omakase anyway; ask them about the enormous, shiny knives they each have at their stations.
This is not exactly Edomae sushi, the minimalist nigiri sushi favored by purists, but rather stellar fish and well-cooked rice paired with specific flavors, from sauces, vegetables or other flavorful components. (You will not get soy sauce or wasabi with your sushi, though you will get plenty of gari.) So: snow crab with uni, Hokkaido scallop with ume sauce, King mackerel with mushroom sauce, Japanese red snapper with fried lotus root. They also make some odd combinations, also on the menu in New York, such as a salmon topped with onion sauce and seared tomato, and halibut paired with poached quail egg and truffle oil.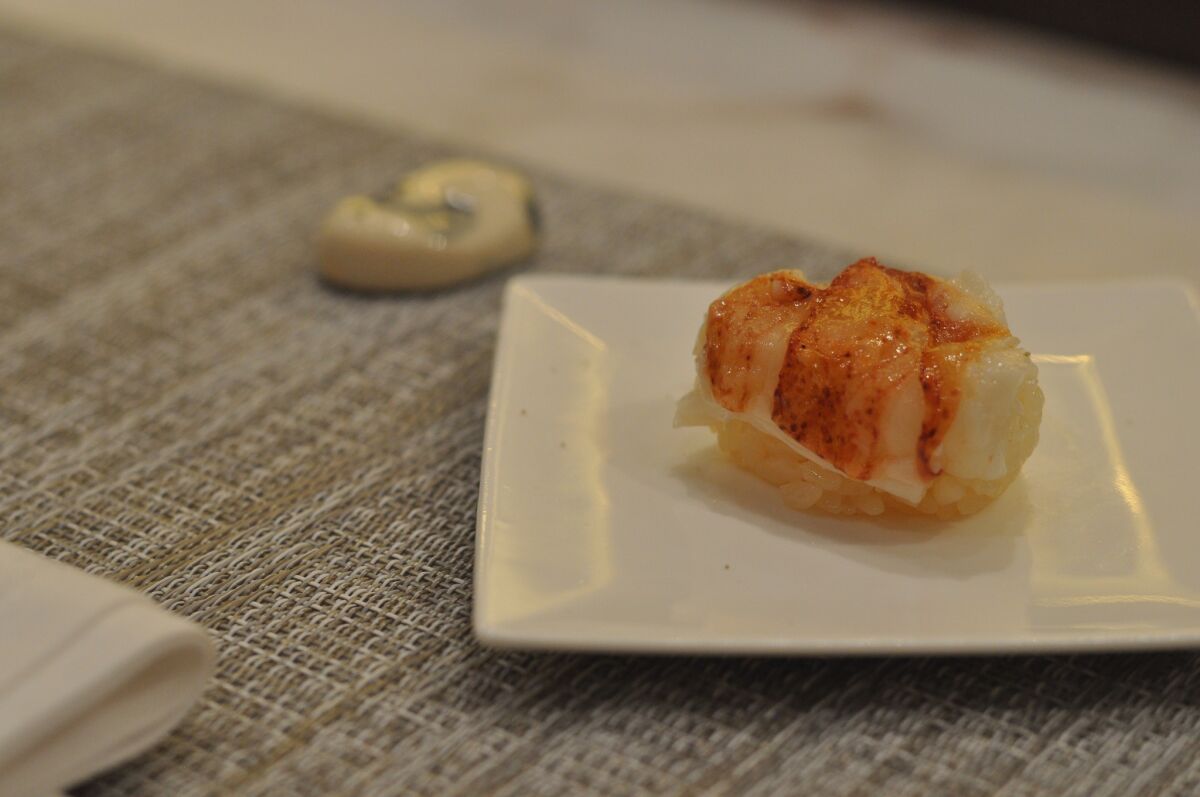 PSA: Yes, there's blue fin tuna on the menu. But the sushi chefs point out that it's farm-raised in Spain, and thus not quite as egregious as the wild Atlantic blue fin, which is endangered.
What you're looking at: The space, which was recently constructed as part of the Eastown project, is well lighted, with clean lines and pale wood. There's a small room off the hallway with sliding doors decorated with cherry blossom branches, a 16-seat dining room and an 11-seat sushi bar. Imagine if Ikea had an upscale showroom in Harajuku.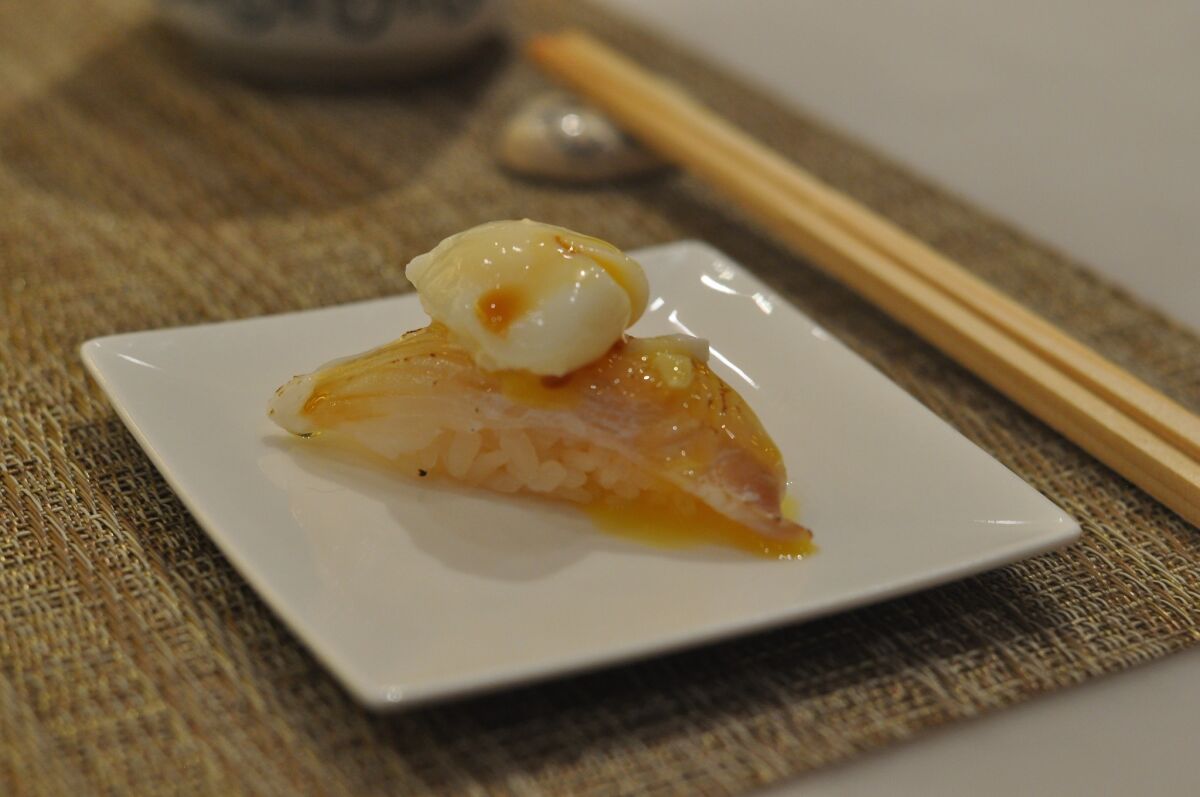 What you're drinking: For some of us, repeating cups of green tea in cups decorated with sumo wrestlers and kanji. For others, maybe the $800 bottle of Dassai Junmai Daiginjo Beyond on the extensive sake list. Are we suggesting you blow $800 on a bottle of rice wine? Not really, but if you do, maybe figure that all those meals at Shake Shack will average out your dining budget eventually.
Info: 6201 Hollywood Blvd., (323) 400-6300, Hollywood, www.sushiofgari.com.
ALSO
Step back in time at Q, dedicated to the craft of Edo-style sushi
Eat what Obama and Bourdain ate: Where to find great bun cha ha noi
How to get Philippe's French dip sandwiches delivered. Seriously.
---
Get our L.A. Goes Out newsletter, with the week's best events, to help you explore and experience our city.
You may occasionally receive promotional content from the Los Angeles Times.