Eat what Obama and Bourdain ate: Where to find great <i>bun cha ha noi </i>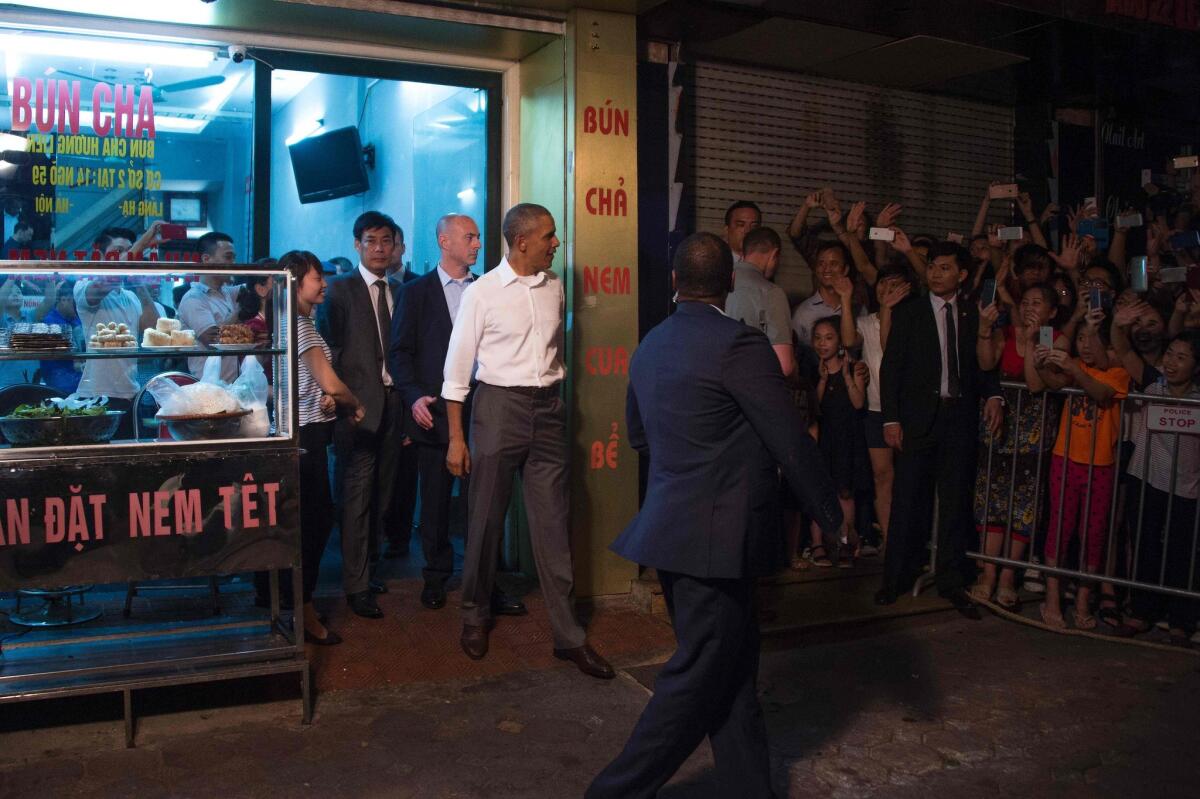 The new trade agreement with Vietnam? Historic, no doubt. And President Obama's speech on the intertwined histories of Vietnam and the United States was thrilling — who knew that Thomas Jefferson was a fan of Vietnamese rice? But what caused a small portion of the food universe to explode Monday was a photograph of the president eating bun cha with Anthony Bourdain in the Hanoi restaurant Bun Cha Huong Lien: flimsy plastic stools, chopstick wrapper tossed onto the floor, table crowded with bowls. Bourdain picked up the tab. It came to six bucks.
We won't know what Bourdain and the president talked about until the show is aired this fall. But it did look as if they were enjoying the food. And we can experience what they ate: bun cha ha noi, a characteristic Hanoi street food dish of squiggly rice noodles, baskets of herbs, and both grilled pork patties and strips of grilled pork shoulder steeped in a small bowl of sweetened fish sauce. It is difficult to imagine any of the presidential candidates sitting down on plastic stools to enjoy this sticky, odiferous treat.
Brodard is probably the most popular central Vietnamese place in Little Saigon. The hundreds of people waiting in line on a weekend afternoon are there for the nem nuong cuon, crunchy grilled-pork spring rolls; banh khot, tiny rice-flour saucers filled with shrimp; and the funky rice noodles called bun bo hue. Northern dishes are not a specialty here. But the bun cha ha noi is pretty spectacular here: The herb platter is vast, and both the spiced ground-pork patties and the grilled pork are a bit smoky, unusually tender and drenched in a syrup-thick fish sauce that tastes almost caramelized. 9892 Westminster Ave. Garden Grove, (714) 530-1744.
Pho Ngoon is a newish noodle shop in a mostly Vietnamese mini-mall notable for spicy lobster and nightmarish parking. The restaurant's namesake dish is well-loved for the suave hint of cinnamon in its broth, the generous portions of meat, and the softness of the noodles. It may also be the best place in the west San Gabriel Valley to go for bun cha ha noi at the moment: The grilled pork patties may be slightly dry, but the herbs are fresh, the noodles supple, and the taste of well-marinated charred meat shines through. 741 E. Valley Blvd., San Gabriel, (626) 872-2729.
Button Mash, a video game parlor a few blocks from Dodger Stadium, is nobody's idea of an authentic Vietnamese restaurant — it's where you go to pound a glass of Three Weavers IPA, smash a plate of Spam fried rice and spend an hour and a half playing Galaga. But Thi Tran's bun cha ha noi is surprisingly good, herb basket a few leaves lighter than what you'd find in Little Saigon perhaps, but with a particularly juicy grilled herbed pork patties and a nicely balanced nuoc cham, sweetened fish sauce dip. 1391 Sunset Blvd., Los Angeles, (213) 250-9903
Pho Co Ha Noi may be a little under the radar, even by the standards of Little Saigon noodle shops — in some parts of Westminster and Santa Ana, you are never more than a few steps away from a bowl of pho. But the bun cha ha noi isn't bad — the grilled pork is especially crisp, and the vermicelli appropriately slithery. 2709 Westminster Ave., Santa Ana, (714) 852-3989.
MORE FROM FOOD
Cookbook of the week: 'An: to eat'
6 dishes to order at L.A. restaurants if you love XO sauce
What Jonathan Gold is into: ERB's buttermilk biscuits and bourbon
Get our L.A. Goes Out newsletter, with the week's best events, to help you explore and experience our city.
You may occasionally receive promotional content from the Los Angeles Times.