George Yu hungers to bring new restaurants to Chinatown
George Yu, director of the Chinatown Business Improvement District, has played a big role in bringing new businesses to the Chinatown district in Los Angeles.
(Cheryl A. Guerrero / Los Angeles Times)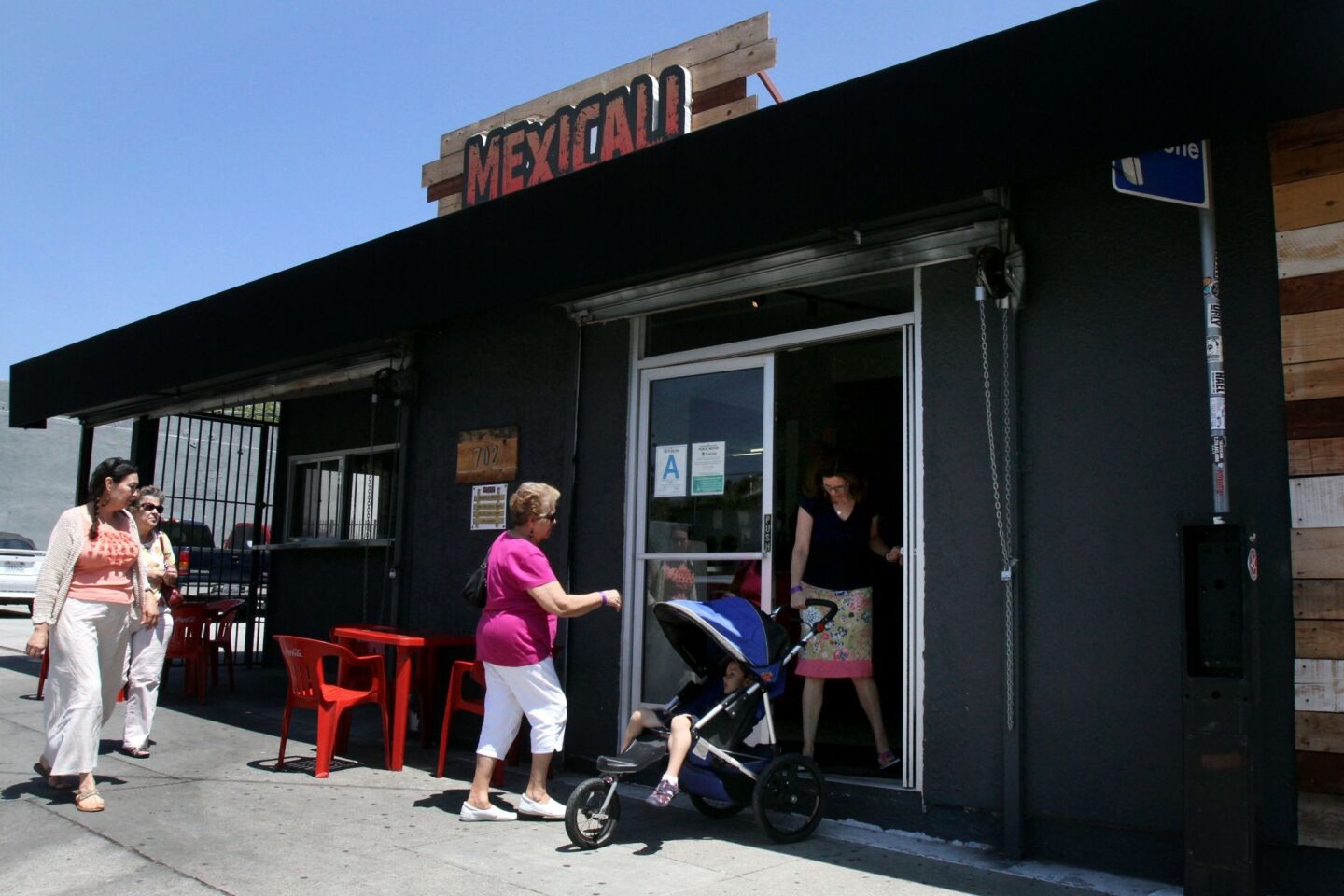 Mexicali Taco Co. is at the eastern edge of Chinatown, on Figueroa St.
(Cheryl A. Guerrero / Los Angeles Times)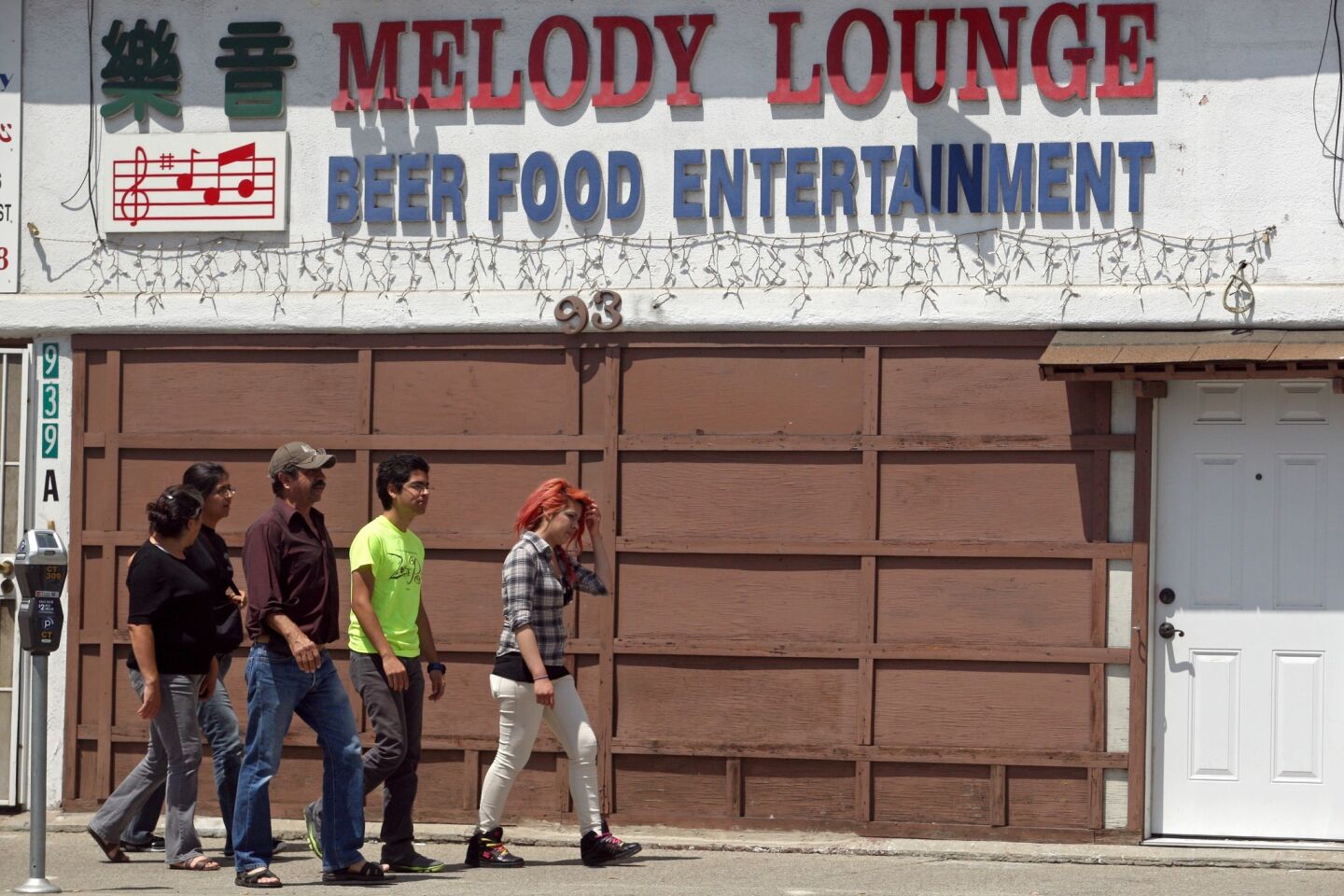 Melody Lounge, a bar and sandwich restaurant on Hill Street in Chinatown, has karaoke and specialty bottled beers.
(Cheryl A. Guerrero / Los Angeles Times)
Starry Kitchen will have a home at Grand Star Jazz Club, in Chinatown Central Plaza on Broadway.
(Cheryl A. Guerrero / Los Angeles Times)
Construction worker Glen Riddle waxes and buffs new bar tabletops for 643 North, a restaurant and bar set to open soon on Spring Street.
(Cheryl A. Guerrero / Los Angeles Times)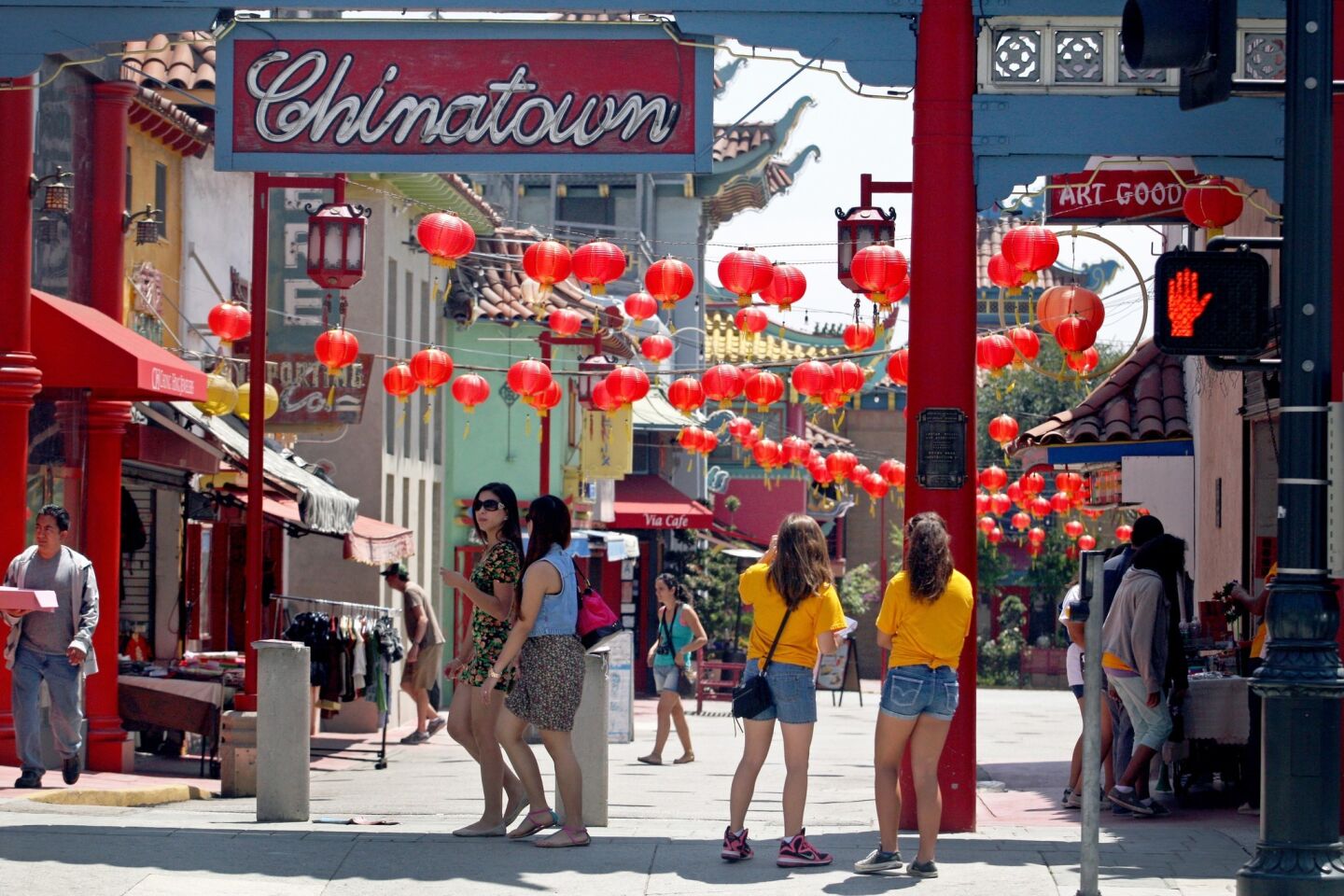 Shoppers bustle through Chinatown Central Plaza, north of downtown Los Angeles.
(Cheryl A. Guerrero / Los Angeles Times)
George Yu is navigating his midnight blue Chevy Traverse down Chinatown's narrow Bamboo Lane on an early August afternoon, envisioning a row of street food stalls as part of the neighborhood festival Chinatown Summer Nights that he helps organize. Maybe here will be Ricky's Fish Tacos or papaya salad and griddled coconut cakes, all usually served on weekends in front of nearby Thai market LAX-C, he says, pointing to a couple of parking spots that could be turned into a dining area. Rolling around in the back of his SUV are a couple of growlers (refillable half-gallon bottles much beloved by craft beer fans) from Eagle Rock Brewery, part of his research for a beer garden.
Yu might describe himself as a "minor foodie," but as the plugged-in executive director of the Chinatown Business Improvement District, he's a major player. And he's doing his part to draw a new breed of restaurateurs to the 25-block-square area just north of downtown — restaurateurs who, like the first wave of art gallery owners a decade ago, are attracted to its lower rents, historic environment and deep-rooted sense of community.
Kogi chef Roy Choi says conversations with Yu motivated him to move his restaurant Chego from Palms to Far East Plaza in May. "We had this mutual idea it'd be great to do something in Chinatown," Choi said at the time.
Starry Kitchen, the popular itinerant pan-Asian restaurant formerly located at Tiara Cafe in the fashion district, up and moved this month into the Quon family's Grand Star Jazz Club, where a clientele that still comes for longtime bartender Tippy Pattamakom's dirty martinis mixes with tables of patrons who are there for Singaporean chili crab and Korean-style double-fried chicken wings.
Says co-owner Nguyen Tran, "We wouldn't be here if it weren't for George," who introduced them to the space, which includes a kitchen equipped with eight wok stations that hadn't been used for decades. "I call him the gangster of Chinatown, and I mean gangster in the legal, cool, street-cred sense."
Next, cult favorite ice cream shop Scoops is planning a new location in the same plaza as Chego, the latest addition among the recent Chinatown restaurant and bar imports that are distinctly not Chinese, including Mexicali Taco & Co., Ricky's Fish Tacos and Melody Lounge, a former karaoke joint that now caters to the craft beer set. Slated to open soon are Hollywood-chic bar General Lee's and Italian gastropub 643 North.
643 North owner Michael Ourieff says that when he had issues with city inspections, he was put in touch with Yu. "George helped me contact the right people. He has helped with my permits. I could otherwise have gone broke," Ourieff says. "I wish we could have somebody like George as mayor of Los Angeles."
Yu moved to California from Taiwan in 1969 when he was 9. "I spent my 10th birthday at Disneyland and thought I'd died and gone to heaven," he says. Yu followed his father into the construction business and has worked for decades in Chinatown. "There are very few consecutive days since 1988 that I have not been in Chinatown.
"I haven't changed my phone number or email in more than 20 years. People always know how to get ahold of me."
Not all of the projects he has supported have garnered praise for Yu. The controversial Wal-Mart Neighborhood Market is set to open this month at Cesar E. Chavez Boulevard and Grand Avenue amid opposition by activists who say the world's largest retailer will hurt Chinatown's mom-and-pop stores.
"Chinatown residents have been waiting for decades for a grocery store in that location. Nothing ever panned out until now," Yu says. "If a majority of Chinatown residents opposed it, I wouldn't be in favor of it."
Meanwhile, more changes are coming for a neighborhood perpetually undergoing "a renaissance." The recently shuttered dim sum palace Empress Pavilion has left a culinary hole in the neighborhood, but restaurant operators, including a few from the San Gabriel Valley (now dim sum central), have shown interest in the space.
"Chinatown has always been known for its food," Yu says. "Food is what brings people out."
---
Get our L.A. Goes Out newsletter, with the week's best events, to help you explore and experience our city.
You may occasionally receive promotional content from the Los Angeles Times.