Kaiser Permanente farmers markets put nutrition within reach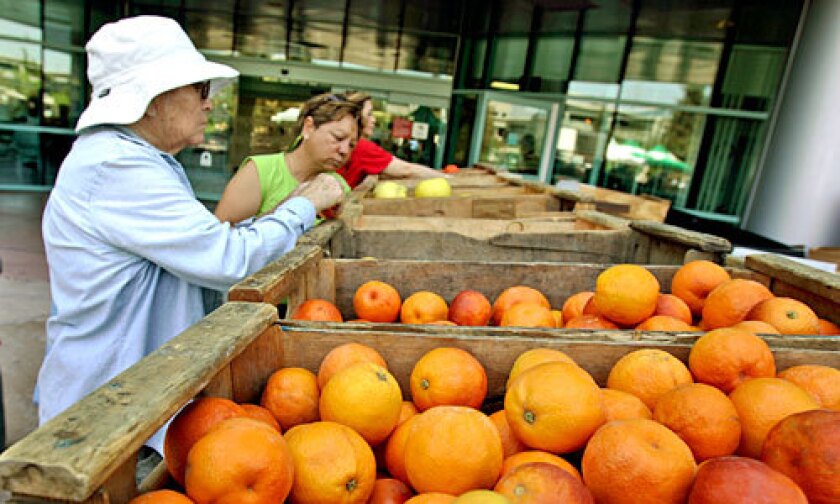 An X-ray and a bag of oranges, anyone?
It makes perfect sense to Dr. Preston Maring.
In the lobby of Kaiser Permanente's Oakland Medical Center, Maring says, he'd regularly pass vendors selling crafts. One day, he had an aha moment: "This has nothing to do with our mission as a healthcare facility," he says.
And today, six years later, Kaiser Permanente has 30 farmers markets at medical facilities in four states where patients, staff and community members shop.
Locally grown fruits and vegetables also are used in 23 Kaiser hospital kitchens.
Innovative programs like the one sponsored by Kaiser Permanente are extending the reach of the farmers market ideal, bringing high-quality fresh produce grown by small farmers to a wider audience.
Doctors are so focused on disease that they may not always see the value of a bunch of fresh kale or an ear of just-picked corn, Maring says, but Kaiser Permanente's emphasis on preventive medicine seemed a good fit for farm-fresh food.
Patients who once brought their doctors ceramic vases or soaps as presents, now bring them baskets of blueberries, he says.
"Markets change the community. They provide good food, fun, a meeting place," says the obstetrician-gynecologist who has been at Kaiser for almost four decades.
New venues
Hospitals are just one of the new kinds of places where farmers markets are opening, and farmers are also finding other outlets for their products, including market basket subscriptions and Community Supported Agriculture programs.
Maring helped establish a seasonal market at GM-Toyota's New United Motor Manufacturing Inc. plant in Fremont, where 5,000 people work.
In Los Angeles, Kaiser worked with Sustainable Economic Enterprises of Los Angeles, the organization that runs the Hollywood Farmers' Market, to open the Watts Healthy Farmers' Market. That market also provides health screenings, nutrition education and other programs.
In fact, SEE-LA has opened five markets in low-income neighborhoods, using grant funding to help them on their way to becoming self-supporting, said Pompea Smith, SEE-LA's chief executive.
At one of those markets, SEE-LA packs dozens of bags for delivery to subscribers at the Rand Corp. in Santa Monica and other places. Not only do the recipients get fresh food delivered, the project keeps the small market at Lemon Grove Avenue and Hobart Street in Hollywood going.
"That's the determining factor. The fact that they buy from me [for the market bags] makes the difference between coming and not coming," said Jim Van Foeken, who farms 30 acres in Ivanhoe and was selling cherries and citrus fruit last Wednesday. "Direct marketing makes little guys like me viable."
Markets are showing up on college campuses too, and some schools and other institutions are buying right from farmers.
Finding innovative ways to sell produce, especially to people without handy access to such food, can keep small and midsize farms profitable, says Vanessa Zajfen, a program coordinator at the Center for Food and Justice at Occidental College.
To get by, many farmers sell their produce at several markets. And at markets that don't get enough business, farmers can be stuck composting what doesn't sell.
SEE-LA is opening the Farmer's Kitchen, which among other projects, will help by giving farmers a place to make jams or salsas and other products with their leftovers.
Another idea, which Zajfen says is in the early stages of conversation with Mayor Antonio Villaraigosa's office, is to create a permanent hub market for farmers to sell to retail and wholesale customers. Such a site could also include storage and kitchens, she says.
"I don't think there's [only] one model for this at all," she says.
Boon for buyers
Having more outlets helps farmers, of course, but also helps customers.
Maring is convinced that the markets are making a difference at Kaiser, the largest nonprofit health plan in the United States
"People come up to me and tell me what they cooked," Maring says. "The hospital engineer lost 50 pounds since the market started."
Kaiser Permanente in Baldwin Park joined with Cal Poly Pomona for a twice-monthly Friday farmers market. Students sell produce and, once a month, a hospital staff member demonstrates cooking techniques.
One recent market day, Dr. Robert Riewerts, chief of pediatrics, made black bean and corn salsa.
"It's a big, huge challenge to get people to live a healthy life," he says. "Patients have to walk through here to get to the doctor. It puts in their mind that we take healthy eating seriously."
Business has doubled since last summer, says Dawn Taccone, the manager of the farm store at Cal Poly who runs the market operation. "We're bringing more products, doing sampling."
"It's so nice to get good strawberries, so fresh. You can't stand the strawberries in the store after you eat these," says Dorothy Harper, who had come to Kaiser just for the market. "I exercise around this building when I come to get this food. I want to be healthy so I can live longer for my grandchildren."
Mary Fong, a nurse, likes the convenience. "We don't miss it," she says, "because you walk by it on the way to work."
But even if the market is just outside your office, it's not always possible to get there, Maring says. So he started a Best of the Market program, with $10 and $20 bags of groceries that a designated shopper can collect for colleagues.
"You have to move one step at a time to help people shift to food that is healthier and cheaper," he says. "I am seeing some movement."
Take the day that a group of 33 high school students came to the market at his hospital to "stand around listening to an aging, white male gynecologist" and watch him make a grilled chicken salad.
It was a "fabulous day" that gave him hope, Maring says. "There's room to make a difference."
---
Get our weekly Tasting Notes newsletter for reviews, news and more.
You may occasionally receive promotional content from the Los Angeles Times.