Chai, chai, chai: I mean, not any chai. Because as a category, chai is something we've all become a little weary of, whether the scalding-hot chai at Standard Sweets in Artesia's Little India, the wan chai lattes from the drive-through, or the dude mansplaining chai blends to us the last time we visited our favorite spice shop, which: OK. But G&B, Kyle Glanville and Charles Babinski's coffee bar in downtown's Grand Central Market, has always had a knack for making seemingly bad ideas more compelling than they ought to be, whether it be carbonated white tea, iced nut milk lattes or Northwest-sourced coffees that seem less roasted than conditioned in a vape. G&B is very, very good at what it does. So while you might not ordinarily be inclined to order a nut milk chai at a counter where proper Gibraltars and syrupy double espressos are so readily at hand, you should try it here at least once. Because a G&B chai is at least as intense as one of its cortados, a face-slap of cardamom and fresh ginger on a pallid gray afternoon, a nostril-clearing shot of what your massage therapist might call pure yang. — Jonathan Gold
Hot pots are so hot right now: The concept behind the hot pot is simple. Boil a pot of broth in the center of a table and cook a variety of meats and vegetables in the simmering broth until you feel the need to fish them out. It's also a communal experience, one in which those involved watch the pot evolve into a dish of your combined handfuls of ong choy, slabs of tofu, strips of pork belly and maybe some mushrooms. And now is as good a time as any to assemble a group of friends and head to your local hot pot restaurant, which may or may not be your local branch of the Mongolian Little Sheep, Hot Pot Hot Pot or a Japanese shabu shabu restaurant . Give yourself a couple of hours for some good conversation, and do drink the broth after you've finished cooking, or ask for a container to take it home. It makes for a great bowl of soup the next day. — Jenn Harris
Turmeric love: Every so often, a particular flavor infiltrates menus, showing up in dishes and glasses as if a handful of chefs decided to raid the same kitchen. Turmeric is having one of those moments, maybe because of the subtle notes, or how brilliantly yellow it can color things — which can make you feel like you're playing with tempera paint, just in a kitchen rather than a kindergarten. You can find the stuff in flatbreads at Akasha Richmond's Indian restaurant Sambar, in Andy Ricker's Pok Pok drinking vinegars and in tonics at Jessica Koslow's Sqirl. I like to throw it in rice and curries, into spiced custards, even into granola. Maybe it's as good for you as they say; regardless, its subtle flavor and glorious color make it enormously fun — especially if you get some of the fresh stuff, which looks kind of like a hybrid of ginger and farmer Alex Weiser's baby carrots. The other thing? It's way less expensive to play with than saffron. — Amy Scattergood

Eat this now: The steamed egg with uni at Hanjip, the newish Korean restaurant in Culver City from Chris Oh and Stephane Bombet. It's a little like Japanese chawan mushi, and closer to the custardy steamed egg, gyeran jjim, that sometimes gets thrown in as an extra at home-style Korean restaurants, but it is exceptionally well made. And it comes topped with lobes of top-rate uni, which makes it rather moreish. Sometimes, moreish is exactly what the evening seems to demand, especially after the third round of soju. — Jonathan Gold
Drink this now: El Niño, the ongoing storm responsible for extending your morning commute and ruining that new pair of boots, has also served as the inspiration for Redbird's new Tiki happy hour menu. Because why not use the downpour as an excuse for a new libation? When you snag a seat at the bar at Neal Fraser's downtown restaurant, thankful to be out of the rain, tell the bartender you'd like the Fog Cutter. It's a potent mix of rum, Cognac, gin, orange, lemon, orgeat and sweet East India sherry. Served in a tall glass with plenty of crushed ice and a metal straw, it's almost tropical. A couple sips and you'll almost forget you're wearing gloves, and a scarf. — Jenn Harris
Restaurant ticker: Salt's Cure has reopened in a new location in Hollywood. Ramen Tatsunoya is now open in Pasadena. Tar & Roses is set to open after a long hiatus any day now in Santa Monica. Mother Dough has closed in Los Feliz. Brat & Brau is now open in Hermosa Beach. — Amy Scattergood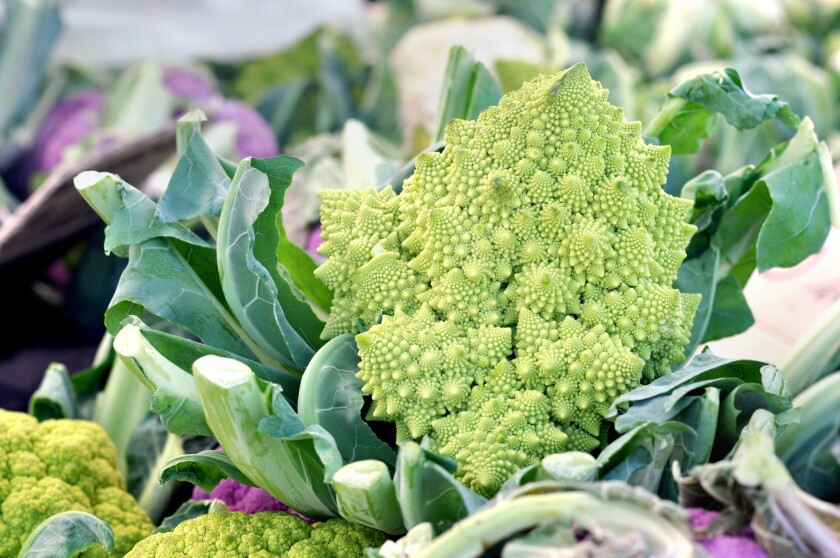 What's at the farmers markets: This is the time for winter greens, citrus (Satsuma mandarins), avocados and Brassicas, most notably cauliflower and romanesco broccoli — the gorgeous, bright green spiraled vegetables that are edible fractals.
What's just left: Apples are generally gone, but you can still find some heritage varieties (Arkansas Blacks, if you're lucky) that have been harvested and stored.
What's on the horizon: Sugar snap peas.
What to cook: After you've finished meditating on those romanesco fractals, go find your copy of "The Zuni Cafe Cookbook" by the late, great Judy Rodgers, and make her recipe for pasta with spicy broccoli and cauliflower. While Rodgers calls for broccoli and cauliflower, it's even better done with romanesco, something hard to find when Rodgers wrote her book.
— Amy Scattergood
Cookbook of the week: "Can You Dig It: Louisiana's Authoritative Collection of Vegetable Cookery" by John D. Folse and Michaela D. York (Chef John Folse & Co., $59.95). This is a massive book, which begins with the history of vegetables, circa 2.5 million years ago, and progresses to edible schoolyards and the garden at the White House. Part of Folse's big book series, which began in 2004 with "The Encyclopedia of Cajun & Creole Cuisine," this book is both encyclopedic and fun — there's a whole chapter called Swamp Floor Pantry. Folse, who is a restaurant chef and runs a cooking school, includes sections on foraging and Louisiana's Angola Prison Farm, and his mission is clearly to give both instruction and perspective. And then there are the recipes, which run the gamut from easy pasta dishes to regional cuisine to kimchi. It's a far more approachable book than it looks before you open it, an oddly entertaining (famous farmers in history, leaf vegetable factoids) synthesis of history, technique and really good food. — Amy Scattergood
MORE:
7 ways to reboot your kitchen for the new year
Where to get Korean-style shabu shabu in K-Town, with plenty of cold beer
Jonathan Gold review: At Leona, the roast dumpling squash makes a statement
---