Where to get Korean-style shabu shabu in K-Town, with plenty of cold beer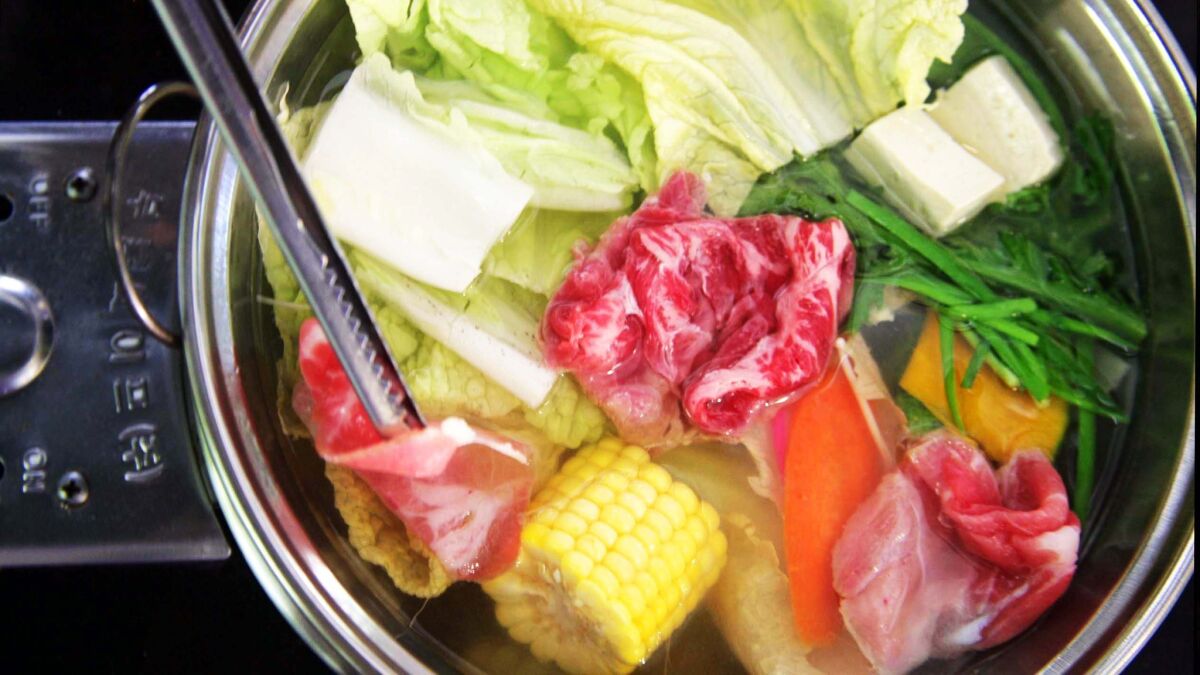 Name of restaurant: Shabu Me
Concept: Korean-style shabu shabu inside Seven Vermont Plaza, where you'll also find Kobawoo, number 85 on Jonathan Gold's 101 best restaurants list. So what makes Shabu Me Korean? The owners and workers for starters. The sauces lean more towards Korean flavors too, with lots of garlic, green onions and toasted sesame oil.
What dish represents the restaurant, and why? If you couldn't figure out by the name, there's shabu, and there's shabu shabu. Historically, the dish is made with thin slices of high quality beef. Shabu Me has beef, of course. And it comes in paper-thin slices with plenty of marbling for flavor. The restaurant also has options for pork, poultry and seafood. They all come with a complementary platter of seasonal vegetables.
The best thing about the restaurant is the self-served sauce bar. There are also a couple of options in squeeze bottles on the table, as well. There's sweet ponzu sauce, peanut sauces, soy-based sauces and even chopped jalapeños. If you don't know what to choose, the employees will be happy to guide you.
Who's at the next table? Workers from nearby buildings grab a weekday meal while discussing office politics.
Appropriate for.... a healthful, light meal on a cold winter day. Perfect for keeping your New Year's resolutions.
Uh-oh... Portions are small for lunch, so be sure to get the add-ons such as udon, ramen and rice cakes, so you don't leave hungry. Better yet, have the ladies make a rice porridge at the end of your meal with the leftover broth. There's valet parking in the plaza, but it can still get hectic.
Service: The employees are warm at first, but you're pretty much left to your own devices the rest of the meal.
What are you drinking? A cold beer. They have Korean, American and Japanese options. In fact, the beer list is longer than the menu of food options.
Info: 698 S. Vermont Ave. #111, Los Angeles, (213) 365-2200.
ALSO:
6 chicken soup and stew recipes to warm you up tonight
Japanese curry, crispy rice buns and anime on the Okamoto Kitchen truck
The new Belvedere at the Peninsula Hotel is completely different. Here's what to expect
---
Get our L.A. Goes Out newsletter, with the week's best events, to help you explore and experience our city.
You may occasionally receive promotional content from the Los Angeles Times.