Review: At Leona, the roast dumpling squash makes a statement
Bacon & Eggs, with potato crusted duck egg, smoky bacon, broth and thyme at Leona restaurant.
(Genaro Molina / Los Angeles Times)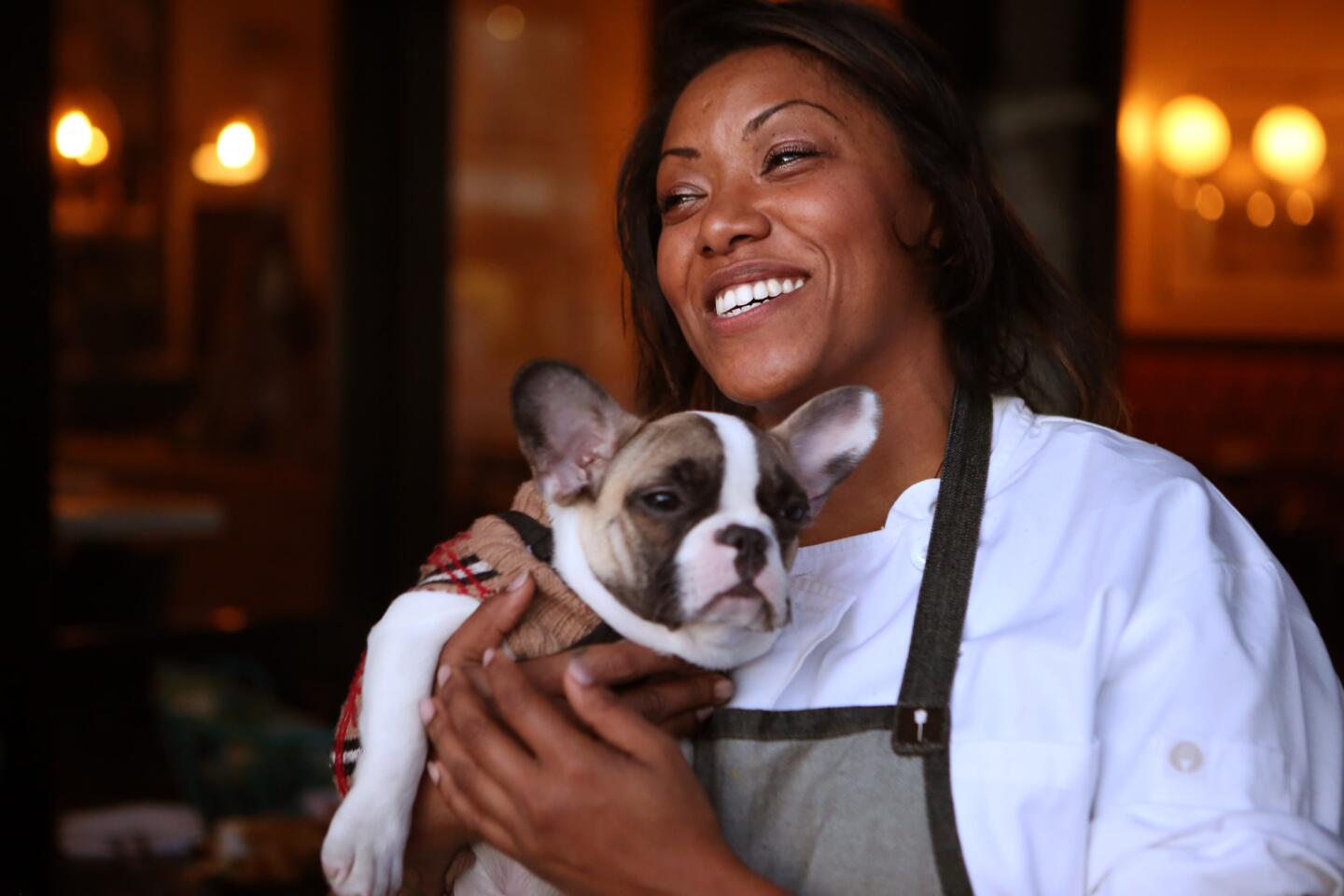 Chef Nyesha Arrington takes a break from her culinary duties to spend a few minutes with her dog, Ginger, at Leona.
(Genaro Molina / Los Angeles Times)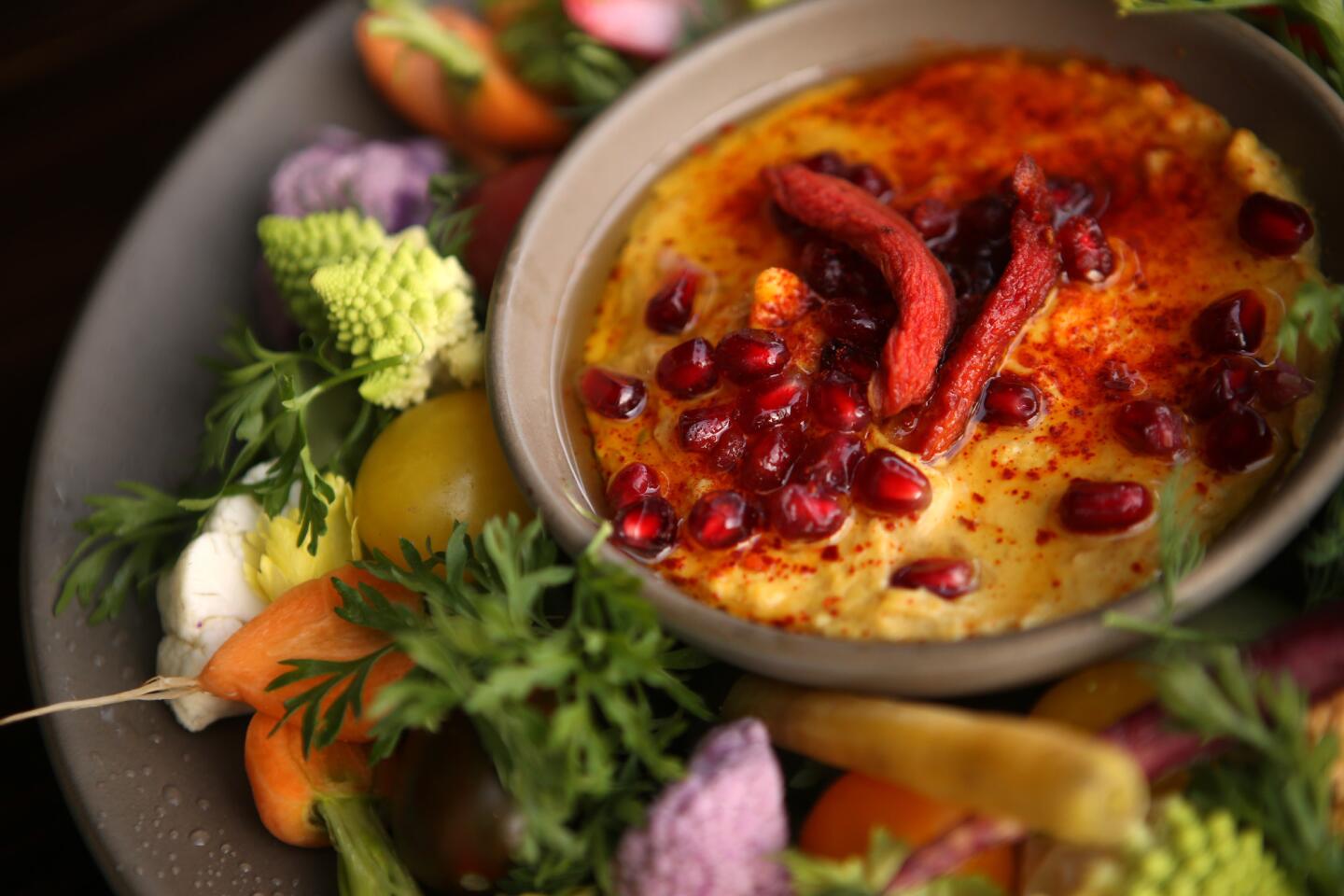 The Crudite Plate, with tangy hummus and pomegranate seeds.
(Genaro Molina / Los Angeles Times)
The roast delicata squash with burrata.
(Genaro Molina / Los Angeles Times)
Diners at Leona.
(Genaro Molina / Los Angeles Times)
Fish & Chips, with crispy smelt, Kennebec potato crisps and Chile de Arbol house malt vinegar.
(Genaro Molina / Los Angeles Times)
Chef Nyesha J. Arrington is all smiles at Leona.
(Genaro Molina / Los Angeles Times)
Diners enjoy a meal inside Leona restaurant.
(Genaro Molina / Los Angeles Times)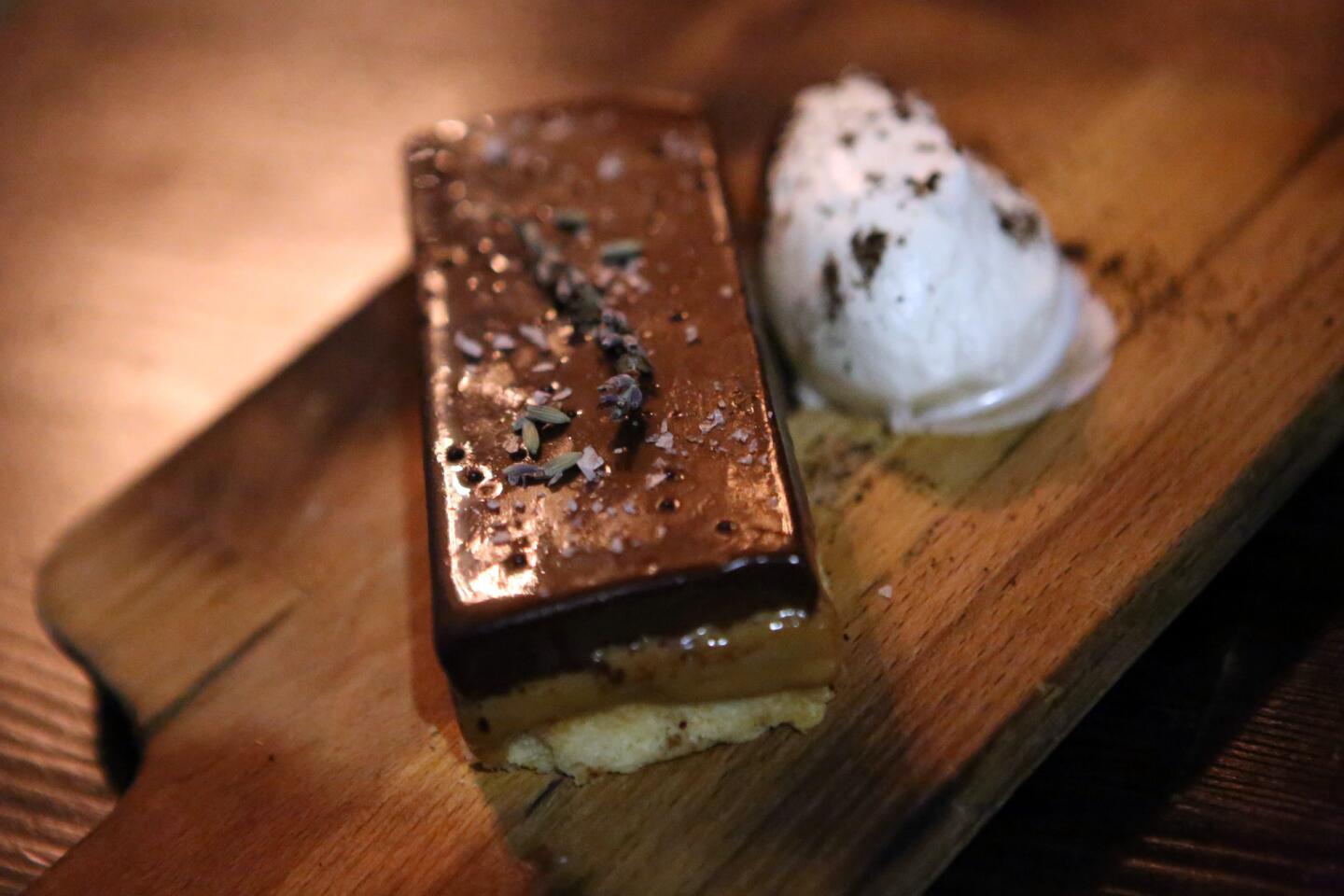 Salted chocolate lavender bar.
(Genaro Molina / Los Angeles Times)
Los Angeles Times Restaurant Critic
It is clear we have entered the age of the roasted vegetable, a glorious epoch when a stalwart carrot or celery root, warmed in dying embers, can take the place on a plate formerly ceded to a game hen or a slab of richly marbled beef. If you have tasted Nancy Silverton's wood-blasted eggplant at Pizzeria Mozza or Josiah Citrin's ash-cooked cabbage at Charcoal, yearned to visit Zahav in Philadelphia or try Alain Ducasse's new vegetable menu in Paris, or cooked more than a couple of recipes from an Ottolenghi book, you know exactly what I mean.
Still, while roasted vegetables have become almost as easy to find in Los Angeles as avocado toast, I'm not sure I have ever come across a presentation as striking as the roast dumpling squash Nyesha Arrington serves at her Venice restaurant Leona, a platter that could have come out of a 17th-century Dutch still life: upright, striped squashes stout as barrels, sprinkled with seeds and crinkly leaves, oozing milky burrata cheese.
SIGN UP for Jonathan Gold's Counter Intelligence dining newsletter >>
There is a protocol that comes with roasting a squash. You cut it in half, pare away the tough skin, and scoop out its slippery guts. Only then do you smear it with olive oil and stick it in the oven, or stud its insides with herbs. Arrington just lops off a bit of the top and the bottom, cooks them, and serves them whole. In keeping with the no-waste cooking being promoted by chefs such as Dan Barber and Massimo Bottura, nothing is wasted. (You see things like radish-top pesto here too.)
But if you've ever cleaned a squash or even carved a jack o' lantern, you may feel a twinge of reluctance when you are presented with the dish. The skin is thin and tender, but it still gets between your teeth, and the seeds steam nicely inside the squash, but you may never have — I never had — quite dealt with eating the stringy part before. Arrington plays up the sliminess a bit by including cooked pearls of tapioca, which doubled as frogs' eyes in haunted houses when you were a kid, as well as crisped quinoa, whose crunchiness you won't immediately be able to trace. There is bit of aggression to this squash — a vegetarian equivalent of the hint of transgression you find in the water-bug sauce that comes with the fried chicken at Night + Market Song or the foie gras on the loco moco at Animal. It's a statement of purpose.
Nyesha Arrington is about as local as it is possible for a chef to get, I think: born in Gardena and raised in the Antelope Valley, a graduate of a Westside culinary school and a protégée of Josiah Citrin at Melisse. She supervised the highly un-steakhouselike menu as chef at the Wilshire steakhouse in Santa Monica. She appeared on Top Chef. At Leona, really the first restaurant of her own, she makes her meatballs with beef heart, which is pretty much exactly right, forms her roast chicken into a complex warm terrine, and tops her French fries with fried kale. Her aligot, an Auvergnat dish of potatoes whipped with cheese curds until they form a single, gooey mass, is faintly enriched with cauliflower, an almost subversive touch.
There are the slips of raw, fresh yellowtail, lightly cured with tart hibiscus, that you might expect to find at a beach resort; a platter of creamy homemade lebneh with warm seeded crackers and a scrap of honeycomb that would be at home in Brooklyn; and crisp, fried smelt with potato chips that taste like something you would be happy to encounter at a tavern on Lake Michigan's south shore. She makes a valiant stab at Sichuan-esque wonton stuffed with salsify and rich lamb belly, although you won't be tempted to forgo the ones at Chengdu Taste. She marinates short ribs in honor of her Korean grandmother, braises them and serves them with a roasted marrowbone — it's tasty, if you don't think too hard about your favorite galbi jjim in Koreatown.
You might find just about anything on her crudités plate: miniature turnips, cherry tomatoes, carrot fronds, and that leafy part of the celery bunch that you usually throw away, ready to dip into a slightly stodgy bowl of hummus. She became mildly famous at Wilshire for a dish of seared black cod served in a lightly sweet onion broth with mustard greens, and you'll find a version of that dish here too. The chocolate ganache shortbread is sprinkled with both Maldon salt and tiny lavender blossoms.
At Leona, Arrington reveals herself as a traditional California chef with a sharp experimentalist streak; the kind of cook who plunges into the farmers market, fills her crates and only then asks herself what she might do with all of the produce. In some superficial ways the Leona menu in January looks a lot like the Leona menu in September, but the shifts in mood and character are as subtle as the suave classic-era G-funk music that shimmers just below the dining room's roar, and her menu is as diverse as its not-quite-Google-ized Venice neighborhood.
After dinner, it is pleasant to stroll down the next block and out to the end of Venice Pier.
::
Leona
Chef Nyesha Arrington brings her market-driven cooking to Venice Beach.
LOCATION
123 W. Washington Blvd., Venice, (310) 822-5379, leonavenice.com.
PRICES
Small plates, $11-$18; larger plates $24-$30; desserts $10-$12.
DETAILS
Dinner 5:30 to 11 p.m. Tuesdays through Sundays; brunch 10 a.m. to 2 p.m. Saturdays and Sundays. Credit cards accepted. Beer and wine. Valet parking.
RECOMMENDED DISHES
Crispy smelt; roast dumpling squash; black cod; salted chocolate lavender bar.
MORE JONATHAN GOLD REVIEWS
Mexicano at the Baldwin Hills Crenshaw Plaza
Andy Ricker's Pok Pok brings a genuine taste of Thailand to L.A.
Seafood Palace (its new name) is still your go-to for house-special crab
Get our L.A. Goes Out newsletter, with the week's best events, to help you explore and experience our city.
You may occasionally receive promotional content from the Los Angeles Times.