Column: Professional soccer comes to Fresno — finally this city will be on the map!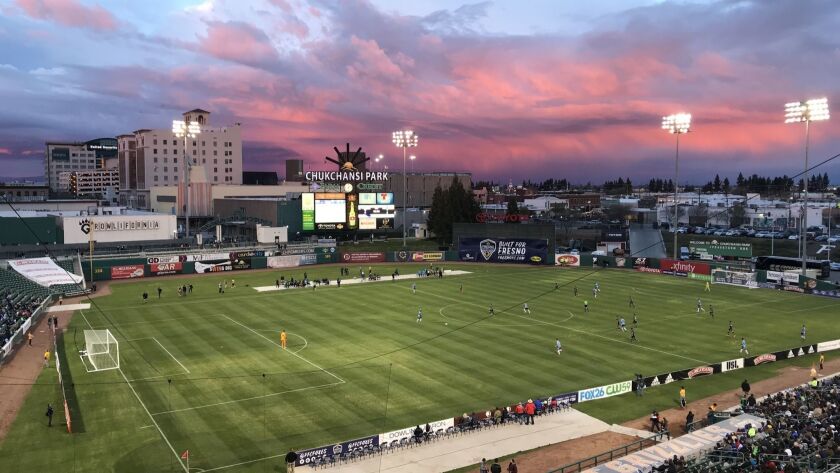 Reporting from FRESNO —
Like any debut, the Fresno Football Club's first game was not without a few glitches.
The scoreboard wasn't working. A fire alarm went off for no reason. Merchandise sales were stalled by sluggish iPads.
But none of the nearly 8,000 soccer fans who turned out Saturday evening at Chukchansi Park seemed to mind. This was, after all, the first game of the first professional soccer team in an absolutely soccer-mad part of the state.
"We're making history with a new team in Fresno," said Alex Llamas, 26, a fourth-grade teacher and soccer coach who lives in Clovis. "To bring a soccer club here is amazing."
George Aguirre, a Reedley High School senior, was blunt. "Soccer is our life," he told me before the game started. "We never actually thought this would happen."
You can forgive Fresnans for feeling ignored by professional sports. Fresno State's teams are beloved, of course. But when it comes to pro sports, Fresno has only the Grizzlies, a minor league baseball team affiliated with the Houston Astros.
Despite being home to more than 500,000 people — making it the most populous city in the San Joaquin Valley – Fresno often has the feel of a sleepy little town. On a weekend, downtown streets are mostly empty.
Fresno Mayor Lee Brand, who has been working with city officials for years to revitalize the sclerotic downtown, told me that he hopes the soccer team — known as both the Foxes and the Zorros (Spanish for foxes) — will help get the city's blood pumping again.
"It's a big plus for the city of Fresno," he said. "We have a large Hispanic population of very rabid soccer fans. It will be great for downtown."
You always get the sense that Fresno thinks it's on the verge of something big, that every advance is going to, finally, bring the world here.
The problem is, Fresno is geographically isolated. It's smack in the middle of the state, surrounded by farmland. It's about a four-hour drive from Los Angeles, and a four-hour drive from San Francisco.
Like many smallish big cities, Fresno struggles with its identity.
Years ago, it called itself the "All-American city." Some boosters have called it "America's best little city." At some point, the Fresno/Clovis Convention and Visitors Bureau dubbed it "California's year-round playground."
And then, at least briefly, the city slogan was "Be world class. Be Fresno." (Some have joked that Fresno should change its name to Fres-yes, but that's a nonstarter.)
Three years ago, state and federal officials descended on a dirt lot next to a late 19th century Southern Pacific train depot for the groundbreaking of Gov. Jerry Brown's legacy project, the nation's first high-speed rail.
There was much talk about Fresno finally coming into its own as a major California city, connected by high-speed rail to Silicon Valley and San Francisco to the north, and Los Angeles and San Diego to the south. At the time, I wrote that the celebration was so premature it was like "having a christening for a baby that's still an embryo in a petri dish."
The hurdles for this project continue to be immense, as my colleague Ralph Vartabedian has relentlessly chronicled. But the payoff for Fresno, if it comes, could be incalculable.
At least while Fresno waits for its moment in the sun, the town has a new professional sports team to root for.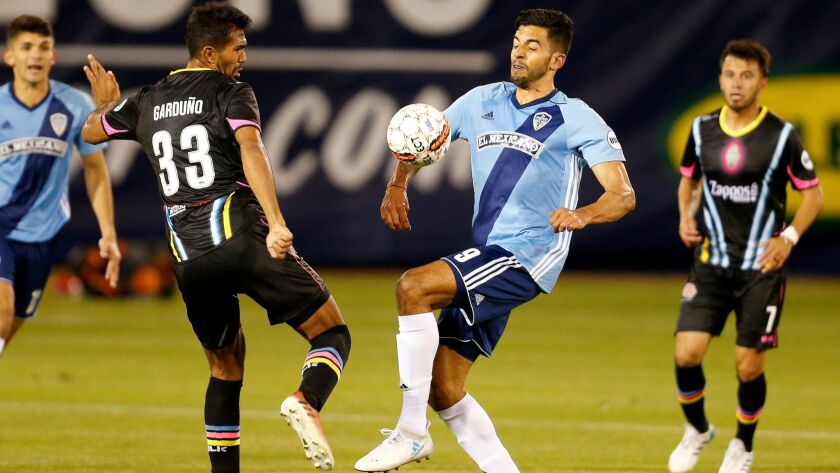 The team's owner, Ray Beshoff, is a charismatic Englishman who got to know Fresno after he bought a Mercedes-Benz dealership in town a few years back.
I've known Ray for many years, ever since he fell in love with my friend Liza in Greece the summer after our junior year in France. A few months later, he left Liverpool with a few hundred dollars in his pocket and showed up on Liza's doorstep on Balboa Island. After coming home from class at UC Irvine and finding him on the couch one too many times, she suggested he get a job. He ended up selling cars. Lots and lots of cars. They've been married for decades.
"Fresno is really underrepresented in the sporting world," said Beshoff, who had been toying with buying a pro sports team for a while. "This is a community starving for soccer."
He put together a group of investors and created the new Fresno Football Club, which is part of the United Soccer League, a step below Major League Soccer.
Beshoff, who owned a Mercedes dealership in San Jose from 2002 to 2015, got to know soccer legend Frank Yallop, who was then head coach of the San Jose Earthquakes, and is now the general manager of the Fresno Football Club. Fans may remember Yallop as the head coach of the Earthquakes when they won the MLS cup in 2001 and 2003. Or as the L.A. Galaxy coach who in 2007 brought David Beckham to town.)
Yallop and coach Adam Smith have assembled an international roster — players are from Brazil, Argentina, Sierra Leone, England, Scotland and the U.S.
"The big plan," Yallop said, "is to have our own stadium. We're hoping to stay downtown."
The United Soccer League, he said, expects the team to build its own stadium in two to five years.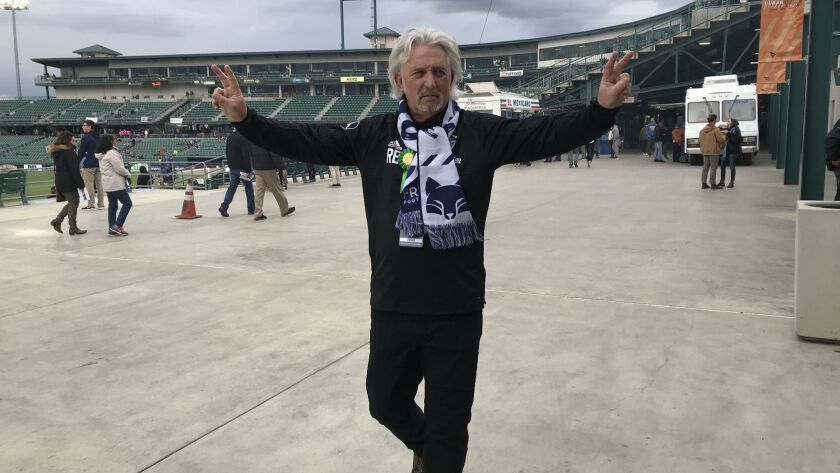 On Saturday, the Foxes played another new expansion team, the Las Vegas Light. The Light scored their first goal in the first two minutes of play, and soon the score was 3-0.
It would not be until minute 72 of the 90-minute game that Fresno scored their first goal. In the closing minutes, the Foxes scored a second goal, leaving the final score at 3-2.
"Overall, it was an amazing game," said Llamas, the fourth-grade teacher, when I reached him by phone after the match. He had the good fortune of sitting next to the Fire Squad, the football club's independent pep squad, dozens strong, who played drums and chanted during the game. "They bring such a great environment to the field. It makes everyone feel welcome."
Llamas said he wasn't disappointed by the Foxes' loss.
"Right now is a big moment for Fresno," Llamas said. "Professional teams, the high-speed rail. It'll bring a lot more people and put us on the map."
My fingers are crossed.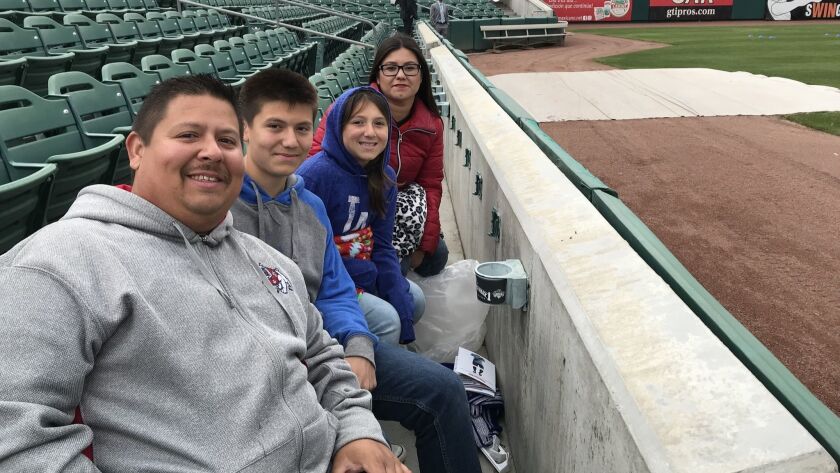 Twitter: @AbcarianLAT
---