Embryo battles are likely to get a precedent in San Francisco couple's case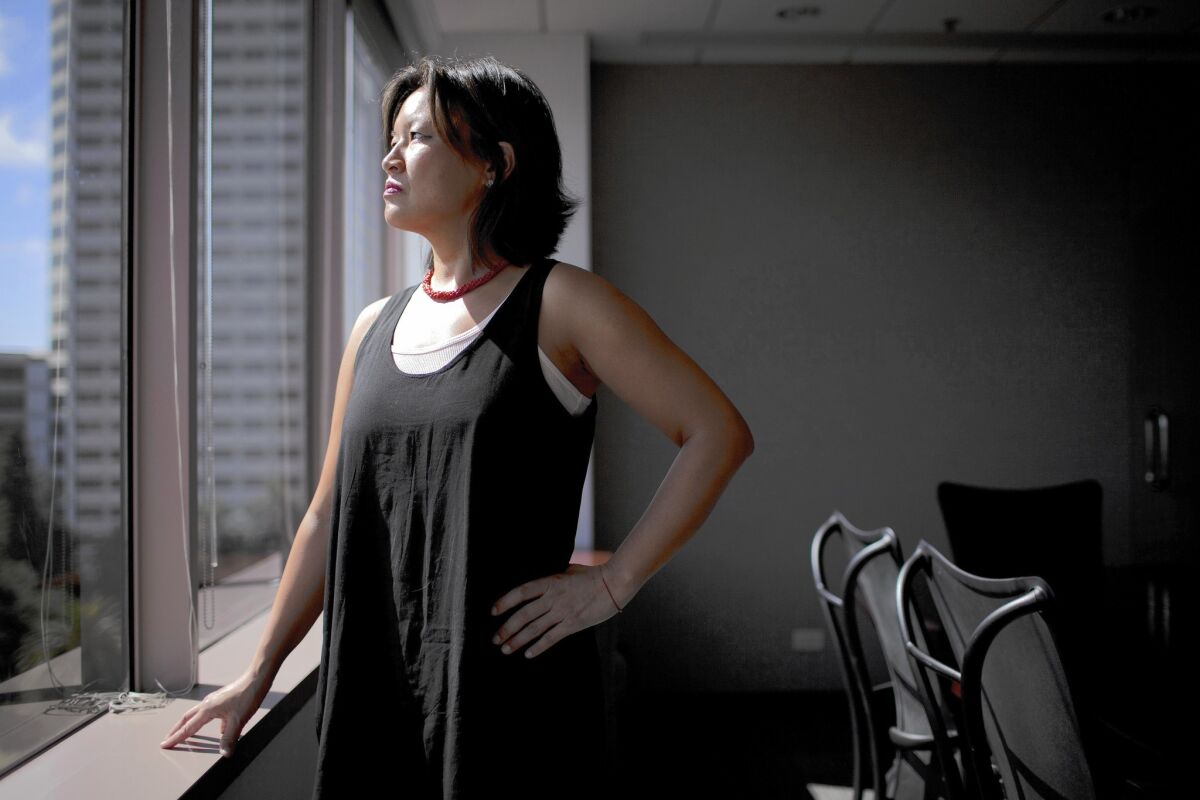 Reporting from SAN FRANCISCO —
Dr. Mimi C. Lee and Stephen E. Findley had not been married long when he began to have doubts about the relationship. Now divorced, he is fighting to prevent her from having a child with their frozen embryos, made after Lee was diagnosed with cancer.
The case, to be decided in the next several weeks, is likely to lead to the first legal rules in California for resolving embryo disputes. If Lee prevails, Findley could be forced to become a parent against his will. If Findley wins, it is extremely unlikely that Lee, now 46, will ever have a genetically related child.
"It is compelling and dramatic how these issues play out," said Dr. Mark Sauer, a reproductive endocrinologist and professor of medicine at Columbia University. "These are embryos that will potentially live lives. It is not like you are bartering over the furniture in your house."
Interested in the stories shaping California? Sign up for the free Essential California newsletter >>
In a dozen similar disputes outside California, not one state high court has permitted someone to use an embryo over an estranged partner's objections.
But trial courts in Pennsylvania and Maryland — and an intermediate appeals court in Illinois — have in recent years ruled in favor of women who had suffered cancer and could not have biological children without the embryos.
There are an estimated 1 million frozen embryos in the U.S., but the law has been slow to catch up with technology. Legally, a person who wants to preserve fertility is less vulnerable if he or she stores frozen eggs or sperm, experts say. Medically, that person's chances of having a child are better if an embryo is created.
Eventually, medical advances may eliminate the differing success rates.
"Technology got us into this problem, and technology will get us out," said Judith Daar, a professor at Whittier Law School, a clinical medicine professor at UC Irvine and chair of the ethics committee of the American Society for Reproductive Medicine. "The partners can walk away, she with her eggs and he with his sperm. And then they can fight over other things, like who gets the cat."
Most rulings so far have steered clear of deciding whether embryos should be treated differently than property, but some courts have grappled with the issue.
Tennessee's highest court decided in 1992 that an embryo was neither property nor a person, but something that courts should treat with special respect. (The court sided with the party who wanted to destroy the embryos.)
A probate court in Texas treated embryos more as assets, awarding 11 of them last year to the son of a couple who had been killed. The heir, who was 2, may decide when he is 18 whether to destroy the embryos or use them to create a sibling.
Even when embryos are no longer wanted, ambiguity and emotion make it difficult for people to authorize their destruction.
"Most people just end up paying an annual fee for storage because they can't decide what to do," said UC Davis law professor Lisa Ikemoto, a specialist in bioethics and assisted reproductive technology.
A decision on whether to dispose "creates a lot of stress on the couple because they personalize these embryos as children," Sauer said.
Courts that have resolved embryo disputes have looked to consent agreements signed at fertility clinics. If the forms clearly stated the couple's wishes, some courts have enforced them as binding.
In 2000, however, a high court in Massachusetts refused to enforce a consent agreement signed by a couple before in vitro fertilization. They had agreed that the woman would get the embryos in case of a divorce. When the couple split up, the man sought to block the transfer.
The court ruled for the ex-husband, declaring it was bad public policy to force someone to procreate against his will.
According to legal experts, the form Lee and Findley, 45, signed in 2010 at a UC San Francisco fertility clinic was clear and carefully drafted. The couple agreed that their embryos should be destroyed in a divorce.
California law requires clinics to offer the forms, and many lawyers interpret them as binding contracts.
"The contract approach is appealing because it provides more certainty, but I am uncomfortable with that," Ikemoto said. "A lot of people just fill them out because they want the procedure" and don't carefully consider the future.
Susan L. Crockin, a Massachusetts-based lawyer who teaches law and medicine, said courts should provide certainty about how embryo disputes will be resolved.
"There are patients who believe with all their fibers that these are their frozen children," Crockin said, "but that doesn't mean we get to turn the law on its head."
Lee has testified that she signed the consent agreement during a turbulent time in her life and had merely scanned it.
Ten days before her 2010 wedding to Findley, she discovered she had a type of breast cancer that made pregnancy and fertility treatment risky. Lee had a lumpectomy and, after a two-week honeymoon, learned that the procedure had not removed all the cancer.
The couple went to a fertility clinic to create the embryos, and Lee then had a mastectomy.
Findley asked for a divorce three years later. He testified that he felt "stepped on" in the marriage.
A decision on the embryos is the last matter for San Francisco Superior Court Judge Anne-Christine Massullo to decide in the divorce, which was final in April. She is expected to rule by late November.
"The landscape is so uncertain," Massullo said.
The losing party is likely to appeal.
Findley, an investment executive, has said he wants to have children some day, but not with Lee.
If he loses the case, he testified, he would support the child and become part of his or her life. But he said he feared the prospect of regular interaction with Lee after their highly contentious divorce.
Findley's lawyers have blamed Lee for her predicament. They argued in court papers that she sacrificed motherhood for the sake of her career and had four abortions before she married Findley. They also have challenged her credibility.
Lee, an anesthesiologist, frequently sobbed during the trial. She has said she would not demand child support from Findley, although a child in California has a legal right to it. And she said she would leave it to Findley to decide how much involvement he wanted with their offspring.
During an interview, Lee referred to the embryos as "my children, my babies" and stressed that the choices she made before cancer were vastly different from those she would make now.
After her diagnosis, the Juilliard-trained pianist stopped practicing medicine and turned to music. She now works part-time as an anesthesiologist and performs as a musician. Cancer "completely changed everything," she said.
Lee's infertility, however, was caused by age, not cancer. Her expert testified that women her age have only a 0.03% chance of having a baby. A UC physician estimated the chance at 0% to 5%.
The fertility clinic told her she had a 20% chance of having a child with a frozen embryo, she said. With five of them, she is hopeful she will have a baby with the help of a surrogate. She is now cancer-free.
maura.dolan@times.com
Twitter: @mauradolan
ALSO:
Stockton police under fire for tackling teen accused of jaywalking
Qatari sheikh at center of Beverly Hills speeding case flees the country
Man convicted of throwing daughter, 4, off cliff sentenced to life in prison
---
The stories shaping California
Get up to speed with our Essential California newsletter, sent six days a week.
You may occasionally receive promotional content from the Los Angeles Times.