'Operation Jungle Book' leads to federal criminal charges against suspected wildlife traffickers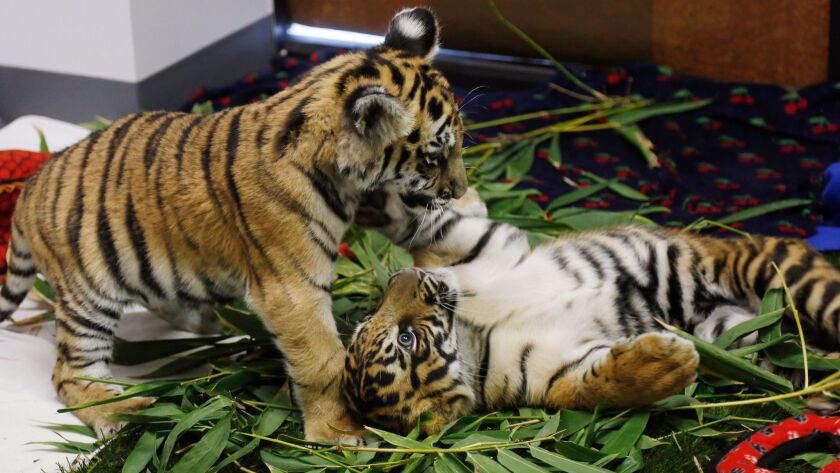 Venomous king cobra snakes packed into potato chip cans. Asian songbirds bound and stuffed into a suitcase. And a Bengal tiger cub driven in a vehicle from Indiana to Ventura County.
These are just some of the ways people have smuggled protected wildlife into Southern California.
On Friday, U.S. Fish and Wildlife Service officials announced that 16 people have been charged and about 200 animals seized in recent months as part of "Operation Jungle Book," the largest wildlife trafficking sweep in Southern California history.
"We are combatting an ever-growing black market for exotic animals," acting U.S. Atty. Sandra R. Brown said in a statement. "An insatiable desire to own examples — both living and dead — of these vulnerable creatures is fueling this black market."
The service held a news conference Friday at its Torrance facility to raise awareness and to try to deter wildlife smuggling. Operation Jungle Book also included trafficking in coral and bald eagle feathers.
Asst. U.S. Atty. Amanda Bettinelli, who worked on the investigative team, said authorities have seen a recent uptick in wildlife trafficking. Operation Jungle Book, which was conducted between May and early October, was an effort to crack down on such crimes.
The number of shipments of animals "we get on a weekly basis here in the Port of Los Angeles is pretty shocking," Erin Dean, resident agent in charge of the service's Southern California region, said. "It's all about money."
Despite the threat of prison time, smugglers take the risk because of a lucrative black market, authorities said.
In May, Kurtis Law, 50, of Orange County, was arrested on allegations of smuggling 93 Asian songbirds, worth nearly $100,000, on a flight from Vietnam, authorities said. Bound and stuffed into boxes in suitcases, only eight of the birds were still alive by the time they were discovered at Los Angeles International Airport.
This week, Law was ordered to serve one year in federal prison.
Gayle Simpson, 33, of Inglewood pleaded guilty last month to smuggling five monitor lizards, worth an estimated $1,500 to $2,000, from the Philippines. Authorities intercepted the package, which was addressed to Simpson's son and labeled "speakers." Two of the lizards were dead and another had a crushed foot.
Simpson faces a maximum penalty of 20 years in prison.
On Thursday, a Florida man was arrested on charges of falsifying documents to purchase a Bengal tiger from an Indiana wildlife sanctuary in 2014 and transporting it to Ventura. Nicholas Bishop, 27, who also goes by "Nick the Wrangler," said he had bought the tiger for rapper Tyga.
The tiger cub, 3 to 6 months old at the time, was first spotted in a Ventura backyard, before it was moved to Piru, authorities said. The tiger had been held in a crate.
If convicted, Bishop faces a maximum sentence of five years in prison.
Protected Arowana fish were among the 200 confiscated animals from Operation Jungle Book. In one instance, authorities noticed a leaking package labeled "Porcelain Herbal Pots" and found eight of the fish in bags of water inside porcelain pots.
In some parts of Asia, the protected Arowana fish are thought to be symbols of luck and prosperity. They can fetch thousands of dollars in the underground market.
On display at Friday's news conference were several confiscated animals (though not all were from Operation Jungle Book), including a hyacinth macaw, a ploughshare tortoise and two tiger cubs.
After their interception, confiscated animals are placed with accredited zoos and sanctuaries, such as the Los Angeles and San Diego zoos and the Turtle Conservancy in New York.
makeda.easter@latimes.com
---
Life is stressful. Our weekly mental wellness newsletter can help.
You may occasionally receive promotional content from the Los Angeles Times.