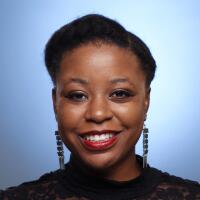 Makeda Easter is a former Los Angeles Times staff writer. While covering the intersection of the arts and identity, she wrote about street dance activists who use Black social dances to fight racism, a Native playwright whose most successful work skewers white wokeness and the impact of COVID-19 on artists who are incarcerated. A project she led focused on how social media is democratizing the dance industry won an Online Journalism Award in 2020. Easter became interested in journalism while working as a science writer for a university supercomputing center. She received her bachelor's degree in science, technology and international affairs at Georgetown University.
Latest From This Author
Artists Who Code was born out of Catherine Ricafort McCreary and Scott McCreary's deep frustrations working as full-time artists.

Kehinde Wiley and Alison Saar and are among the artists whose work will create a $100-million-plus cultural corridor celebrating Black L.A.

Nichelle Nichols, the beloved Lt. Uhura on 'Star Trek,' is living with dementia and struggling financially. Three parties fight to control her fate.

A Times reporter went to Pasadena's Rose Bowl Flea Market for some Sunday fun. Instead she was confronted with racist rag dolls and minstrel piggy banks

The artists behind the Obama portraits and the filmmaker who helped to fund their creation are picked for the 10th annual honor.

Don Martin was one of the last living members of the pioneering, integrated Lester Horton Dance Theater. He worked to preserve a modern dance legacy.

President Biden signed legislation into law Thursday to make Juneteenth, or June 19, the 12th federal holiday.

The billionaire philanthropist donated $2.7 billion to 286 arts, educational and social justice organizations. Here are some of the SoCal recipients.

From Leimert Park's annual celebration to Segerstrom's first year of festivities, commemorations of Juneteenth will feature Black art across the region.

Is historic preservation finally catching up with the conversation on systemic racism? The National Trust for Historic Preservation's list indicates yes.