Gloria Molina's endorsement pileup for council seat seen as a misstep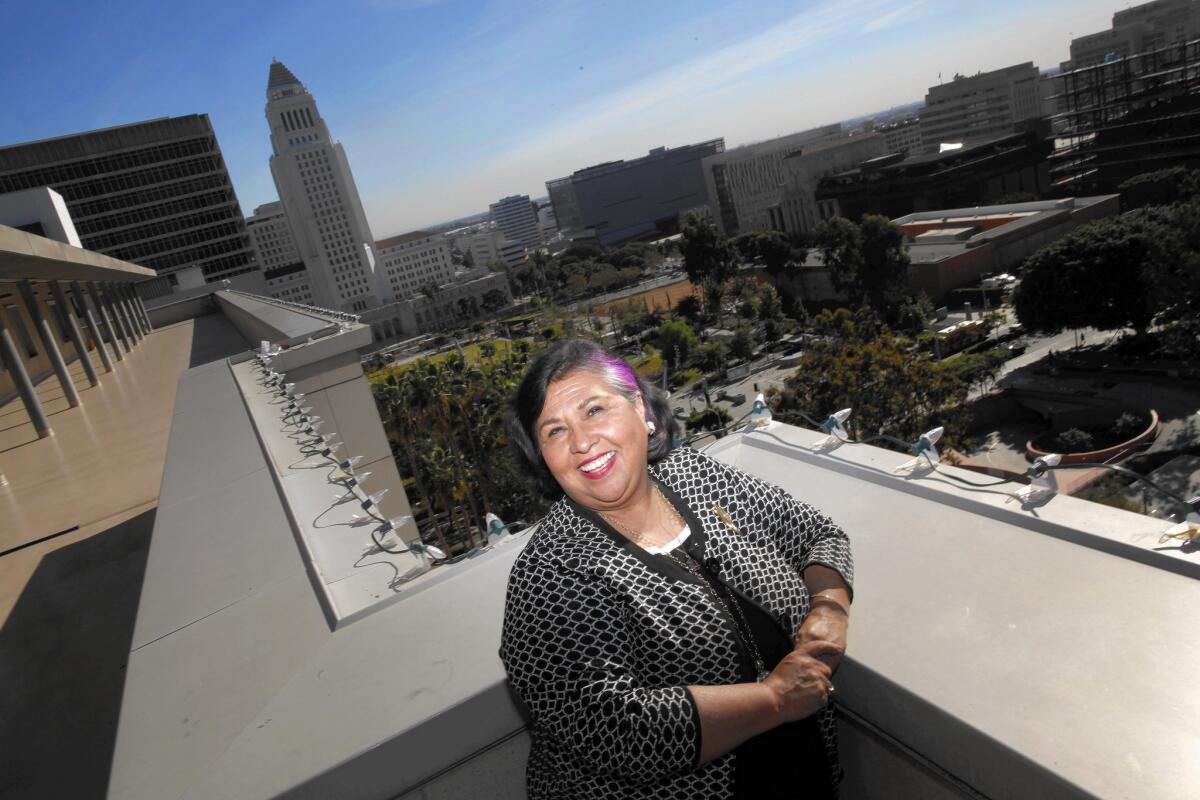 Former Los Angeles County Supervisor Gloria Molina announced this week that she has pulled in three big-name endorsements in her race for Los Angeles City Council: U.S. Sen. Barbara Boxer, former Mayor Antonio Villaraigosa and Councilman Gil Cedillo.
But it wasn't exactly a seamless moment for Molina, who is looking to unseat Councilman Jose Huizar in the March 3 election. Molina confirmed the endorsements after The Times and others learned they had been listed prematurely on a League of Women Voters online election guide describing her candidacy.
Instead of having a splashy series of endorsement events, Molina found herself discussing her three major backers all at once late Thursday night. "All I can say is, I'm proud of every single one," she said in an interview. "All these endorsements are good, and the reason they're good is that these are people who know me. I've been in the trenches with them from Day One."
Political expert Jaime Regalado said the three endorsements would been much more impressive had they been announced one by one over the course of the campaign. Thursday's incident shows Molina's political skills are a bit rusty, said Regalado, emeritus professor of political science at Cal State Los Angeles.
"She really hasn't had a test since 1991, so I think she's a little bit out of touch with how to run a tough campaign, a competitive campaign. And this is an example."
The existence of the Molina endorsement page was first reported by political blogger Scott Johnson, a frequent Huizar critic.
Candidates typically unveil their biggest backers one by one, for maximum effect. Huizar has been gradually rolling out his own high-profile endorsers, a group that includes the Los Angeles County Democratic Party, the Sierra Club and the League of Conservation Voters.
Huizar also has picked up pivotal support from the city's firefighters union and the county Federation of Labor, which has spent $15,000 so far to get the message out about his campaign. "There are 300 community leaders who've already endorsed Jose," said Parke Skelton, the Huizar spokesman. "I don't know how many, if any of them, have endorsed Gloria."
In some ways, Molina faces an uphill climb in the five-way contest for the 14th District, which stretches from downtown and Boyle Heights to Eagle Rock. Huizar, running for his third and final four-year term, has already taken in $817,000 in contributions and another $100,000 in taxpayer matching funds. Molina has amassed $132,000, and three other candidates — union organizer Mario Chavez, political consultant John O'Neill and social worker Nadine Diaz — have collected less than $30,000 combined.
For Molina, perhaps most significant of this week's endorsements is that of Villaraigosa, who represented the district a decade ago. Once he became mayor, he recruited Huizar to run for the seat and appeared on an array of campaign mailers supporting him. Huizar remained an ally throughout Villaraigosa's mayoral tenure.
Still, Villaraigosa's ties to Molina go back even further. Molina helped Villaraigosa enter politics by making him an alternate member of the Metropolitan Transportation Authority's board of directors. She also backed him in his 1994 campaign for state Assembly, his first for public office, and later mayoral campaigns.
Molina said she asked Villaraigosa for his advice on whether to run but also worried about putting him in the "terrible position" of having to choose between allies. She said Villaraigosa responded by offering his support. "He said, 'Gloria, if you run, I'm there,'" Molina said.
Villaraigosa did not respond to calls seeking comment on the Molina-Huizar race. But others were clearly caught off guard by Molina's decision to confirm the three endorsements.
A representative of Boxer said an endorsement announcement had been planned for later in the campaign. Cedillo spokesman Louis Reyes said his boss is indeed supporting Molina but had no details. "I'm sure we'll put out something formally," he said. "We're just not prepared to do so."
Skelton, the Huizar spokesman, downplayed the importance of Molina's endorsements, saying they are "nothing particularly unexpected."
"She's always had a good relationship with Boxer," he said.
Molina was one of Boxer's earliest endorsers in the 1992 campaign for U.S. Senate.
Follow @DavidZahniser for more news from L.A. City Hall.
Sign up for Essential California for news, features and recommendations from the L.A. Times and beyond in your inbox six days a week.
You may occasionally receive promotional content from the Los Angeles Times.