In District 4 L.A. council race, 'experience' is interpreted 2 ways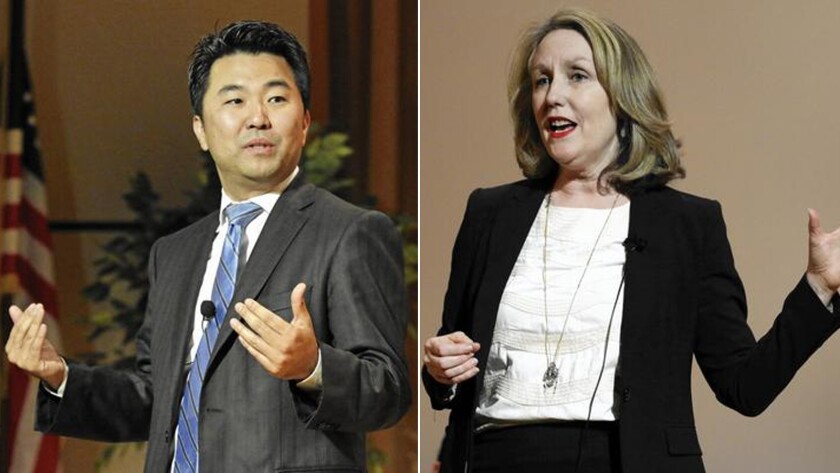 The head-to-head runoff between Los Angeles City Council candidates Carolyn Ramsay and David Ryu poses a stark choice between a political heir apparent taking a familiar route to the council — a long-time aide replacing her boss — and an unexpected contender who has pitched himself as the antidote to the status quo.
"This election is clear," Ryu told a crowd at a recent Laurel Canyon forum. "It's insider versus outsider. Status quo versus change."
Ramsay also said the choice was clear — but different. "Someone who has experience in your community — and someone who doesn't," she said.
In District 4, which stretches from Sherman Oaks to the Miracle Mile, candidate debates have tended to revolve around worries about out-of-scale development, traffic and buckling streets. Ryu and Ramsay have not differed sharply in their positions, but the race has nonetheless become a pitched battle over the past and future of the district.
For some, the decision amounts to a referendum on the lengthy tenure of outgoing Councilman Tom LaBonge, a larger-than-life booster for the city. The question before voters May 19 is "Do they want his surrogate — or are they sick of it?" said Dermot Givens, a political consultant not involved in the race.
Ramsay, a former journalist and daughter of late NBA coach Jack Ramsay, joined LaBonge as a field deputy nearly a decade ago and has spent most of her career since in his office.
At community forums, she drops the names of local fire captains and recounts accomplishments such as acquiring land to expand Griffith Park. She has promoted endorsements by LaBonge and other council members and touted a planned Hollywood Innovation Zone to bring tech and entertainment together.
Ramsay has generated some excitement as a female candidate for a 15-member council on which all but one representative is male. And she has touted that most of her campaign dollars have come from people living or working in or near the district. Kristin Sales, a Sherman Oaks resident, said she had found Ramsay to be a responsive "problem solver." Anthony Filosa, a Hancock Park resident, said Ramsay assisted residents with relocating some palm trees for traffic improvement on Highland Avenue years ago.
"She intimately knows all levels of what goes on in the district," said Marilyn Bush, a Los Feliz resident.
But Ramsay is also lugging baggage from her years at City Hall — the grievances of neighborhood residents upset with LaBonge or with Ramsay herself. In Silver Lake, resident Jerome Courshon complained that both LaBonge and Ramsay had done little to address complaints about nearby construction and excavation projects that kicked up dirt, making residents sick.
"I can't support the continuation of the regime of Tom LaBonge," Courshon said, arguing that Ramsay had not "lifted a finger" to help them.
And in Beachwood Canyon, many residents are alarmed by the number of tourists trekking through their neighborhood to view the Hollywood sign, which they fear could ramp up the risk of fire or pedestrian accidents.
"How many years has Carolyn spent in that office downtown?" Fran Reichenbach wrote in an email to fellow Beachwood Canyon residents. She added, "She's going to deliver the only thing she knows — Tom's brand of leadership without the bluster."
Many such critics are turning to Ryu, a community health center development director. Ryu recounts his history as the son of Korean immigrants who shared a cramped East Hollywood apartment and sometimes relied on food stamps. He went to UCLA and ultimately decided to become a social worker, dashing the doctor dream of his parents.
Though Ryu has government experience working with Los Angeles County Supervisor Yvonne Burke and for the county auditor-controller, he is widely seen as a political outsider compared with Ramsay. Former candidate Jay Beeber, known for crusading against red-light cameras, recently endorsed Ryu as "somebody who is willing to go up against the power structure." Miracle Mile Residential Assn. President James O'Sullivan said he was opting for Ryu because he didn't want "business as usual."
"He'll bring in fresh ideas and fresh energy," said Michael Ortiz, a Los Feliz resident supporting Ryu. "We're tired of the same old thing."
If elected, Ryu would be the first Asian American to serve on the council since 1993. During the crowded primary, he raised more campaign money than any other candidate in the race and led in precincts scattered across the city.
Since then, Ryu has won the endorsement of the county Democratic Party. He has scored points in a district wary of development by pledging to forgo and return campaign contributions from local developers. And after LaBonge faced scrutiny over how he spent council discretionary money, Ryu publicly vowed to reform what he dubbed "slush funds."
The Ramsay campaign has picked at those pledges, arguing that Ryu is still accepting donations from developers working outside L.A. who could later end up with projects in the city, and pointing out that Ryu sold his home to a developer.
Ryu has also faced criticism over how well he understands City Hall: Sherman Oaks resident Matt Epstein said he was disappointed with how Ryu answered questions from his homeowner group. Hollywood Hills resident Jeffrey Briggs, a Ramsay supporter, said he worried that Ryu had a "superficial level" of understanding local issues and would face a steep learning curve in city government.
"I'm troubled by the extent to which he just relies on the notion that if everybody gets together and hashes things out, we can have a 'Kumbaya' moment," Briggs said.
For both Ramsay and Ryu, the challenge is to satisfy two competing — and possibly conflicting — desires from voters, said Michael Trujillo, a political consultant not involved with the campaign. "What I think voters want is someone who's going to hit the ground running and get things done immediately but isn't beholden to anyone in that building," Trujillo said of City Hall.
Follow @LATimesEmily for breaking news from L.A. City Hall
---
The stories shaping California
Get up to speed with our Essential California newsletter, sent six days a week.
You may occasionally receive promotional content from the Los Angeles Times.