Why union leaders want L.A. to give them a minimum wage loophole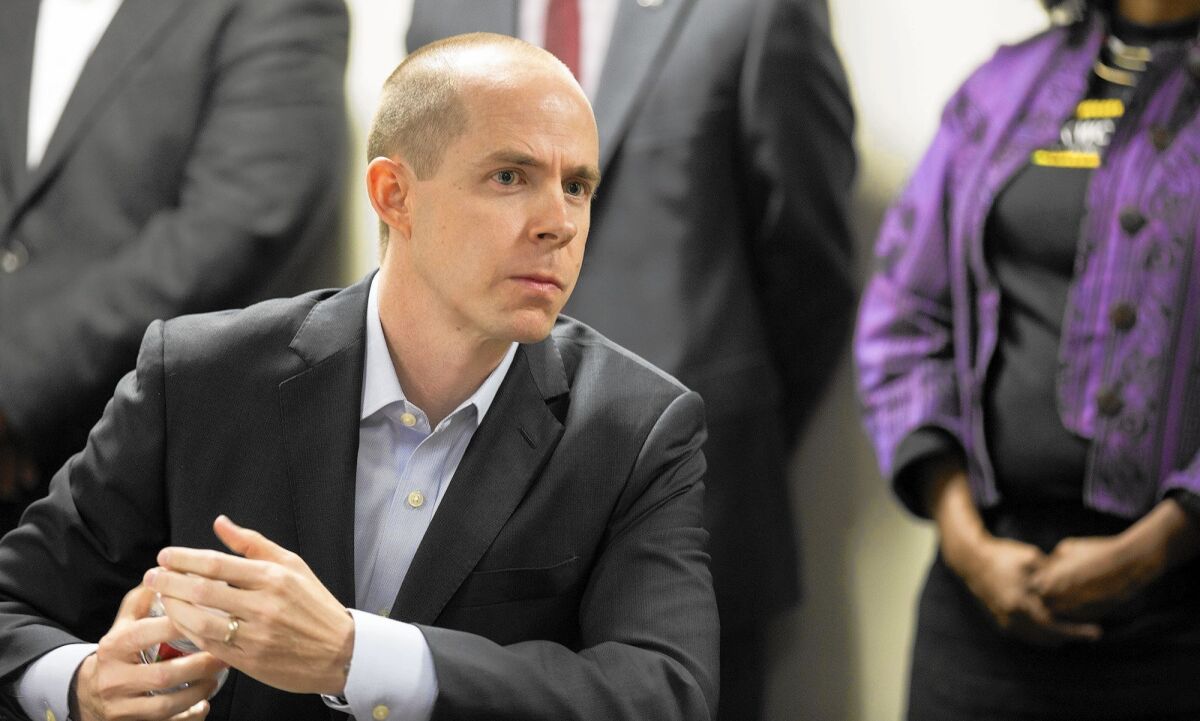 One of the most divisive issues that Los Angeles City Council members expect to confront when they return this week from a summer recess will be a proposal by labor leaders to exempt unionized workers from the city's new minimum wage.
The push for the loophole, which began in the final days before the law's passage, caused a backlash rarely seen in this pro-union city and upended perceptions of labor's role in the fight to raise pay for the working poor. Union activists were among the most stalwart backers of L.A.'s ordinance raising the wage to $15 by 2020, and argued against special consideration for nonprofits and small businesses.
Rusty Hicks, head of the Los Angeles County Federation of Labor, said the union waiver would be a routine protection against challenges to the ordinance under federal labor law. "This is about staying consistent with previous provisions and crafting something that will withstand legal scrutiny and delay," Hicks said in May. In California, he added, "we've seen every city that has passed a minimum wage include this kind of a provision."
A Times review of other cities' minimum wage laws, as well as interviews with labor leaders and legal experts, suggests the truth is more complicated.
Guarantees that organized workers should be allowed to bargain for a subminimum wage appear to have scant legal justification, some experts said. They are not a universal feature of local wage ordinances, in California or other states. San Diego, the largest California city to raise its minimum wage in recent years before L.A., did not include such an exception.
And whether the exemptions are what their harshest critics say — a scheme to swell union rolls with more dues-paying members by appealing to businesses that would rather let workers organize than be forced to pay them more — they are unpopular even among some at the highest levels of the labor movement.
"Unions in America, obviously we're in decline," said Dave Regan, president of SEIU-UHW, the union that represents home healthcare workers and is leading the campaign for a California ballot measure to raise the statewide minimum wage to $15. "I don't think we help ourselves by taking positions where we don't hold ourselves to the same standards as everybody else."
Regan said that "under no circumstances" would such an exemption be included in the 2016 initiative that SEIU-UHW is championing. He said it was "silly" to suggest, as some in L.A. do, that the exemption would make a wage increase more legally defensible. "I just think that's a red herring," he said. "It's not true."
In May, when L.A. elected leaders approved the minimum wage hike, they opted to defer debate on the question of a union waiver and asked for further research into the matter from city analysts. It is still unclear when the provision could come up for a vote.
Hicks declined to comment for this report. In previous statements, he and others have warned that one way opponents of the $15 minimum wage could challenge the ordinance in court is asserting that it violates the National Labor Relations Act by intruding on the collective bargaining process. He said a waiver for unions would safeguard the law from such arguments.
Legal experts said the attack that Hicks described would be unlikely to succeed. The U.S. Supreme Court has held that "minimum labor standards" don't conflict with workers' right to unionize, said William B. Gould IV, a professor emeritus at Stanford Law School and former chairman of the National Labor Relations Board. Many lower courts have held that a minimum wage is such a standard.
Betsy Johnson, an attorney with the national firm Ogletree Deakins who has practiced employment law in California for three decades, said she could see no conflict between collective bargaining rights and L.A.'s new minimum wage. "All it does is set a higher floor for the unions to work from" when bargaining, she said.
Recent history also indicates that the exemptions don't discourage lawsuits. In fact, when hotel industry groups went to federal court to challenge a 2014 L.A. ordinance that raised the hourly minimum wage to $15.37 for workers at large hotels, the groups' lawyers argued that the measure's union exception was one way in which it ran afoul of federal labor law. (The case is pending.)
The experience of other cities suggests that a range of different motives can drive unions to seek exemptions for their workers.
When City Council members in San Diego voted to raise the hourly minimum wage to $11.50 last year, some activists sought an escape clause for union workers. Tom Lemmon of the San Diego County Building and Construction Trades Council, one of the groups that lobbied for the waiver, said the survival of labor-friendly businesses was at stake.
Without leeway to pay a subminimum wage, he said, those companies could be outbid by nonunion shops that chose to ignore the new pay standards.
"The reason we asked was so that we could continue to be competitive," Lemmon said. "We knew that our people were going to be following the rules and other folks would not.... One more layer of rules was just going to make it harder for our contractors to compete."
San Diego ultimately did not include the exemption. Business leaders opposed to the city's wage increase gathered enough signatures to force a referendum on the law, which is on hold pending the vote's outcome.
Some see thinly veiled self-interest at work in labor's quest for waivers in minimum wage laws. Glenn Spencer of the U.S. Chamber of Commerce said that Southern California in particular shows the potential benefits of such provisions for private-sector unions at a time when many are struggling to stanch long-term declines in membership.
Beginning in 2006, the local chapter of the national hotel workers union Unite Here successfully campaigned for ordinances in L.A. and Long Beach that raised the minimum wage for workers at some large hotels. As a result of union opt-out clauses in those laws, Spencer says, Unite Here was able to pitch itself to hotel companies as a means for evading employee pay raises — the "low-cost option."
Spencer pointed to data from the federal government's Office of Labor Management Standards showing that Unite Here Local 11, which covers L.A. and Long Beach, grew from 11,936 members in 2006 to 20,691 in 2014. But the exact cause of that influx is unclear. The same federal data show Local 11's spending jumped from 2006 to 2014, suggesting Unite Here might simply have attracted new members by pouring more resources into organizing.
One of Unite Here's top executives, Maria Elena Durazo, held Hicks' job as head of the L.A. county labor federation until last year. Durazo declined to comment. Hotel managers contacted by The Times either did not respond or declined to comment, citing the confidentiality of the hotels' dealings with employees.
Mike Casey, the outgoing president of Unite Here Local 2 in San Francisco — a city whose $15 minimum wage law includes a collective-bargaining exemption — rejected suggestions that such clauses are intended to pressure businesses to unionize.
"This is not some cynical thing," Casey said. "It gives us more latitude and more flexibility at the bargaining table."
For example, he said, workers might choose to accept a subminimum wage in exchange for better benefits. Because of tax breaks associated with employer-provided health insurance, such trade-offs can be advantageous both for businesses and workers.
Whatever labor leaders' motives for seeking freedom for union members to earn a subminimum wage, others argue that the exemptions' potential benefits should be carefully balanced against the suspicions they create.
"At this point in our history, we have to be very careful to send the message that we stand up for all workers," said David Rolf, an SEIU leader in Seattle who helped pass that city's $15 minimum wage ordinance, which does not include a union waiver.
"A wage is a wage is a wage," he said. "It's very hard to justify why you'd want any worker to make less than the minimum wage."
Follow @PeteJamison for news from L.A. City Hall.
ALSO:
In Alhambra, demographic shift reaches the grocery store
Touches of home help Venice clinic put young patients at ease
Violent weekend in South L.A. leaves 11 wounded, 1 dead
The stories shaping California
Get up to speed with our Essential California newsletter, sent six days a week.
You may occasionally receive promotional content from the Los Angeles Times.