Gang feuds to blame for recent Compton violence, officials say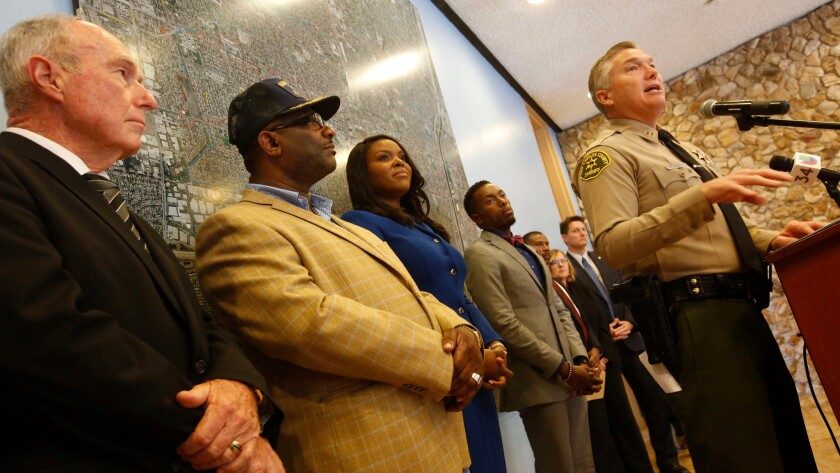 Compton City officials along with federal representatives gathered in Compton on Thursday to reiterate their commitment to fighting and preventing violence in the city of nearly 100,000 after a particularly violent May.
Through Thursday, the number of homicides in the city has tripled compared with last year, according to statistics provided by the Los Angeles County Sheriff's Department. This year, 15 people have been killed in the city, two more than all of 2015.
Mayor Aja Brown stressed that the 2015 figure was a record low for a city that once saw more than 70 killings a decade ago.
"The recent surge in crime is not isolated," Brown said, adding that the surrounding county has also experienced crime increases.
In May, seven people killed, all shot to death. And in February, a 1-year-old girl was killed as she stood in her crib. Authorities said they believe the assailant or assailants were gang members targeting her father. The killings come as Compton has received additional resources as part of a federal program to reduce crime.
Officials stressed at the news conference Thursday that the federal program, the Violence Reduction Network, is intended to bring sustainable and long-term solutions to the city, which has struggled with gang violence for decades.
Sheriff's Capt Matthew Burson, who heads the Operation Safe Streets Bureau, the gang unit for the department, said that most of the killings this year are the result of gang feuds.
"We're looking at an entrenched network of violence dating back to the mid-1970s," he said. Burson said gang officers are "working diligently" with federal agencies.
Capt. Michael Thatcher, of the Compton station, said that 13 of the 15 homicides this year are gang-related. The city hasn't seen a homicide since May 27, when an 18-year-old was killed.
Thatcher said that the department is looking at where and when the crimes occur to see if there's a pattern. The department, he said, has added extra gang officers to the streets for the summer in addition to using the resources from the federal program.
Thatcher called the program an "ongoing investment" and pointed to youth programs in the city that have been aided by the federal resources, such as a year-round tennis camp.
Thatcher emphasized that law enforcement and the city cannot solve issues of violence alone. The station is also working to improve protection for victims and witnesses, he said, but didn't go into further detail.
"We need the community to step forward with information," he said.
ALSO
Prosecutor urges death for 'Grim Sleeper' serial killer
Man charged with attempted murder in shooting of West Covina police officer
Slain UCLA professor William Klug, father of two, praised as 'great man' by students
For more crime news, follow @nicolesantacruz on Twitter.
---
The stories shaping California
Get up to speed with our Essential California newsletter, sent six days a week.
You may occasionally receive promotional content from the Los Angeles Times.