Prosecutor urges death for 'Grim Sleeper' serial killer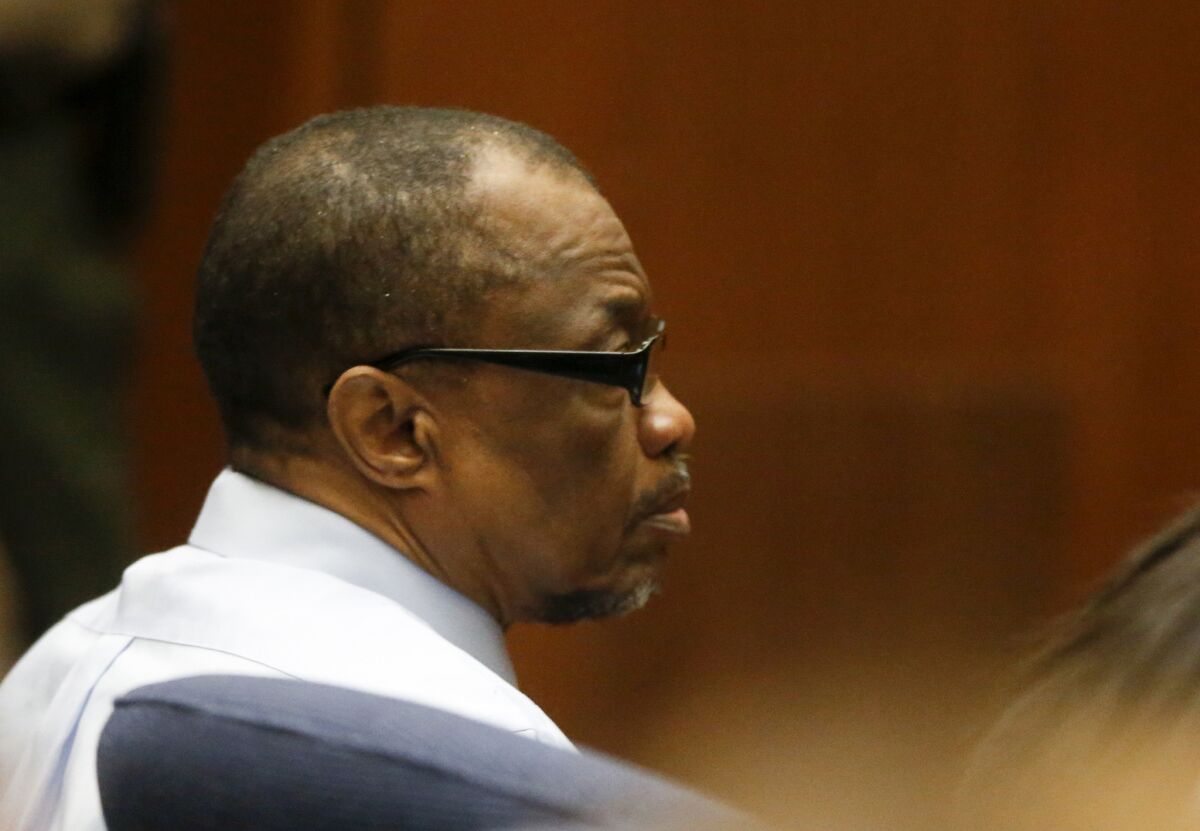 As she displayed a series of gruesome crime scene photos, each showing the bloody or battered corpse of a woman slumped over or spread across an autopsy table, the prosecutor made a simple request of jurors deciding the fate of the so-called Grim Sleeper serial killer.
"I ask you to show the defendant the exact same mercy, the exact same compassion, that he showed his victims," Deputy Dist. Atty. Beth Silverman said. "Because that's what he deserves."
The story of one of Los Angeles' most notorious and prolific serial killers moved into its final stages Thursday morning as closing arguments began in the penalty phase of the trial of Lonnie David Franklin Jr.
See more of our top stories on Facebook >>
Franklin, 63, was convicted last month in the murders of nine women and a teenage girl in South Los Angeles. The first killing took place in 1985, and the last known death occurred in 2007. He also was convicted of attempted murder in an attack on a woman who survived.
During the penalty phase of the trial, Silverman told jurors that Franklin killed five more women for which he wasn't charged, using the same modus operandi seen in the 10 killings and one attempted murder for which he was convicted. The deaths of those five victims were connected to Franklin after he was charged with the other murders, and prosecutors said additional charges would have forced more delays and not increased his possible punishment because he already was facing the death penalty.
Another woman testified that Franklin was one of three U.S. Army privates who raped her in Germany in 1974.
Jurors must now decide whether Franklin should face the death penalty or spend the rest of his life in prison without the possibility of parole. His attorney, Dale Atherton, is expected to deliver his closing remarks on Friday morning. Atherton declined to discuss his planned argument when approached by a reporter outside the courtroom Thursday.
Interested in the stories shaping California? Sign up for the free Essential California newsletter >>
Franklin had been dubbed the "Grim Sleeper" for an apparent gap of 14 years between killings, from 1988 to 2002. But one of the additional slayings introduced during the penalty phase of the trial dated to 2000, proving to authorities that the Grim Sleeper never really slept.
In all, investigators believe Franklin is responsible for at least 25 killings, including 11 that took place during the supposed dormant period that led to his nickname.
Franklin's victims were young and black, some leading troubled lives during the chaotic 1980s in South L.A. Many of the women were left strewn along a corridor in the Manchester Square neighborhood, their partly dressed or naked bodies — some decomposing — found amid the filth and garbage of alleyways.
The killing of the women, some of whom were drug addicts or worked as prostitutes, failed to elicit the same alarm that put Los Angeles on high alert during rampages of other prolific serial killers in Southern California, such as the so-called Hillside Strangler or Richard Ramirez, who was dubbed the Night Stalker.
The deaths of the Grim Sleeper's victims would not be connected for decades, and police kept the slayings quiet despite suspicions that a serial killer was stalking young black women. That decision led to outrage and condemnation from many who attribute Franklin's longevity as a killer to police indifference.
On Thursday, Silverman keyed in on the humiliating way in which the victims' bodies were dumped as she asked the jury to vote for the death penalty.
"He's indifferent to the consequences to his behavior. He's indifferent to the pain that he caused. He's indifferent to the lives of the victims and the families he destroyed," she said. "He doesn't care."
Over the objections of Franklin's attorney, Silverman reminded the jury that the defense failed to call a single witness or friend to speak of any redeeming qualities of the defendant.
"The lack of anybody coming and saying, 'Let me tell you why you should feel sorry for him; let me tell you about his good character,' speaks volumes," she said.
Franklin remained rigid throughout Silverman's closing argument, staring straight ahead even as pictures of his victims were displayed on a projector overhead. In the gallery, several of the victims' relatives dabbed their eyes and nodded as Silverman recounted the gruesome nature of the slayings.
The lingering pain felt by the relatives of Franklin's victims was the focal point of the final hour of Silverman's closing, when she detailed each woman's death and the devastating effect it had on their loved ones. She juxtaposed photos of the victims alive with images of their grisly ends.
"We heard about children who grew up without mothers, mothers and fathers who buried their own children, sisters who lost their best friends and bunk mates, brothers who lost their little sisters whom they believe it was their duty to protect," she said.
As she revisited victim impact testimony delivered throughout the penalty phase, Silverman repeatedly emphasized what she called the "multi-generational" damage Franklin had done to the children and grandchildren of his victims.
Valerie McCorvey's son, Matthew, was just 2 years old when she was killed, and to this day he rarely, if ever, speaks about his mother, Silverman said. Several of the victims' families stopped celebrating holidays after their loved ones were killed by Franklin, the prosecutor said.
The woman who was sexually assaulted by Franklin in 1974 in Germany stopped going out alone after the attack, and that fear passed on to her children, according to Silverman, who said the victim's daughter was "never allowed to walk anywhere by herself," nor was her granddaughter.
"Next week, or the following, whenever it is, long after you've all gone back to your lives, these people will go on living," Silverman said. "And they will go on living with their losses."
ALSO
House of hoarder 'out of control'; officials order clean up
Man charged with attempted murder in shooting of West Covina police officer
Man accused of shooting 2 Northern California officers is dead after standoff, police say
Follow @JamesQueallyLAT for crime and police news in Southern California.
---
UPDATES:
6:04 p.m.: This story was updated with additional details from the courtroom.
This story first published at 1:36 p.m.
---
Life is stressful. Our weekly mental wellness newsletter can help.
You may occasionally receive promotional content from the Los Angeles Times.