'Hearts are broken' after the fatal shooting of a 1-year-old Compton girl in her crib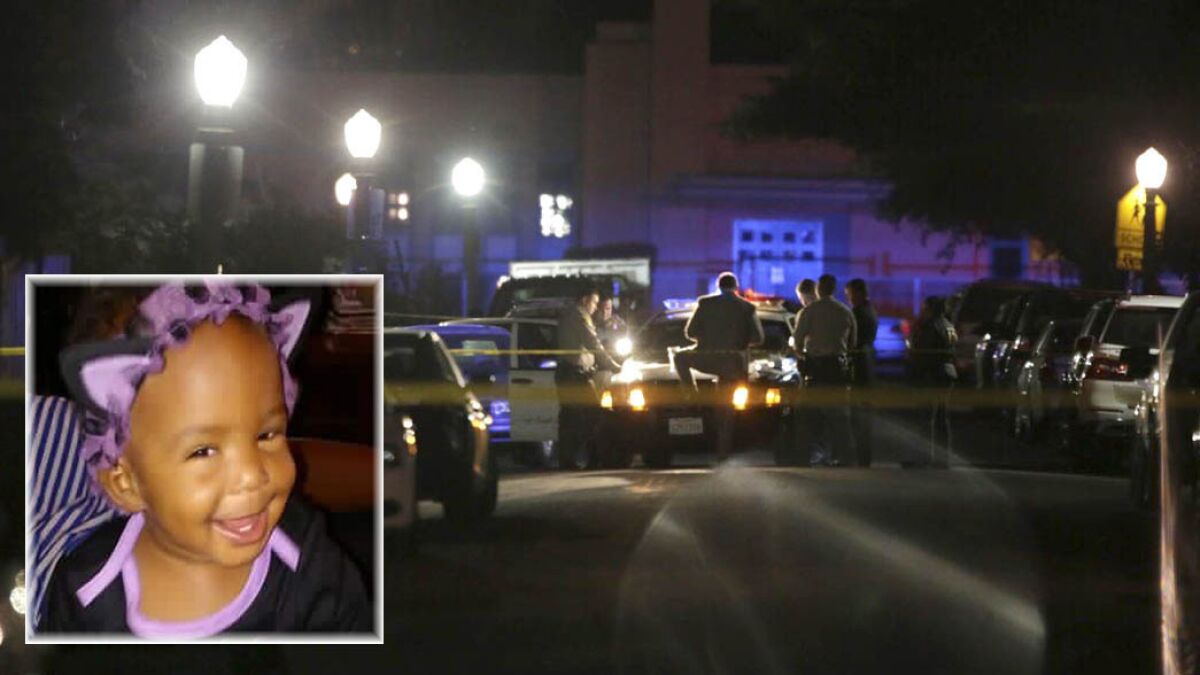 The gunfire that tore through a converted garage echoed across a Compton neighborhood.
Then a woman screamed: "They shot my baby."
The father begged for help for the daughter who lay limp in his arms. Sheriff's deputies rushed the girl with the head wound to the hospital, where doctors announced the cruel finale.
A day later the family of 1-year-old Autumn Johnson wept, grieved, prayed.
"My innocent baby got shot for nothing. She was sitting — just standing in her crib — and out of nowhere, gunshots," Autumn's mother, Blanche Wandick, recalled Wednesday. Her eyes dazed, her voice soft, she spoke swiftly as she shook her head.
"That's all. That's all I can say. That's it. I miss my baby, I love my baby, but she is gone," said the 21-year-old. Behind her, blood dotted the driveway leading to the yellow garage where Wandick lives with Autumn's father.
Inside the tiny home, scenes of celebration collided with despair. Minnie Mouse balloons and leftover cake, remnants from Autumn's recent birthday. Blood-soaked blankets in the crib. Bullet holes in the wall.
Sheriff's officials said the shooting took place about 7 p.m. Tuesday after a gunman got out of a blue Chevrolet Impala, walked toward the home near Holly Avenue and San Marcus Street and fired at the garage. The gunman returned to the car, which drove south on Holly.
Authorities are searching for two men and have pleaded for witnesses, even if they choose to remain anonymous.
The fatal shooting of a 1-year-old Compton girl Autumn Jackson as she lay in her crib has brought grief and questions from residents of a city that has long struggled with senseless violence.
"We'll take whatever we can get," said Det. Todd Anderson.
Investigators are trying to determine what prompted the violence and whether it was related to a gang dispute. They believe Autumn's father, Darrell Johnson, may have been the target of the attack.
Lt. John Corina said that Johnson, 24, was an admitted member of a local street gang.
"He was probably the intended target, and a stray bullet caught his daughter," Corina said.
A patrol car took Autumn to St. Francis Medical Center in Lynwood, where she was pronounced dead.
Kenyia Hicks, Autumn's great-aunt, said the father's background gave no one the right to kill a baby.
"Our hearts are broken," said Hicks, who just days earlier had rocked Autumn to sleep.
Lele Bowden, left, and Toni Bowden pay their respects after the slaying of 1-year-old Autumn Johnson in Compton.
(Barbara Davidson / Los Angeles Times)
Autumn Johnson's cousin Raeshon Garcia leads the family in prayer Feb. 10 and is comforted by Najee Ali.
(Barbara Davidson / Los Angeles Times)
Candles, flowers and stuffed animals form a memorial for 1-year-old Autumn Johnson, who was killed by gunfire in Compton.
(Barbara Davidson / Los Angeles Times)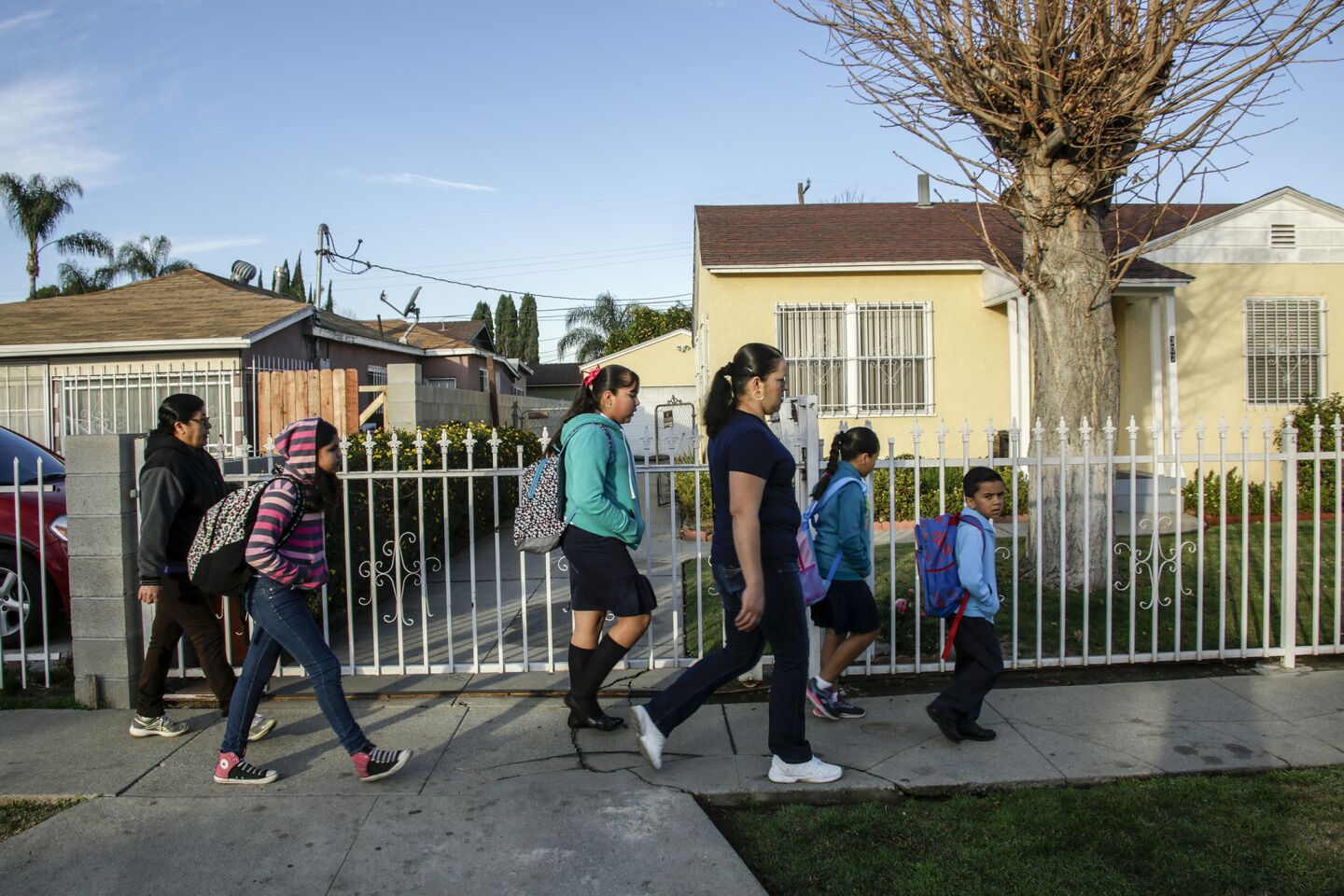 A family on their way to school walk by the residence where a 1-year-old was killed in a shooting in Compton.
(Irfan Khan / Los Angeles Times)
Bullet holes in the garage where 1-year-old Autumn Johnson died in a shooting in Compton.
(Irfan Khan / Los Angeles Times)
Los Angeles County sheriff's deputies investigate at the scene where a girl was fatally shot in the face Tuesday night in Compton.
(Robert Gauthier / Los Angeles Times)
Distraught great-aunt Kenyia Hicks, left, and father Darrell Johnson near where the shooting occurred.
(Irfan Khan / Los Angeles Times)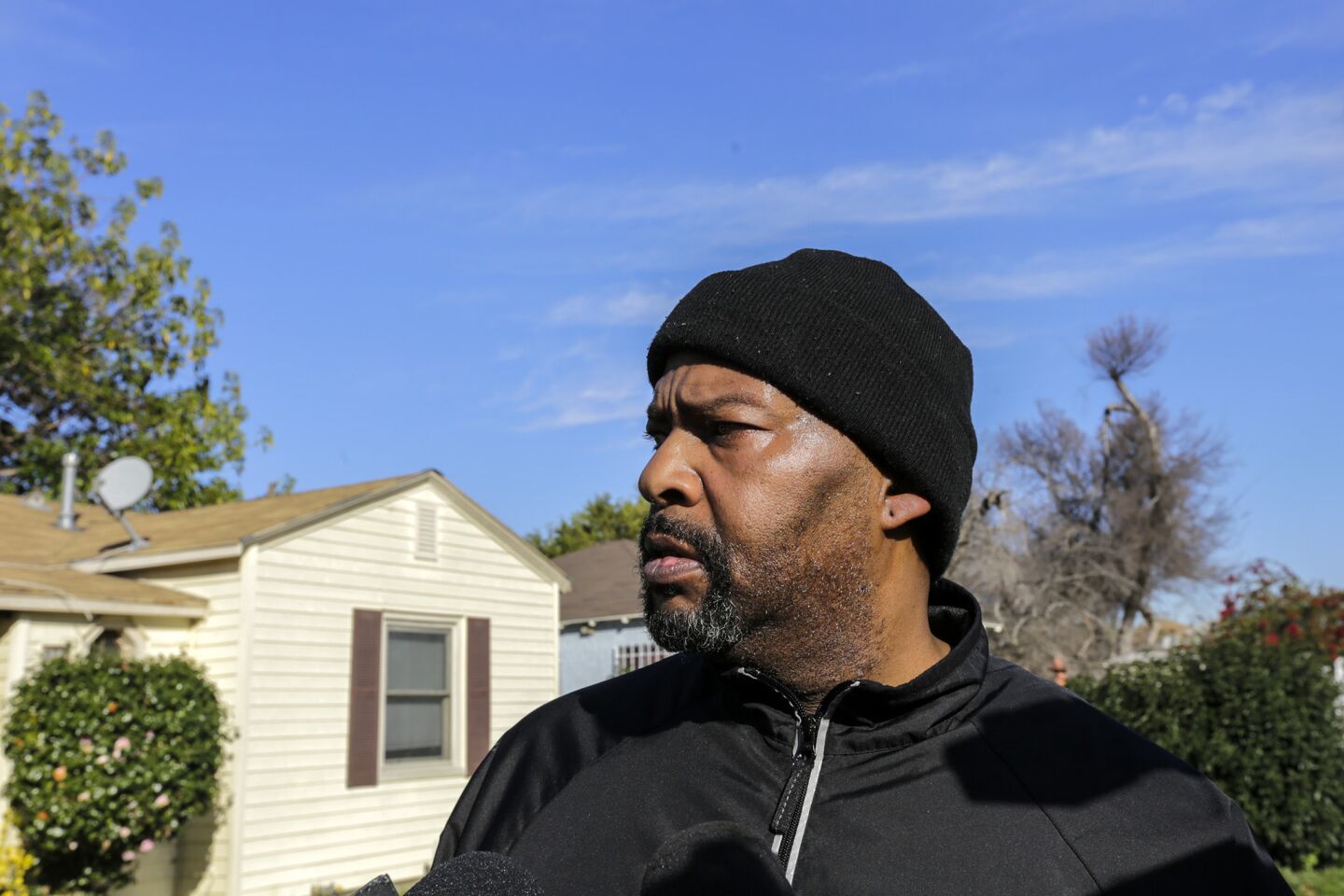 Cornell Patton, uncle of the slain girl's father, speaks to the media near the residence where the shooting occurred.
(Irfan Khan / Los Angeles Times)
Blood is splattered on the drive of the house where a 1-year-old girl died in a shooting on North Holly Avenue in Compton.
(Irfan Khan / Los Angeles Times)
Evelyn Harvey, grandmother, left, and Kenyia Hicks, great-aunt, at the Compton residence where 1-year-old Autumn Johnson was shot.
(Irfan Khan / Los Angeles Times)
"If I had known, I would've held her forever," the 44-year-old told reporters.
To the shooters Hicks had a message.
"You know who you are. You know what you did," she said. "I serve a God that sits high and looks low, and there's no crack, no crevice, there's nowhere that you can hide, because God knows what you did, and I don't see how you can have a conscience knowing that you took an innocent life."
Throughout Wednesday, family members gathered at the shooting site. As they mourned, the world seemed to move on, with parents walking their children to school and neighbors leaving for work.
Autumn had been a tiny baby, under 5 pounds at birth, family members said, earning her the nickname "Minnie." She had just begun to talk and her sweet disposition came with a stubborn streak. She would walk for everyone except her parents.
She was "the center of attention and joy," said her uncle Marques Slaughter, 28. "Her smile would make you feel so good inside."
Slaughter said the family had lived in the area for about eight years. "Everybody's taking it hard."
Amid the tears was anger. Cornell Patton, Autumn's great-uncle, grew visibly upset.
"This has to stop! At some point in time it got to stop! A 1-year-old baby is dead this morning, y'all. One year old, took a bullet to the head," Patton, 46, said.
"If black lives matter, then let's make it matter then," he added. "She had a hole right up over her eye. It's no regard for life, period."
Neighbors at first talked of a relatively peaceful area with few problems, but when pressed complained of the bullets that sail in from nearby streets, the gangs who tag their territory on street signs, the abandoned homes that serve as drug lounges, the absence of an effective neighborhood watch.
"I have to go to my neighboring city of Long Beach for my kids to play basketball," said Joseph Lewis, who lives in the area and served as a community liaison for former Compton Mayor Omar Bradley. "I don't even let my kids ride bikes to the park."
Still, Autumn's killing has unsettled the East Compton neighborhood.
Miguel Contreras said he was home Tuesday night and heard about four shots fired, followed by five more. He and his wife, along with their three children, threw themselves to the ground.
Contreras stepped outside when he heard screaming. He saw Johnson cradling his daughter.
"The baby was full of blood and its head was dangling from his arms," Contreras said. "He kept saying, 'My baby, my baby.' Everyone started calling the police. It seemed like the whole world was calling 911."
Wandick, he said, was distraught and pacing in the middle of the street. He attempted to calm the woman, who is pregnant with another child.
"I couldn't sleep last night, not after what I saw," Contreras said.
Some residents worried the incident would lead to more violence. They pointed out that Roosevelt Elementary School sits just a few houses away and fear that more children could be caught in crossfire.
Compton Mayor Aja Brown called the shooting "a tragedy that no parent should ever have to face" and urged residents to recommit themselves to the fight against gang violence.
"Let her death not be in vain," she said in a statement.
Overnight and throughout the day, people stopped by Autumn's residence to console the family. Rena Burleson, who said she used to babysit Autumn, wanted to see if what she had heard was true.
"It just hurts and bleeds," she said after seeing the cordoned-off block.
Resident Tina Anderson, 45, walked up to the home and placed a candle and teddy bear on the ground. "I wanted to start a small memorial to show that this community cares," she explained.
She said she hopes the shooting will shake the community and galvanize its members into joining together and addressing crime. She'd like to see more city-funded programs for youth, anything to soften the grip that gangs have on the area. Gang members these days, she noted, have no regard for life.
As visitors lingered Wednesday afternoon outside the home where Autumn's life was stolen, another shooting was reported less than a mile away.
Times staff writers Cindy Chang, Irfan Khan, Matt Hamilton, James Queally, Joseph Serna, Veronica Rocha and Richard Winton contributed to this report.
ALSO
Police investigate man's body found in Boyle Heights
Teens as young as 14 rescued from sexual exploitation during Super Bowl, FBI says
LAPD chief: 16-year-old fatally shot by police had sawed-off shotgun, stolen car
The stories shaping California
Get up to speed with our Essential California newsletter, sent six days a week.
You may occasionally receive promotional content from the Los Angeles Times.