USC violated labor rules by interfering with union vote, federal report says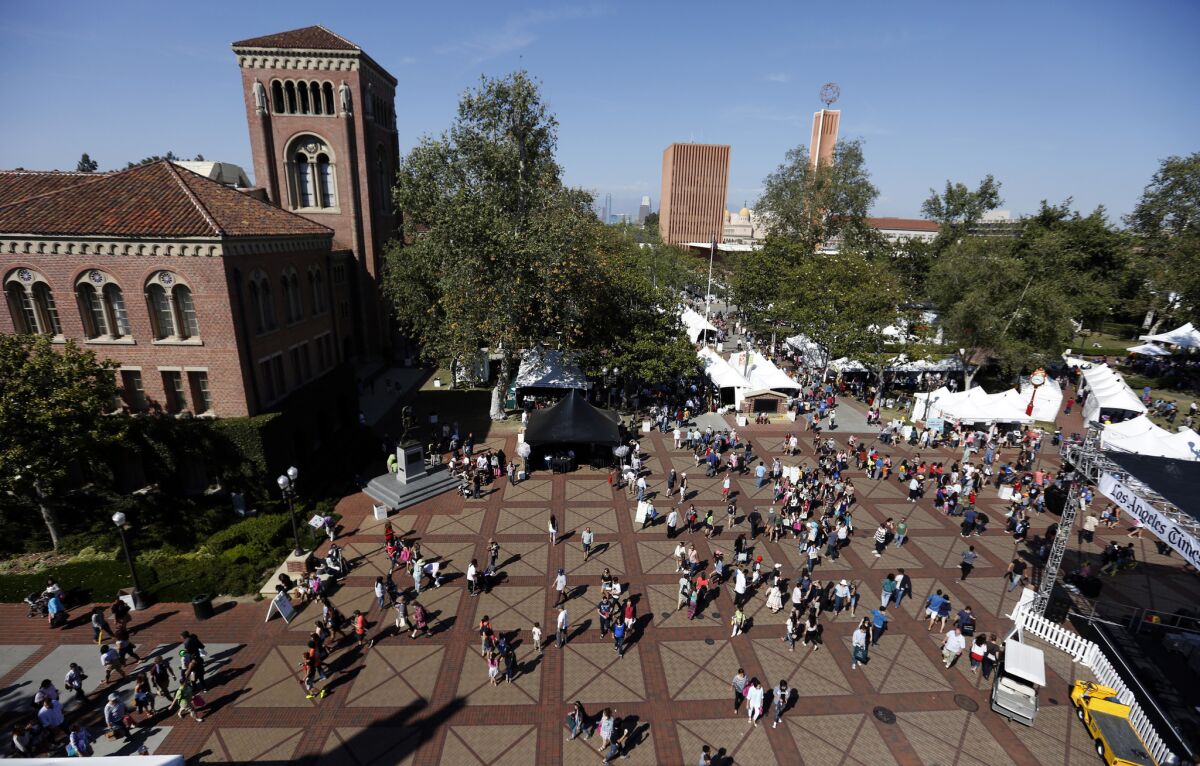 USC officials violated federal labor rules by interfering with a high-profile vote to decide whether hundreds of its faculty members should form a union, according to a stinging report from the National Labor Relations Board that calls for a new election.
The report says USC undermined the possibility of a free and fair election by giving raises to some non-tenure-track faculty at the Dornsife College of Letters, Arts and Sciences just before the vote in January. University officials also threatened that faculty members would not be welcome on the Academic Senate or other university committees if they voted to form a union.
The report backs allegations made by union officials and singles out USC Provost Michael Quick's role in tainting the election process.
"There is sufficient evidence to establish that Provost Quick engaged in conduct that was so aggravated as to create a general atmosphere of fear making a free election impossible," NLRB Hearing Officer Yaneth Palencia wrote in the report, which was released this month.
Non-tenure-track faculty at Dornsife, the oldest school at USC, voted 127 to 113 against joining the Service Employees International Union Local 721 in January. These results should be set aside and a new election should be conducted, according to Palencia's conclusions.
Palencia reviewed evidence and heard arguments from both sides, including testimony from Quick and USC Vice Provost Martin Levine.
"The credited evidence supports a conclusion that the Employer threatened employees with a loss of opportunity to participate in faculty governance," the report said. In addition, "the timing and manner in which the [wage increase] was announced and granted is very suspicious."
Quick said the NLRB's findings were simply not true.
"The election in Dornsife College that rejected the SEIU was free and fair," he said in a statement. "The USC faculty knows I am a strong supporter of faculty governance and never threatened it."
In a letter addressed to faculty, Quick said a re-vote "would be burdensome. But should a re-vote occur, I hope all Dornsife teaching faculty will turn out for this important vote."
The effort to unionize has been centered on lecturers, a category of faculty members that have fewer benefits than those who have or are eligible for tenure. Lecturers are generally responsible for leading discussion groups, teaching some classes and grading papers. They are not evaluated on the basis of their research.
Lecturers earn about $30,000 annually if they teach a full-time load of six courses, according to union officials. USC says the pay is much higher.
Kate Levin, a lecturer in Dornsife who supports unionization, said she welcomed the second chance to vote. She and her colleagues have said they were frustrated with large workloads, low pay, shrinking benefits and poor prospects for advancement.
"The NLRB's findings underscore what we've been saying for weeks: the University will do anything to silence our voices," she said in a statement distributed by the SEIU. "We look forward to engaging in a fair, democratic and legal process for deciding our future."
The SEIU has been working for about a year to organize a total of 430 faculty members at Dornsife and two other USC schools.
In January, eligible faculty members in the Roski School of Art and Design opted to join SEIU by a vote of 31 to 6. Those in the USC International Academy also approved the union, in a 32-to-3 vote.
These results made USC the largest private university in California to have faculty represented by a union.
USC is appealing the Roski vote because university administrators believe that some faculty members are managers who cannot be unionized, Quick said. USC will not contest the vote at the International Academy.
University officials have until Monday to file objections to the hearing officer's report, said NLRB spokeswoman Jessica Kahanek. The board's regional director will then decide whether to uphold Palencia's recommendations and proceed with scheduling a new faculty unionization vote.
The SEIU has held successful organizing campaigns at Duke University, Georgetown University and Tufts University, among others. Across the country, more than 10,000 faculty have joined SEIU in the past three years, union officials said.
Twitter: @RosannaXia
ALSO
California regulators permit Uber and Lyft to offer carpooling services
Harriet Tubman is the next face of the $20 bill; $5 and $10 bills will also change
Owners of emissions-cheating Volkswagens can choose buybacks or repairs, judge says
The stories shaping California
Get up to speed with our Essential California newsletter, sent six days a week.
You may occasionally receive promotional content from the Los Angeles Times.