Harriet Tubman is the next face of the $20 bill; $5 and $10 bills will also change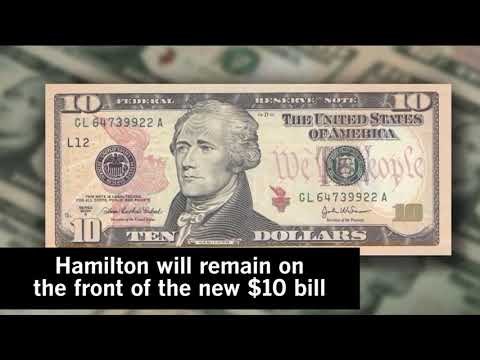 Harriet Tubman might not be the first woman to grace a United States bank note, but her replacing President Andrew Jackson on the front of the bill is making waves. The new bill will be unveiled in 2020.
Harriet Tubman and President Andrew Jackson lived on opposite sides of the American experience.
Tubman, a black woman, escaped slavery to become a conductor on the Underground Railroad, risking her life to lead slaves to freedom. Jackson, the son of Scots-Irish immigrants and owner of slaves, was elected president as a war hero and became known for policies that led to the deaths of countless Native Americans.
Soon, though, the two will share prominent placement on a new $20 bill — with Tubman, the former slave, getting top billing.
On Wednesday, Treasury Secretary Jacob J. Lew said Tubman would replace Jackson on the front of the $20 bill, becoming the first woman in more than a century and first African American to grace the front of a paper note. Jackson will be featured on the back of the bill alongside an image of the White House.
In another twist, Alexander Hamilton got a reprieve. Initially targeted for replacement by a woman on the $10 bill, Hamilton's reputation was burnished by an unlikely smash Broadway play and his case pressed by outraged historians pointing to his seminal role in creating the nation's first central bank.
Treasury's announcement followed almost a year of heated public debate, shaped by social media and history alike.
Even former Federal Reserve Chairman Ben Bernanke weighed in, pressing Hamilton's case on his blog. Bernanke wrote Wednesday that Tubman was an "excellent and deserving choice" while Hamilton had a better claim than any to stay on a bill.
Lew said the final concept designs of new $20, $10 and $5 bills are scheduled to be completed and unveiled by 2020, the 100th anniversary of the passage of the 19th Amendment, which gave women the right to vote.
Lew did not give a more specific timetable of when the bills would be released into circulation, saying only that he had directed the Bureau of Engraving and Printing to "work as quickly as possible" while making sure to meet security requirements for the bills that are the "first and foremost responsibility."
The first bill up for a remake is the $10, as part of Treasury's ongoing efforts to incorporate anti-counterfeiting technologies.
With Hamilton's position secure, and with the Obama administration under pressure to add diversity to the currency, Lew's compromise is to replace a picture of the Treasury building on the back of the $10 with leaders of the suffrage movement — Sojourner Truth, Susan B. Anthony, Elizabeth Cady Stanton, Alice Paul and Lucretia Mott.
The back of the $5 bill will also be redesigned to include opera singer Marian Anderson, First Lady Eleanor Roosevelt and civil rights leader Martin Luther King Jr.
Some historians believe the flood of new faces on American currency could mark a shift in attitudes toward role models.
"Andrew Jackson is what we used to think of as a great American hero," said Brenda Stevenson, UCLA professor of history and African American studies. "He stood for the white, male political and economic elite, with great military honor associated with him.
"We have this woman who in many ways is just the complete opposite of Andrew Jackson, and it speaks volumes that we can recognize [Tubman] as this great American hero and image of what it means to be American."
Catherine Clinton, who wrote "Harriet Tubman: The Road to Freedom," said she was invited by the Smithsonian to a discussion about putting a woman on the $10 bill and gave a copy of her book to Lew and U.S. Treasurer Rosie Rios.
"I felt that people needed to know how amazing her story was," she said. "She just wasn't a figure from the Underground Railroad, she just wasn't a self-emancipated slave, but she was a brave warrior in the fight against slavery. Harriet Tubman, I found, was such an important figure to so many because she represented the concept of one person making a difference."
The last time a woman was on a paper note was in the late 1800s, when First Lady Martha Washington appeared on the $1 silver certificate. Pocahontas was on the $20 bill from 1865 to 1869.
Lew's original plan to change the $10 — to have Hamilton share the bill with a woman, or release two different bills — met backlash from several directions.
Many said the only woman on the nation's paper currency should be featured alone on the bill, rather than sharing space with a man.
See the most-read stories this hour >>
There were 8.6 billion $20 bills in circulation as of Dec. 31, 2015, compared with 1.9 billion $10 bills, according to the Board of Governors of the Federal Reserve.
It helped Hamilton's case that "Hamilton," the play chronicling his life, became a breakout hit. In March, the play's creator and lead actor, Lin-Manuel Miranda, and other cast members met at the White House with Barack Obama.
Earlier this week, "Hamilton" also won a Pulitzer prize for best drama.
"He [Hamilton] launched the financial system, he straightened out the government's finances," said Richard Sylla, financial history professor at the NYU Stern School of Business. "A lot of the good things about American history were due to what Hamilton did as treasury secretary. I think Americans weren't quite aware of that."
In a call with reporters, Lew and Rios credited the outpouring of public response to the original plan and the call for suggestions.
"It was an evolutionary process," Lew said. "For me, personally, there was a kind of an 'aha' moment in July when it became clear that going bigger would give us the ability to tell more stories."
The last time a new portrait image appeared on a bill was between 1914 and 1928.
Twitter: @smasunaga
Times staff writers Lauren Raab and Jim Puzzanghera contributed to this report.
ALSO
The wild schemes people will use to commit tax fraud
In celebration of 4/20, Snapchat brings Bob Marley — and blackface
Consumers who use online lenders often get hit with bank fees, U.S. watchdog says