Bitcoin on trial as prolific trader faces money laundering charges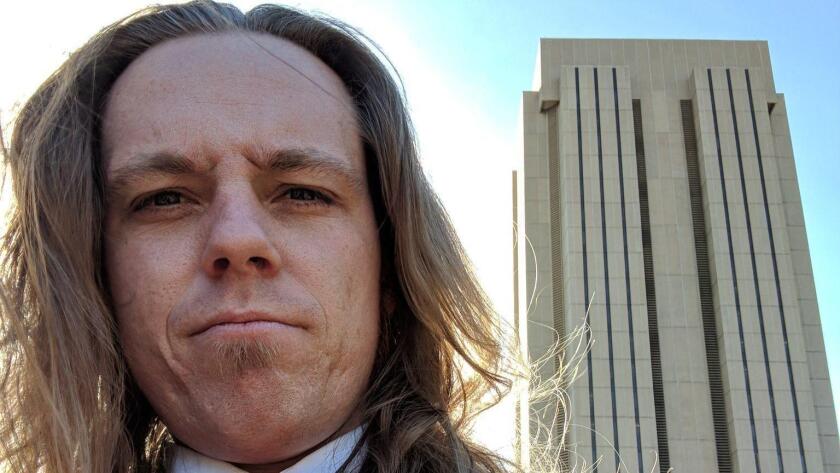 Bitcoin isn't issued by the government nor can it be deposited in a bank. So should it be subject to the same federal banking rules as traditional paper and coin currency?
It is a question that federal authorities have been grappling with ever since digital currency took off a decade ago, one that will now be heard in a San Diego courtroom with the indictment of Morgan Rockcoons.
The 30-year-old was the target of an undercover sting that depicted him as being a prolific bitcoin trader who exchanged bitcoin for a butane hash oil manufacturer without complying with anti-money-laundering banking rules. He is charged with operating an unlicensed money transmitting business and money laundering.
The case has reenergized the debate over how the virtual currency marketplace is regulated and whether such criminal prosecutions can stand up in court. Most cases have, but judges in a few prosecutions have taken provocative positions that bitcoin is not currency, suggesting that the debate is far from over.
"Despite the recent surge in attention, bitcoin remains new and novel," said Brian Klein, a Los Angeles attorney who has become an expert in cryptocurrency law and has clients across the country. "Bitcoin has captured the imagination of a lot of people. It's an exciting field to be involved in. There's still a lot of new legal ground to be plowed."
A bitcoin prosecution has not yet been tested in the U.S. 9th Circuit Court of Appeals. Could the Rockcoons case break any new legal ground?
On his Twitter account, an outspoken Rockcoons characterizes the case as "the insane Federal Government hell bent on banning Bitcoin use," and has put himself in the role of bitcoin defender.
"This case will basically make Bitcoin use a crime, something I will NOT allow as CEO of Bitcoin inc," Rockcoons told the Union-Tribune in a Twitter message when asked about the case. "It's my fiduciary responsibility to protect all Bitcoin users, Bitcoin developers and Bitcoin companies using the Bitcoin network world wide, so I will fight these made up bogus charges all the way to the Supreme Court if I must."
Bitcoins are the most popular kind of digital currency, defined succinctly by the website Lifewire as "electricity converted into long strings of code that have money value." You can't hold bitcoin like a dollar bill, but the long code has value and is kept in a virtual "wallet" to be held on to as an investment or to be used to buy goods. Some major retailers accept bitcoin but it hasn't caught on as pioneers had hoped.
Its anonymity also makes it the currency of choice for the dark web, which hosts a massive underground marketplace for criminal activities including child porn, drug sales, identity theft and murder for hire.
The law surrounding how bitcoin can be exchanged is found in guidance from the Financial Crimes Enforcement Network, the arm of the U.S. Treasury Department that works to combat money laundering with regulations.
In 2013, FinCEN announced that virtual currency was no different than standard currency when it comes to following the Bank Secrecy Act. The guidance requires people in the business of exchanging bitcoin for traditional or other type of currency to register with FinCEN and follow other anti-money laundering measures as banks do, including knowing the identity of the customer and reporting any transactions over $10,000. Many states also require money transmittal businesses to be licensed.
It is a general-intent crime, meaning it's a felony for someone to run an unlicensed bitcoin business whether or not there is knowledge of the licensing requirement.
The law, as the Justice Department interprets it, "provides almost unfettered prosecutorial discretion, making it a relatively easy criminal charge to bring and secure a conviction," Klein, the bitcoin attorney, points out in an essay on CoinCenter.org, a nonprofit research and advocacy group. "And because the courts so far have appeared to line up behind the DOJ's interpretation, it can be a very difficult charge to defend."
The prosecution of Charlie Shrem was the first of its kind, and made bitcoin enthusiasts nervous. The young bitcoin entrepreneur had started an exchange business that allowed users to buy bitcoins and make purchases with bitcoin for a fee, giving temporary credit to customers to make the deals go faster. In 2014, he was charged with operating an unlicensed money transmitting business, as well as conspiring to launder money to help customers of Silk Road — the massive criminal online marketplace — make purchases with bitcoin.
He pleaded guilty to aiding and abetting unlicensed money transmission and was sentenced to two years in prison.
Others have followed in his footsteps.
But bitcoin advocates point to two court rulings in particular that indicate the legal issues surrounding bitcoin aren't settled.
In 2016, a Miami-Dade County judge ruled that bitcoin is not actually money, not backed by any government or bank, not "tangible wealth" and "cannot be hidden under a mattress like cash or gold." She threw out Florida charges against Michell Espinoza, who had been accused of selling bitcoin to undercover detectives who told him they were going to buy stolen credit card numbers with it.
About six months later in New York, a federal magistrate judge recommended that charges be thrown out against Richard Petix, who conducted more than 100 bitcoin transactions with customers, including with an undercover agent.
The judge likened bitcoin to Beanie Babies or Pokémon trading cards — a commodity that has "value exclusively to the extent that people at any given time choose privately to assign them value." The judge noted the absence of a nexus to other criminal activity, as seen in other cases.
Prosecutors argued against the judge's recommendation, and the issue ended up being moot when Petix pleaded guilty to operating an unlicensed money transmitting business and lying to investigators about an unrelated issue connected to a prior child pornography conviction.
Neither opinion set legal precedent in terms of federal law.
Linking bitcoin exchange to other criminal conduct, such as money laundering, seems to be key in these cases, experts say.
Rockcoons caught the attention of U.S. Homeland Security investigatators in 2015 on the website LocalBitcoins.com, which advertised him as a prolific seller in San Diego, according to a search warrant affidavit. The website matches exchangers with customers.
An agent went undercover in 2016 and posed as a drug manufacturer who extracts THC from marijuana to make butane hash oil. He asked for help buying bitcoin and asked to do the transactions anonymously. Though anti-money-laundering requirements require money transmitters to take down the personal information of clients and to report transactions $10,000 and above, Rockcoons did neither — despite acknowledging he was familiar with such regulations, according to an affidavit filed in court.
The agent mailed $14,500 cash to Rockcoons in a FedEx package and Rockcoons gave him 9.998 bitcoins while taking a $5,300 service fee, the affidavit states.
In a text message, Rockcoons later allegedly boasted: "I'm a professional money manager and mover of funds without personal identifying information attached to the funds or equity. This is my speciality (sic)," the affidavit states.
Rockcoons declined to be interviewed for this story, referring questions to his attorney, but in interviews with other publications he disputed the facts as presented in the court records.
He told Bitcoin magazine that the undercover agent indicated the hash oil equipment he would be purchasing was for medical use, which is legal in California. He also accused investigators of trying to entrap him.
"I asked for only less than $10,000, they sent me $14500 (or) refused to send anything and then I sent under $10,000 (worth of bitcoin) to follow the law," he told the magazine.
He said he was living in a tent in the Mendocino National Forest at the time of the transaction and working on a voice-operated bitcoin wallet.
"I was living like a mountain man, so I didn't really need money but eventually I needed to buy food so I decided to sell some coin; when someone asked me to buy some I usually just always turn it down but I needed cash to eat," he told the magazine.
Agents found him at the Palms Casino Resort in Las Vegas when he was arrested on Feb. 9.
Davis writes for the San Diego Union-Tribune.
---
For reporting and exclusive analysis from bureau chief John Myers, get our California Politics newsletter.
You may occasionally receive promotional content from the Los Angeles Times.