How an anti-illegal immigration YouTuber turned a $280 fine into a federal criminal trial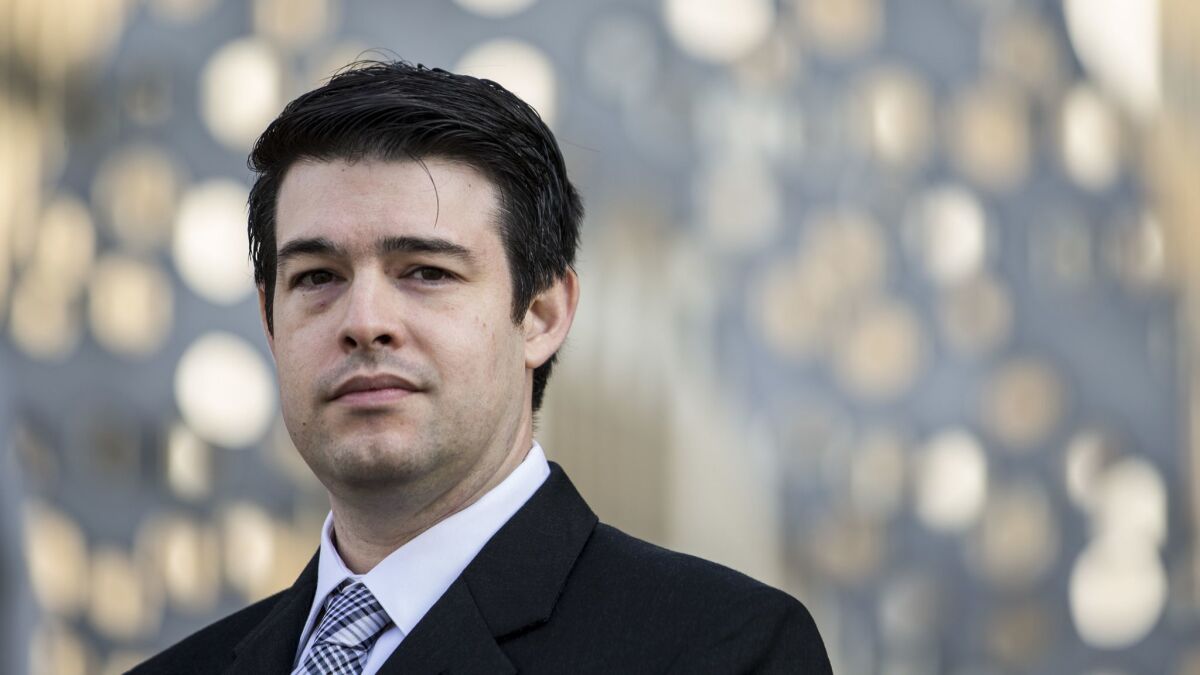 It began as a $280 citation for using a video camera in a courthouse.
But to Gary Gileno, at stake was much more than the couple hundred bucks he was told to pay.
An attorney for the anti-illegal immigration activist and prolific YouTuber told a judge Friday that the four-hour trial over the fine was really about preventing government abuse of power, protecting the rights of journalists and ensuring that citizens can hold public officials accountable.
"If he is convicted … it'll chill speech, it'll chill journalism, it'll say the federal government has a superpower to do whatever it wants," attorney William Becker said. "This is unprecedented. This is what we expect to see in a police state."
A federal prosecutor dismissed the rhetoric, arguing the Class C misdemeanor charge was simply about Gileno's refusal to follow a security officer's orders.
The unusual legal battle came after Gileno, 32, tried to bring a video camera into a meeting of the Los Angeles County Sheriff Civilian Oversight Commission last year. California law specifically allows the public to use recording devices at such meetings, but the commission's meeting in August was held at a federal appellate court building where filming is prohibited.
The commission, a civilian panel set up to monitor the Sheriff's Department and listen to public concerns about the agency, had been gathering in different locations around the county since it began meeting in January 2017. This was the first time commissioners had met at the 9th Circuit Court of Appeals building in Pasadena.
As Gileno entered the courthouse, deputy U.S. marshals told him he had to leave his camera in his car. Gileno insisted he had a right to record the meeting under the First Amendment and the state's open meetings law, known as the Brown Act, and began filming the officers.
They responded by handcuffing and detaining him for about an hour.
After Gileno was cited, Robert C. Bonner, a former federal judge who chairs the commission, told The Times he wasn't aware of certain provisions of the state's open meetings law and relied on the county's lawyers for legal advice.
Rather than pay the fine, Gileno opted to take his case to trial, facing a penalty of up to a $10,000 fine and 30 days in jail if found guilty.
Gileno, who began his YouTube career after showing up at his local council meeting in West Covina, said he has made a living off of his channel in recent years. His copious videos — 3,237 and counting — focus primarily on denouncing illegal immigration and promoting supporters of President Trump. His criminal case may have been a boon for his channel — a recent screed on his own prosecution was viewed more than 10,000 times.
On Friday, two court security officers who clashed with Gileno took the stand and testified that there were signs clearly posted saying photography wasn't allowed in the courthouse. They said Gileno grew belligerent and disruptive, turning on his camera after being warned several times that it was not allowed.
Testifying in his own defense, Gileno said he was a freelance citizen journalist who has attended and filmed local government meetings and legislative town halls for about five years.
"I believe in the United States of America, you should be able to keep tabs on the government," he said.
In more than 250 other public meetings he attended, he said, he never had an issue with bringing in his video camera. He said the security officer all of a sudden "exploded" at him, so he turned on his camera "to document what I felt was a violation of my rights at the time."
Assistant U.S. Atty. Benedetto Lee Balding said Gileno's disruption of security officers working at the 9th Circuit Court of Appeals was no small matter. It was Gileno who escalated the encounter by refusing to go along with the officers' orders, he said.
"He decided unilaterally he didn't have to follow the rules," the prosecutor said.
Becker, who primarily represents conservatives and Christians in free-speech cases, worked for free on Gileno's case. He argued that the federal courthouse essentially became a "limited public forum" when it hosted the commission meeting, which Gileno should have been allowed to film under the state law.
Magistrate Judge Jean P. Rosenbluth said she could understand why Gileno was angry and frustrated given his past experience filming the meetings, but she said that didn't excuse his failure to follow orders. Security at the appellate courthouse, where justices could be filmed without their knowledge, was a serious concern, the judge said.
"Even if these seem arbitrary or don't make any sense to Mr. Gileno or anybody else, clearly they serve this very important purpose," Rosenbluth said, finding Gileno guilty.
Acknowledging that a "misunderstanding" had led to the kerfuffle, the prosecutor recommended a sentence of no fine, which would leave Gileno having to pay just $35 in court fees. Rosenbluth said she felt the need for "some consequences" and ordered Gileno to pay a $50 fine, bringing his total penalty to $85 with the fees.
Gileno said he was "outraged" and "astounded." After the verdict, he turned to nine supporters in the audience, including a man in a red "Make California Great Again" hat, and exclaimed, "I was never read my rights!"
His attorney said they would seriously consider an appeal and possibly a civil lawsuit against the government.
"What the judge just said is if a city council can move to a federal building, they can keep the meeting secret," Gileno said. "That's grossly illegal."
For more California news, follow me on Twitter @vicjkim
---
The stories shaping California
Get up to speed with our Essential California newsletter, sent six days a week.
You may occasionally receive promotional content from the Los Angeles Times.