Nearly 800 guns, including anti-tank rocket launcher, turned in at LAPD buyback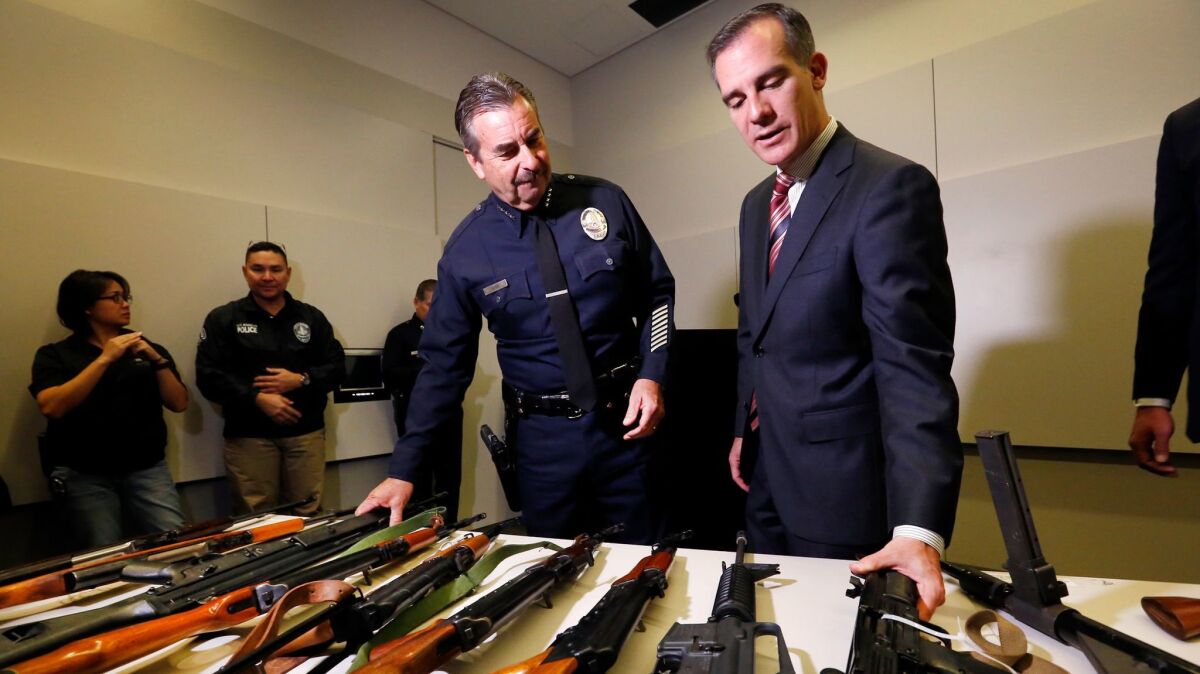 Uzis, AK-47s and an anti-tank launcher were among the nearly 800 weapons turned in at the latest Los Angeles Police Department gun buyback — an annual event that police say is helping to reduce gun crime in the city.
Some of the guns had gathered dust for years or even decades before their owners handed them over May 13 in return for a $100 or $200 Target gift card.
But even weapons that are not being used pose a safety risk, city officials said, because they can be stolen, found by small children or used to commit suicide.
"Each of those guns represents one less opportunity to take a life or to lose a life," Mayor Eric Garcetti said at a news conference Friday.
The buybacks have netted more than 16,000 guns since their inception in 2009. The Los Angeles County Sheriff's Department operates a similar program. The guns are melted down, and some of the metal is reused as construction material.
In March, Garcetti announced a goal of removing 20,000 guns from the streets over five years, including guns collected in buybacks. The LAPD has received a $1-million federal grant for a gun intelligence center that will attempt to put more shooters behind bars by linking guns to crimes.
Last year, LAPD officers took about 5,000 guns off the streets, not including buybacks, and are on pace to surpass that number this year, said Police Chief Charlie Beck.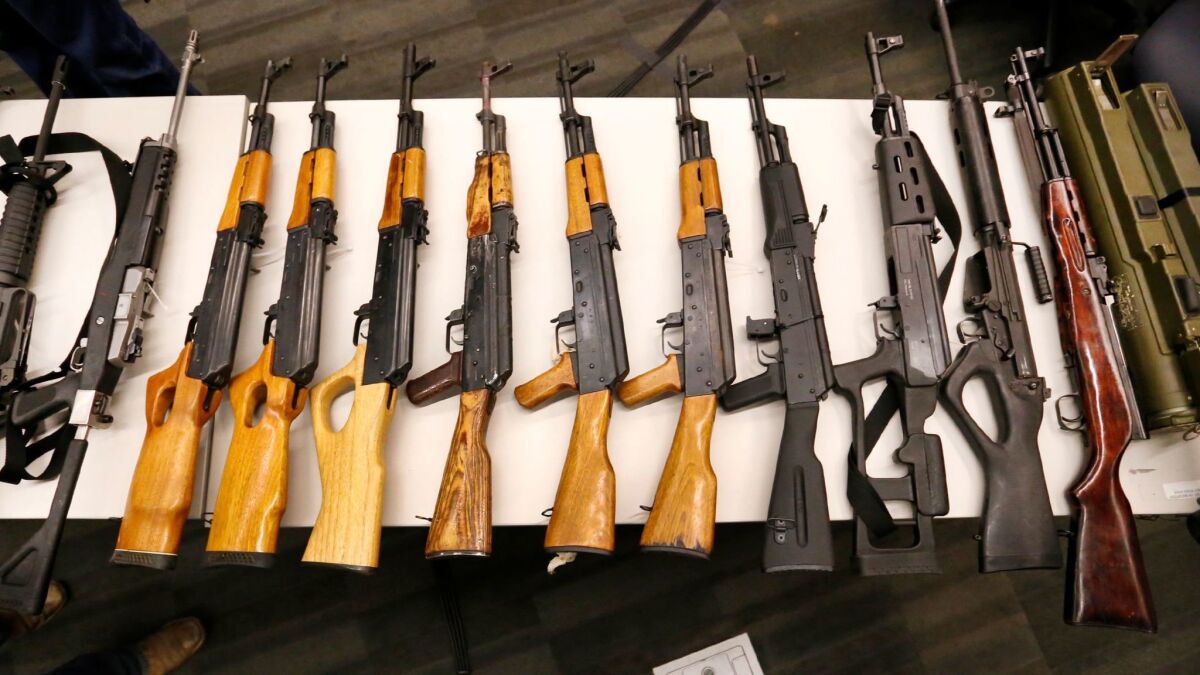 Some academic studies have questioned the effectiveness of gun exchanges, noting that the people who participate, and the weapons they turn in, differ as a group from those who commit violent crimes. A 2013 study of a Hartford, Conn., buyback program found that there was no subsequent drop in gun-related deaths.
But Beck pointed to a decrease in gun violence in Los Angeles and credited the buybacks as one factor.
"Guns are what turn a minor dispute between young people on the street from a shouting match to a funeral," Beck said.
Among the 772 guns turned in at this year's buyback, which took place in South Los Angeles and the San Fernando Valley, were 370 handguns, 220 rifles, 142 shotguns and 40 assault weapons. Police officers handed out about $81,000 in gift cards, with about $10,000 donated by Gun by Gun, a nonprofit gun violence prevention group.
"Every one of these guns has a story," Beck said.
One gun was brought home by a World War II soldier, he said. Others were turned in by family members after the owners went to prison. Six of the guns were stolen.
City Councilman Mitch Englander, whose uncle was shot to death in the San Fernando Valley 23 years ago, said the buyback will be worth it if even one shooting is prevented.
"Had we done this all for one gun, it would have been a success — one less victim," Englander said.
The stories shaping California
Get up to speed with our Essential California newsletter, sent six days a week.
You may occasionally receive promotional content from the Los Angeles Times.