405 Freeway carpool lane: Eric Garcetti calls smooth opening 'Carvana'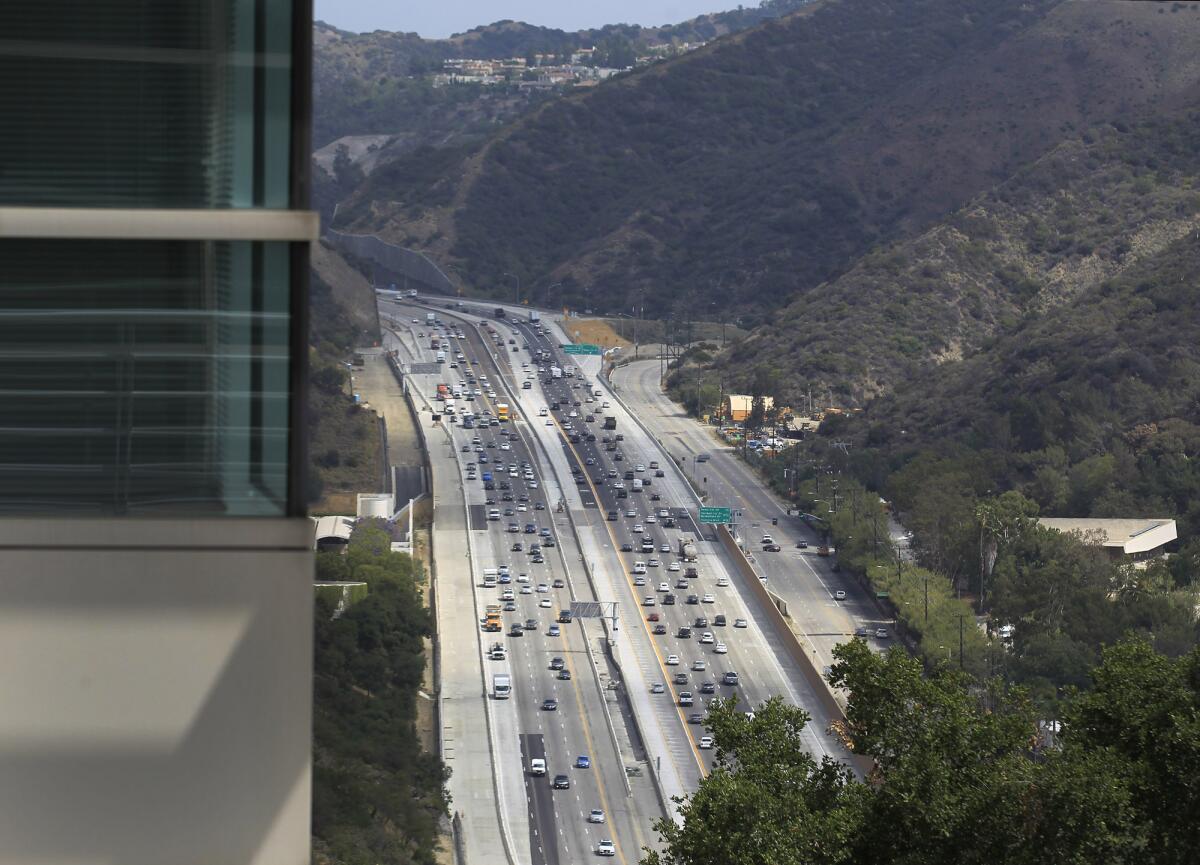 After 4 1/2 years of construction, the 10-mile northbound carpool lane on the 405 Freeway opened Friday morning, just in time for the Memorial Day weekend and not a moment too soon for frustrated commuters and residents.
From a Getty Center balcony overlooking the busy highway, politicians and transportation engineers peered down on their handiwork and expressed joy, relief and even a bit of amazement that the epic project through the Sepulveda Pass had finally been accomplished.
"This looks like 'carvana,'" said Los Angeles Mayor Eric Garcetti, coining a new expression that recalled "Carmageddon," "Rampture" and "Jamzilla," nicknames for some of the construction-related closures that disrupted traffic on the nation's busiest urban interstate highway.
Indeed, the stretch through the Sepulveda Pass that opened early Friday morning was moving smoothly at midday as engineers, elected officials and legislative aides lauded the $1.1-billion project.
In addition to creating the carpool lane, workers demolished and rebuilt three bridges over the freeway, reconfigured ramps and erected more than 20 miles of new soundwalls and retaining walls.
Los Angeles County Supervisor Zev Yaroslavsky said the project had been hanging over his head for years, during which he and his staff listened to residents' howls about nighttime clanging and time-sapping detours.
"I've been asked many times ... 'Was it worth it?'" he said. "It was very much worth it. I wish it had been on time and on budget."
The project took about a year longer and cost about $100 million more than originally expected. Some clean-up work remains to be done, and occasional lane closures will be necessary through year's end.
Zaroslavsky praised the forbearance of residents near the construction zone, who had put up with "unspeakable disruptions to their lives."
Officials described the new carpool lane as an auspicious milestone in the region's effort to add capacity to a freeway system that has little room to grow.
The new stretch completes the nation's longest continuous carpool lane, running 70 miles from southern Orange County to near the northern tip of the San Fernando Valley. It matches the stretch on the southbound side.
About 300,000 vehicles travel this portion of the 405 each day, and that number is expected to grow dramatically.
Motorists in the carpool lane are expected to save about one minute per mile during peak hours. Transportation officials said they hoped the lane would encourage more commuters to use carpools and vanpools.
Garcetti praised Nick Patsaouras, a longtime transportation official whom the mayor picked months ago to work with Kiewit, the project contractor, and the various agencies involved to move the project forward.
Patsaouras said in an interview that he helped instill a missing sense of urgency.
"My focus," he said, "was to get the freeway to the drivers."
Sign up for Essential California for news, features and recommendations from the L.A. Times and beyond in your inbox six days a week.
You may occasionally receive promotional content from the Los Angeles Times.