LAX begins massive relocation of 15 airlines in the central terminal area
Cars move slowly outside Terminal 5 on Friday as the airline relocation begins at Los Angles International Airport.
(Patrick T. Fallon / For The Times)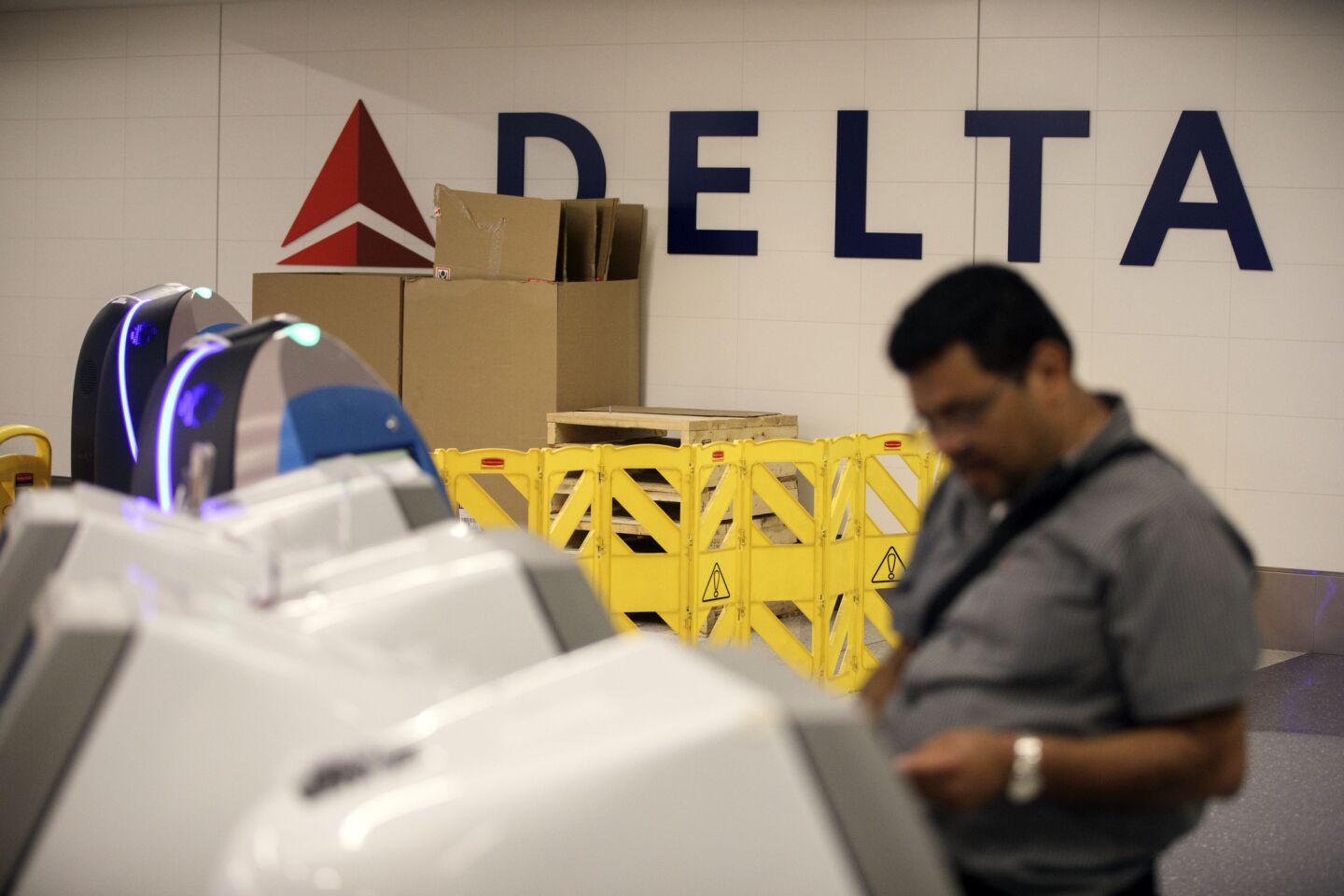 A passenger checks in amid barriers and boxes in Terminal 5.
(Patrick T. Fallon / For The Times)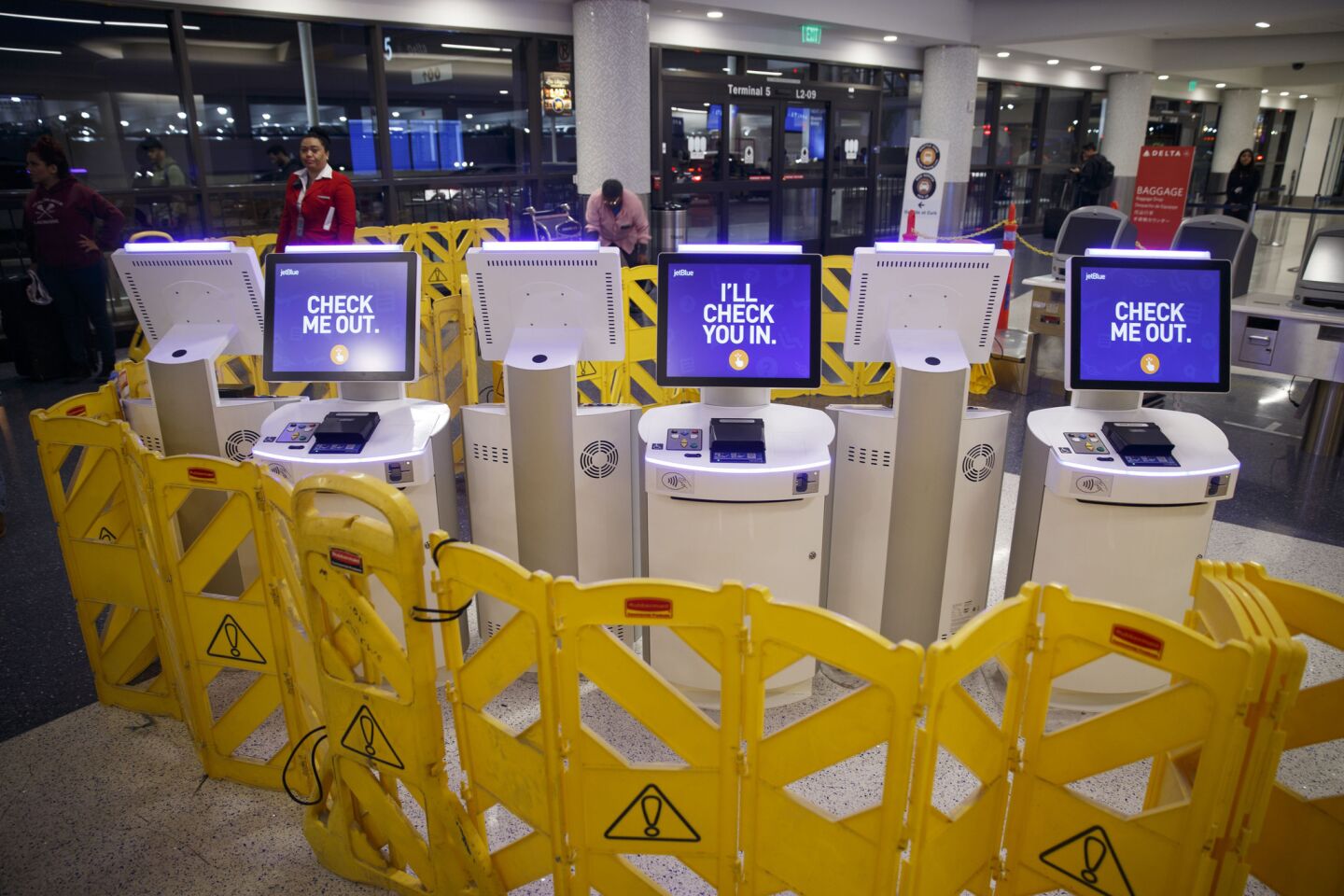 New JetBlue check-in kiosks are surrounded by barriers as passengers check in for Delta flights in Terminal 5.
(Patrick T. Fallon / For The Times)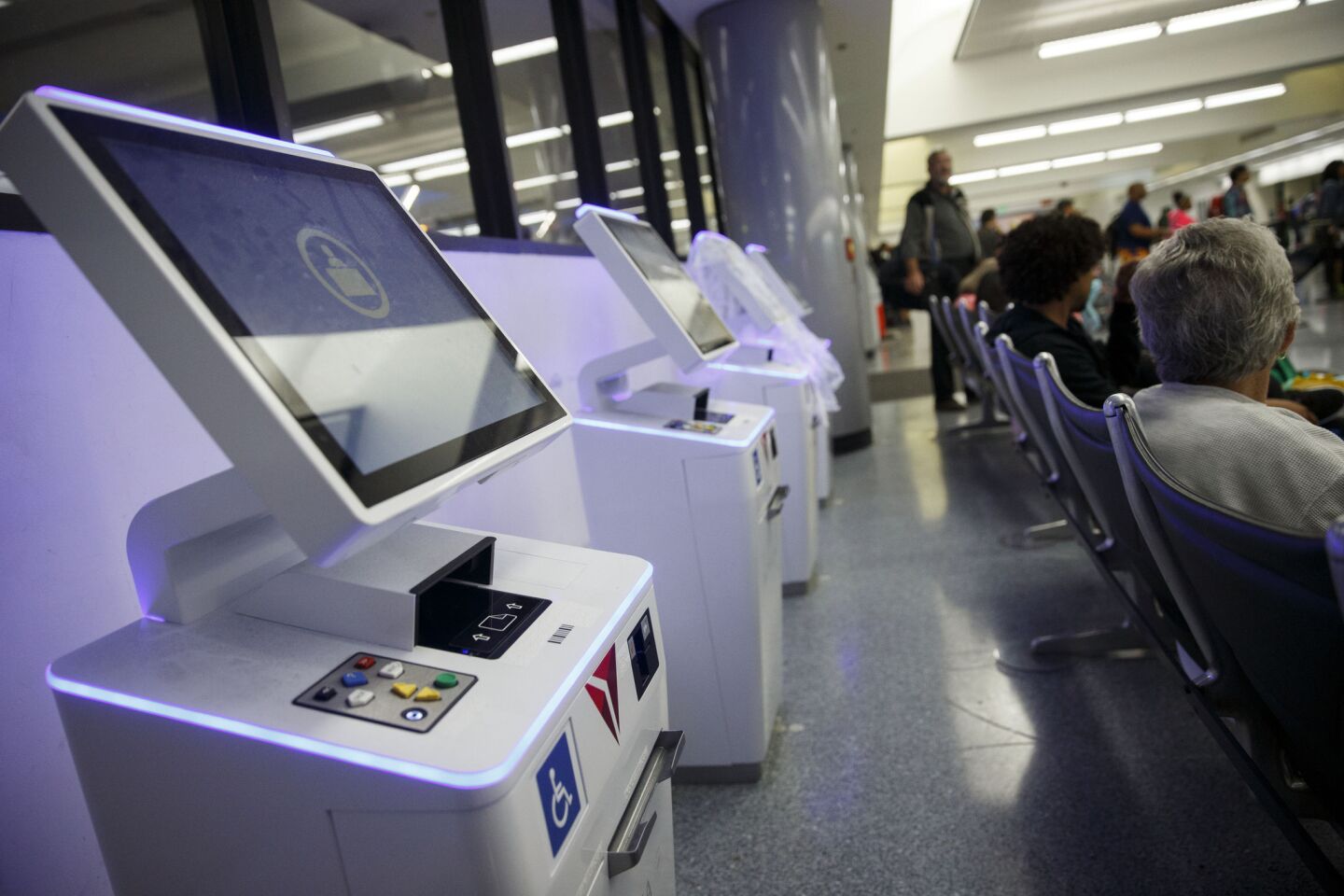 New Delta Airlines check-in kiosks stand in Terminal 3 as the airline relocation begins.
(Patrick T. Fallon / For The Times)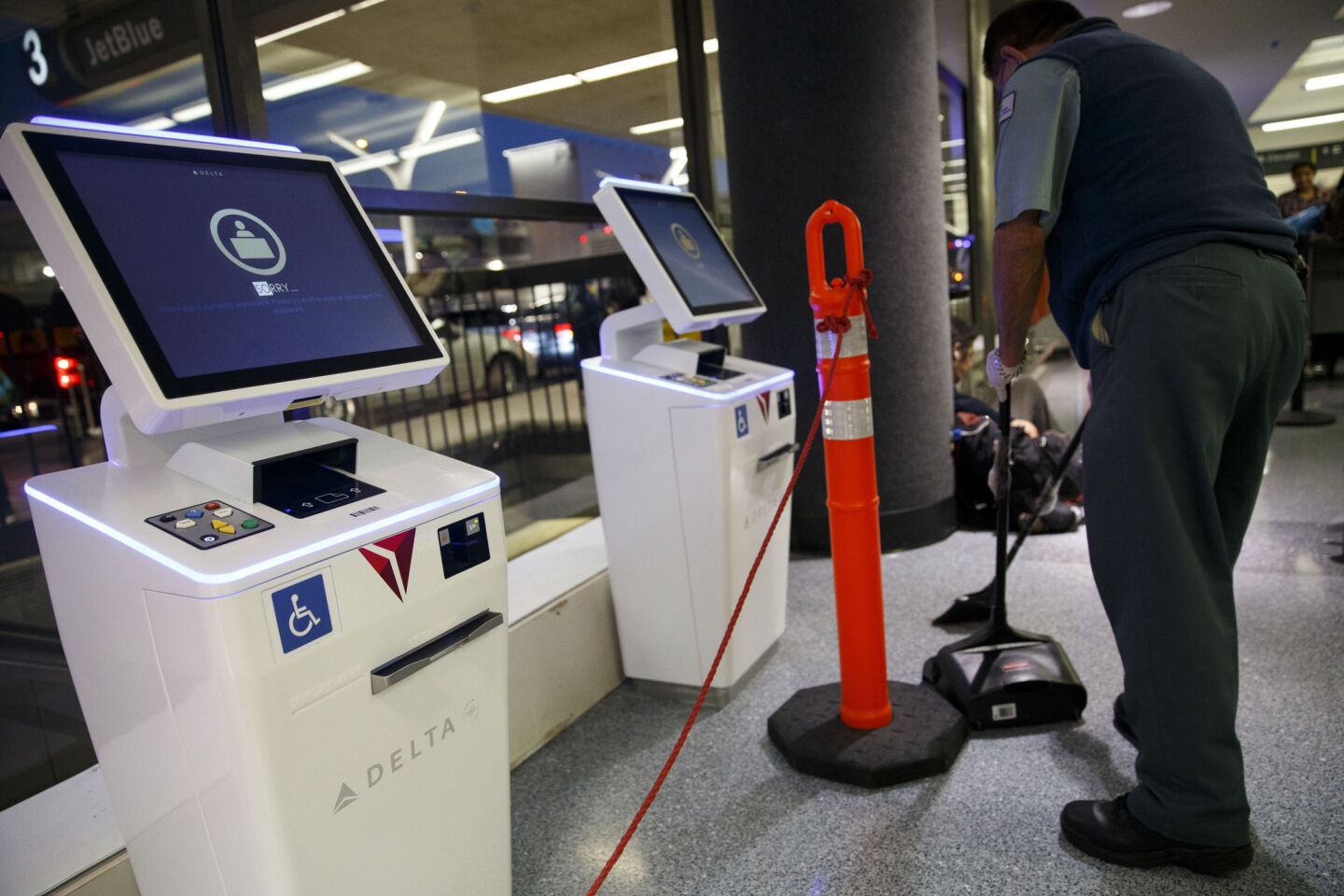 New Delta Airlines check-in kiosks stand in Terminal 3.
(Patrick T. Fallon / For The Times)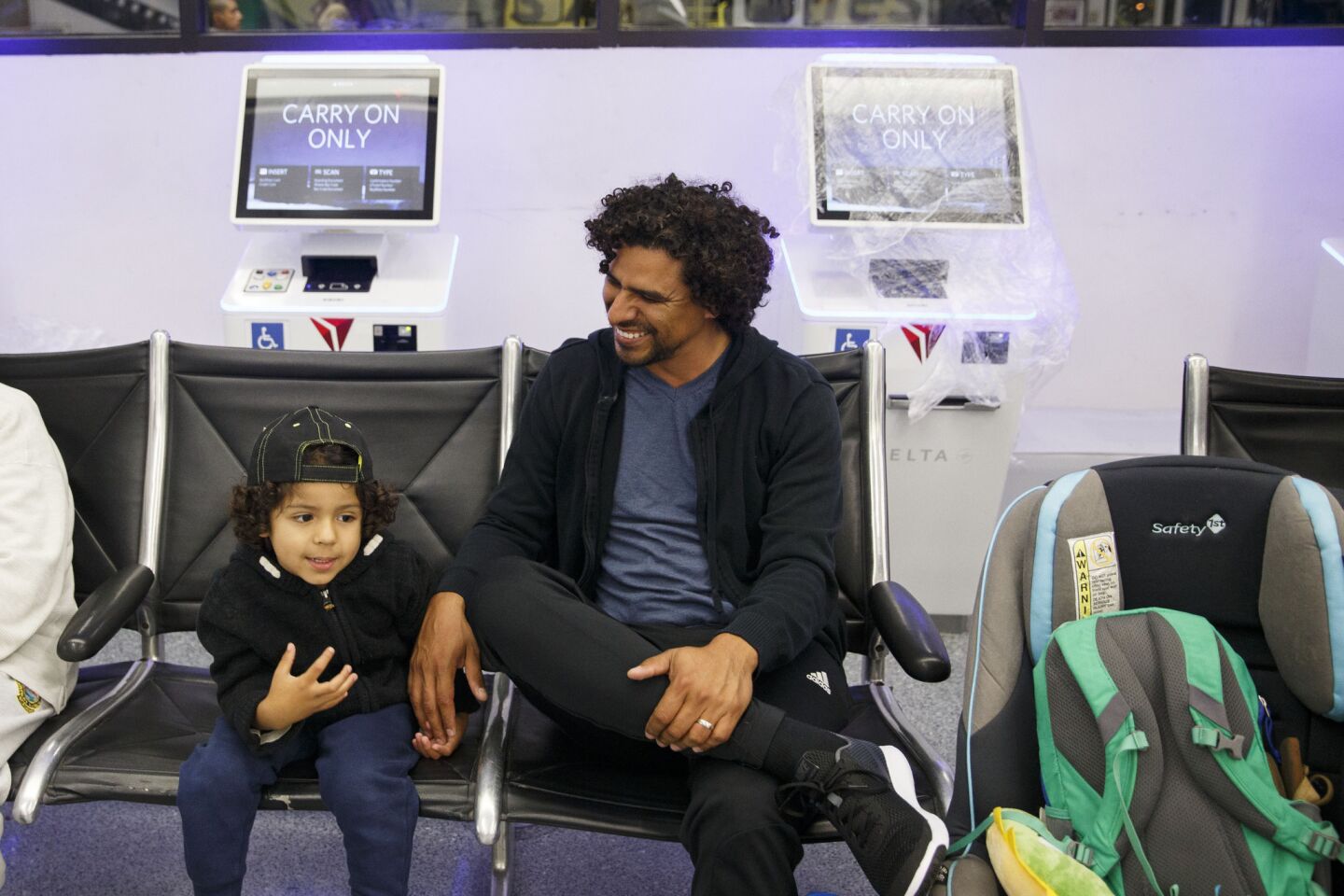 Jonathan Aldama and son Elias, 3, of Anaheim wait for their Frontier Airlines flight to Florida in Terminal 3, with wrapped Delta kiosks behind them.
(Patrick T. Fallon / For The Times)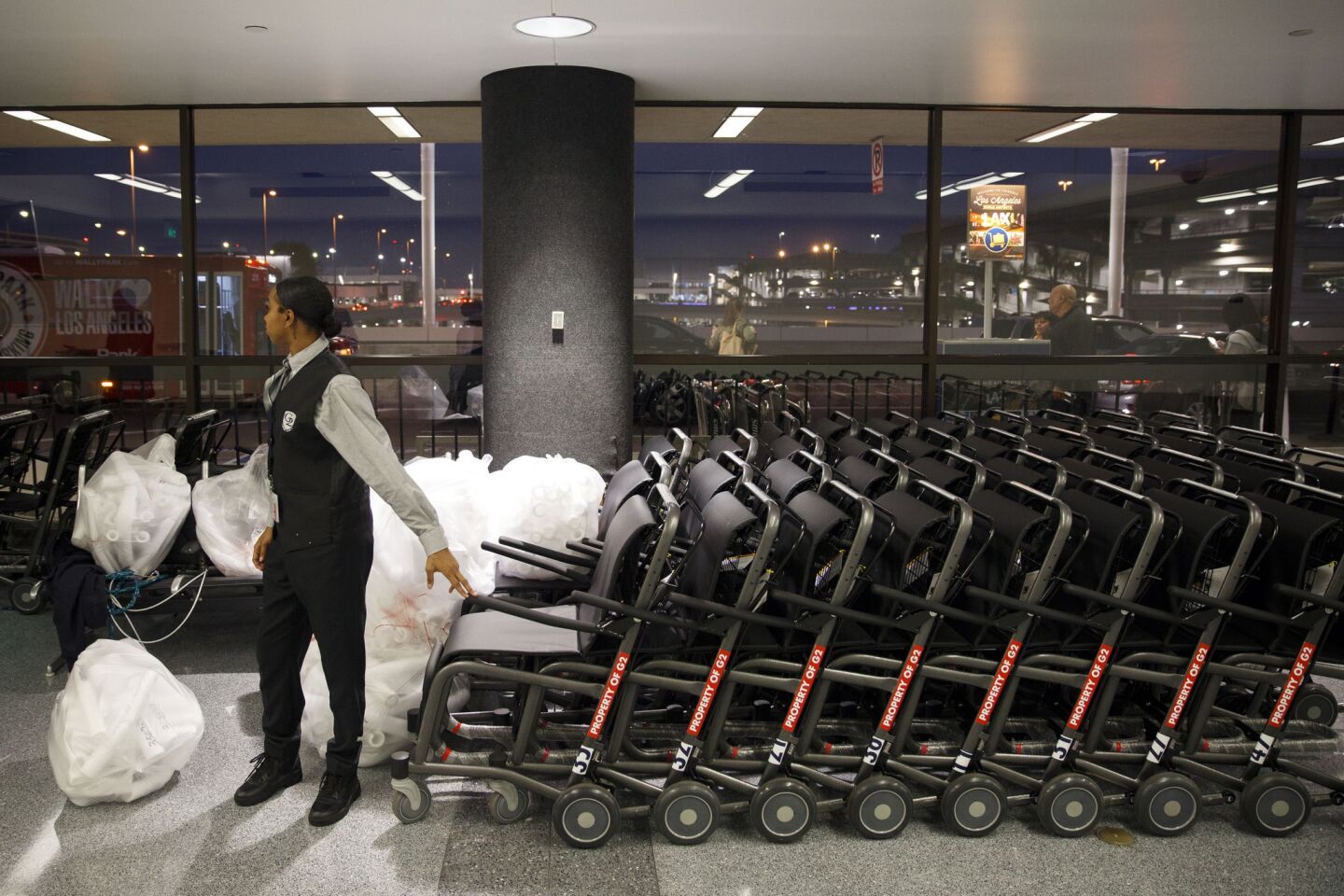 A contractor unwraps new wheelchairs for Delta Airlines passengers in Terminal 3.
(Patrick T. Fallon / For The Times)
After almost a year of planning, the first of 15 airlines on Friday night began the unprecedented task of relocating their operations in the busy central terminal area of Los Angeles International Airport
The six-day effort involves moving Delta Air Lines from Terminals 5 and 6 to Terminals 2 and 3 and shifting 14 other carriers into the facilities vacated by Delta.
The largest terminal move in LAX history will let the Atlanta-based airline expand its operations by adding seven passenger gates and allowing better access to Tom Bradley International Terminal for itself and its partners: Aeromexico, Virgin Atlantic and WestJet.
Delta will pick up the $60-million tab for all of the relocations.
As of 9 p.m., Delta and seven other airlines in Terminals 2 and 3 were checking in their last passengers for the evening, clearing the way for the move to their new locations.
Delta had already moved dozens of wheelchairs and ticketing computers into Terminals 2 and 3. Several other airlines, including Hawaiian and JetBlue, had also moved their ticketing equipment to their new locations.
The signs of the terminal changes were everywhere. At the entrance to LAX, a blue Delta billboard announced: "We're moving to Terminals 2 and 3 starting May 13." Other signage with details about the move were stationed throughout Terminals 2, 3, 5 and 6.
The LAX public address system repeatedly announced the schedule for terminal relocations and advised passengers to consult airport and airline websites for details.
"Most of the airlines will start packing up — most of the moves will occur after midnight," said Mary Grady, an LAX spokeswoman. "Everyone is in place. Equipment has already been staged and our first operation period began at 9 p.m."
In an attempt to keep confusion to a minimum, LAX and the airlines have repeatedly notified the public about the terminal swaps through news outlets, websites and social media. Those communications will continue throughout the relocation.
Delta and LAX also will have extra staff on duty to help passengers reach their flights. In some cases, travelers might check in at one terminal and depart from another.
Airline and LAX officials advise passengers to arrive earlier than normal at the airport, download boarding passes, check their flight status and consult their airlines' websites. Information about the move can be found on Delta's app and LAX's website.
To help reduce traffic congestion, airport officials will impose a construction moratorium in the central terminal area during the moves. In addition, Delta will add neon-green shuttle buses on airport roads and the tarmac side of the terminals to transfer passengers who arrive at the wrong gates.
"It all comes down to our guests being informed and taking the necessary actions to make sure they are in the right place at the right time to catch their flights," said Deborah Flint, chief executive officer of Los Angeles World Airports, the operator of LAX.
The move is occurring at a busy time for LAX, which handled a record 80.9 million passengers last year. During the first three months of 2017, about 18.8 million travelers passed through the airport — 4.53% more than the same period in 2016.
For Delta to get into Terminals 2 and 3, 20 other airlines must move: American, Air Canada, Avianca, Copa, Hainan Airlines, Hawaiian Air, Interjet, Qatar Airways, Sun Country, Thomas Cook, Volaris, XL Airways France, Allegiant Air, Boutique Air, Frontier, JetBlue, Southwest (international), Spirit, Virgin America and Virgin Australia.
American moved some operations from Terminal 6 to Terminal 5 in January. Hainan relocated in April from Terminal 2 to the Bradley, and Copa shifted its check-in operations from Terminal 6 to Terminal 3.
On May 1, Qatar and Thomas Cook moved from Terminal 2 to the Bradley. XL Airways France plans to relocate June 4.
Delta's partners, Aeromexico, Virgin Atlantic and WestJet, will remain in Terminals 2 and 3.
More moves will occur Sunday and Tuesday nights and continue into early Wednesday. The relocation work will begin after the airlines that are scheduled to move complete their passenger operations.
Airport officials say that aside from towing aircraft from one terminal to another, the airlines will be moving check-in facilities, offices and aircraft service vehicles. Carriers will resume their passenger operations the next morning from their new facilities.
Delta will continue moving on Sunday and Tuesday nights. It will operate from as many as four terminals on the opposite side of the airport between Saturday and Tuesday.
Airport officials say moving the other airlines will be done in phases and take one day each.
The relocations are the latest developments in the $14-billion modernization of LAX, the nation's second-busiest commercial airport. The effort includes upgrading terminals, a midfield passenger concourse, a consolidated car rental facility, a massive remodel of the Bradley terminal and transportation improvements.
During the next four years, Delta wants to invest $1.9 billion to overhaul its new location. Upgraded check-in facilities, new concessions, a screening area and a VIP lounge are planned along with a rebuild of Terminal 3 and construction of an access-way for passengers to the nearby Bradley.
Follow me on Twitter @LADeadline16
ALSO
Los Angeles tourism board to spell it out: Everyone is welcome
The big LAX terminal shuffle will let JetBlue create a lobby with (almost?) no lines
Flier beware: 5 things to know before you head to LAX this weekend (and Monday and Tuesday too)
The stories shaping California
Get up to speed with our Essential California newsletter, sent six days a week.
You may occasionally receive promotional content from the Los Angeles Times.