Must Reads: Fed-up locals are setting electric scooters on fire and burying them at sea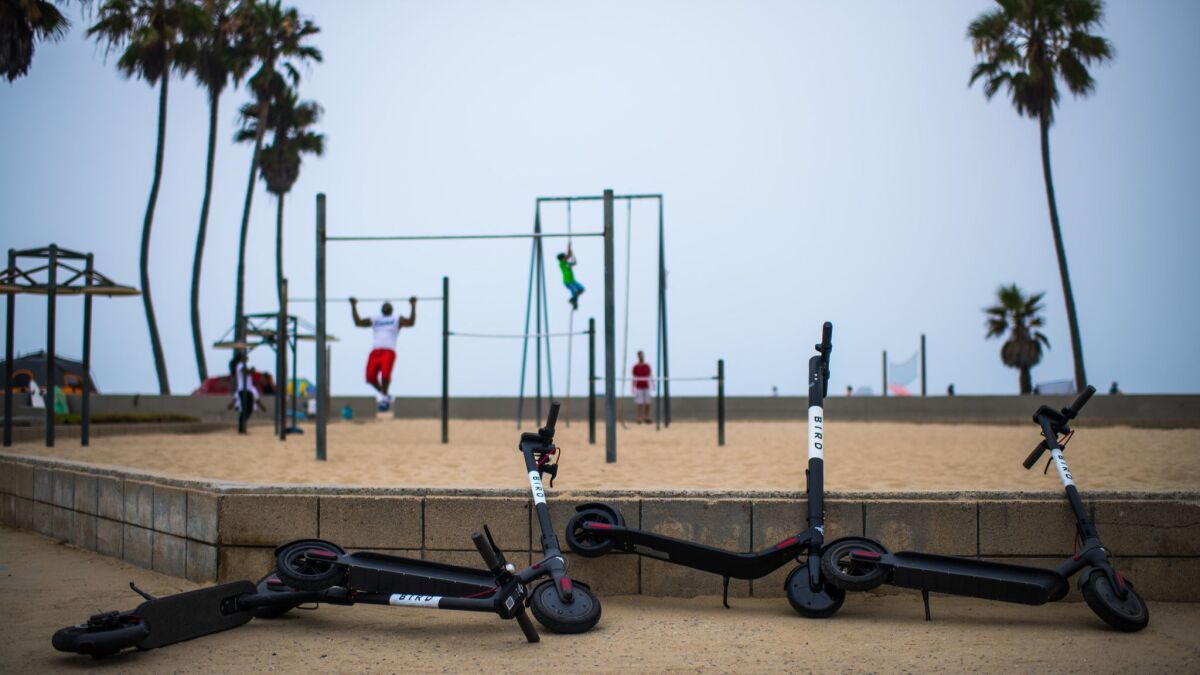 They've been crammed into toilets, tossed off balconies and set on fire. They've even been adorned with dangling bags of dog droppings.
As cities like Santa Monica and Beverly Hills struggle to control a rapid proliferation of electric pay-per-minute scooters, some residents are taking matters into their own hands and waging a guerrilla war against the devices. These vandals are destroying or desecrating the vehicles in disturbingly imaginative ways, and celebrating their illegal deeds on social media — in full view of authorities and the public.
"They throw them everywhere: in the ocean, in the sand, in the trash can," said Robert Johnson Bey, a Venice Beach maintenance worker who regularly comes across scooter parts on the Venice Beach boardwalk, Speedway and adjoining alleys.
"Sunday, I was finding kickstands everywhere," Bey said. "Looked like they were snapped off."
The vandalism echoes a rash of pellet-gun attacks on so-called Google buses in the Bay Area and appears to be motivated in part by resentment over the increasing presence of tech corporations along the Southern California coast — what is now dubbed Silicon Beach.
But unlike the attacks on buses that ferry workers to their Google and Apple offices, the scooter destruction has elicited little sympathy or outrage — to say nothing of criminal investigations. The Los Angeles Police Department's Pacific Division has received just one report of scooter vandalism that resulted in an arrest, but the case was rejected by the prosecutor. The Santa Monica Police Department said it hasn't received any such reports.
Lt. Michael Soliman, who supervises the LAPD Pacific Division's Venice Beach detail, said he's aware of some vandalism — his team has seen scooters left in a pile 10 feet high. But because people aren't reporting such incidents, it's not something officers are responding to, he said.
"If we have to prioritize the allocation of our time and resources, first and foremost we're going to prioritize the preservation of life," Soliman said. "Protection of property comes second."
Hailed as a cheap, clean-energy solution to urban gridlock when they first arrived in Los Angeles a year ago, Bird and Lime scooters now find themselves on the receiving end of a public and bureaucratic backlash — especially on the Westside, where they've established a buzzing omnipresence.
In Venice, where Bird is headquartered, City Council members voted to cap the number of scooters on city streets while officials craft longer-term regulations. Beverly Hills officials ordered them banned for six months. Los Angeles City Councilman Paul Koretz asked officials last week to take "all available measures" to outlaw the scooters within the city.
While most tech entrepreneurs expect some criticism and calls for regulation when they introduce new and potentially disruptive products, they don't necessarily anticipate the outright destruction of their property. They also don't expect to see such carnage celebrated and encouraged on social media.
Yet mayhem directed at dockless scooters is the order of the day on Instagram's "Bird Graveyard," whose contributors relish publishing photos and videos of scooters that have been set aflame, tossed into canals, smeared with feces and snapped into pieces. The account has more than 24,000 followers.
One moderator, a Westsider who declined to give his name for fear of prosecution, said that more than 100 videos and photos of scooters being defaced are submitted to the account each day. Only the most outrageous are published.
Bird representatives were reluctant to discuss the phenomenon but urged people to report incidents of defacement.
"We do not support the vandalism or destruction of any property and are disappointed when it takes place," Bird spokeswoman Mackenzie Long said in a written statement. "Nor do we support the encouragement, celebration or normalization of this behavior."
It's unclear exactly how many scooters are being sabotaged on local streets. Bird declined to say how many of its scooters have been maimed, while a representative from Lime, based in San Mateo, said less than 1% of its scooters have been vandalized nationwide.
Natanel Edelson, a mechanic who does repairs for Bird in Venice, said he sees a lot of scooters with cut power cables and smashed brakes. He only fixes a few each week, but said his friends who are also Bird mechanics — all independent contractors making around $15 per repair — fix dozens of scooters a day.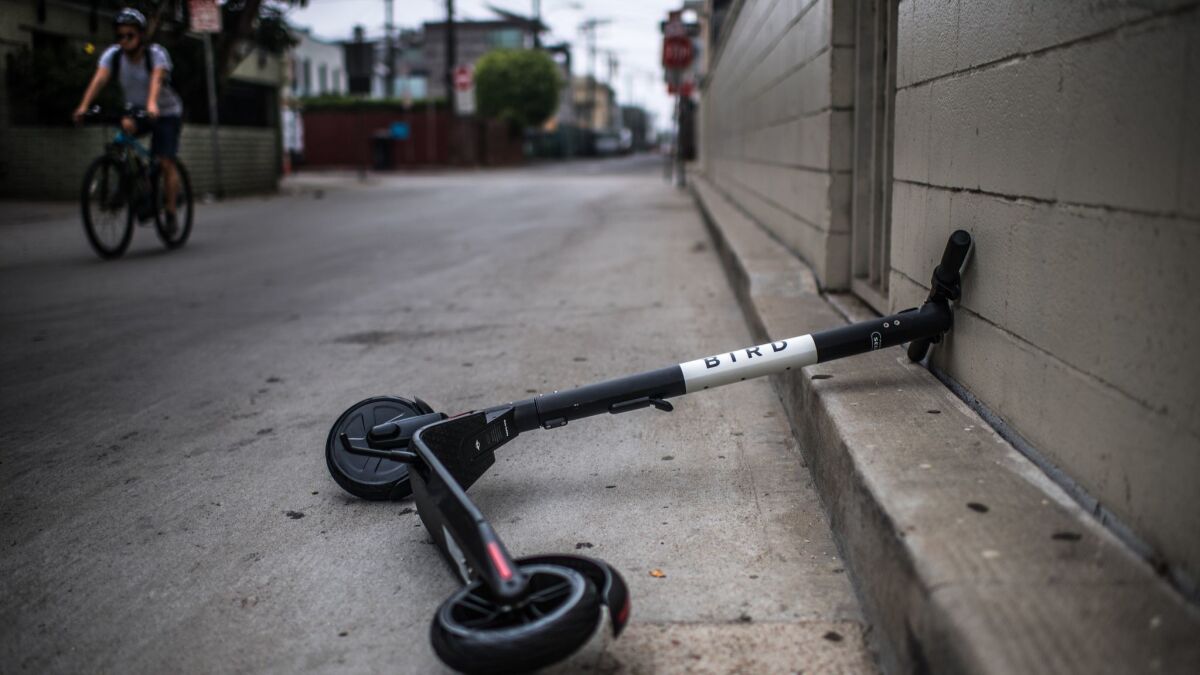 When Hassan Galedary of Culver City sees a Bird scooter, a knot in his stomach begins to twist and his teeth clench, he said. The 32-year-old film producer describes the sensation as one of "violent bitterness."
"I hate Birds more than anyone," Galedary said. "They suck. People who ride them suck."
He loathes the scooters so much that he waged what he calls an "insurgency" against them, tossing the contraptions into trash cans on Abbott Kinney Boulevard and down the Culver City Stairs. He even designed a T-shirt of a chick perched on a scooter being shot in the head. Many of his anti-scooter antics have been featured on the Bird Graveyard account.
So where does all this scooter scorn come from?
Galedary grew up on the Westside and said he hates how kids there are paying to ride scooters instead of honoring the local traditions of surfing and skateboarding. He hates the traffic accidents they cause — "Bird on Bird," "Bird on person" and "Bird on car"— and he hates how they can be left anywhere for pedestrians to trip over.
"The city is already losing so much culture due to gentrification," Galedary said.
While not everyone is as angry as Galedary, others agree that the sudden influx of scooters has changed the character of the Westside.
MORE: Cities crack down on electric scooter scofflaws, while trying to untangle the chaos of a new technology »
The scooters' abrupt arrival in Venice last fall was viewed by some as another example of how the tech industry was encroaching on the community without asking for permission. It didn't help that Bird founder Travis VanderZanden — a former executive at Uber and Lyft — said the company wouldn't be happy until there are "more Birds than cars."
"It's a very urban environment," said architect Kelly Boston, a longtime Venice resident. "We're all close together, we need to be respectful of one another's space, and these make it harder."
The scooters might be affordable, residents say, but they're left all over the place, blocking sidewalks and tripping up pedestrians. They complain that scooter pilots zip through and around traffic without obeying traffic signals.
Tye Donaldson, a Venice barista, has a complicated relationship with the scooters. The 20-year-old loves riding them — they're "super fun," she said — and she appreciates them as an environmentally friendly mode of transportation. They're also affordable: It costs $1 to unlock a scooter and 15 cents per minute to ride one.
But Donaldson began to reassess their place in the community after she was hit by a scooter not once, but twice in the same month while running on the Venice Beach bike path.
The first time, the teenage rider was driving slowly; Donaldson described the collision as a forceful nudge. She avoided injury by flopping over into the sand. The second time, the scooter was going full speed, about 15 mph. She heard it approaching her from behind and whipped around in time to grab the scooter's stem to keep it from slamming into her.
"I was holding on to this girl's scooter with all my might," Donaldson said. "I felt like I was in 'The Matrix.'"
Donaldson thinks speed restrictions should be placed on the scooters in heavily trafficked areas. But she doesn't want them to disappear.
Of course, there are still those who take a harder stance.
Manny Torres, a postal carrier in Venice, pushed his mail cart down Innes Place recently and recounted several occasions in which he nearly hit scooters head-on with his truck. The scooter riders, he said, were swerving haphazardly down the narrow side streets of Venice all too often.
"I wouldn't mind if they just went away," he said.
Bird declined to say how much its scooters are worth, saying that information was proprietary. However, similar motorized scooters on Amazon can sell for more than $1,000.
Under the law, vandalism of property worth more than $400 is a felony. Yet the risk of arrest appears to offer little deterrent to those bent on scooter destruction.
Dan Ariely, professor of psychology and behavioral economics at Duke University, said contempt for technology may offer a partial explanation for why people feel inclined to vandalize the scooters, despite the risk. But a likelier reason, Ariely said, is that destroying a scooter owned by a corporation probably doesn't evoke much guilt within the vandal.
"Think about Uber," Ariely said. "Even if you're upset with the company, you understand that destroying the car is going to cost the driver a lot of money.
"But if you wreck a Bird, no one in particular is getting hurt," he said.
Ariely also compared scooter vandalism to road rage. When something upsets us, he said, it is natural to want to seek revenge, to teach the offending entity a lesson.
The presence of images on social media of scooters being damaged may also lead some to view their urge to destroy as reasonable, Ariely said. If people get a sense that scooter vandalism is rampant, just as speeding on the highway is rampant, vandals can still consider themselves "good people," he said.
But oddly enough, it was rampant scooter vandalism that gradually led Galedary, the Culver City Bird cynic, to a change of heart. He said he stopped messing with scooters some months ago when he began feeling increasingly guilty.
"As much as I hate them," he said, "I can't put bad energy into the world. I don't even kick them over anymore."
But Galedary hasn't exactly quit his Bird high jinks cold-turkey. He recently placed a scooter in the middle of Abbot Kinney Boulevard, triggering an immediate snarl of honking cars.
He said he wanted people to associate Bird scooters with the quintessential symbol of Los Angeles discontent: a traffic jam.
laura.newberry@latimes.com | Twitter: @lauramnewberry
The stories shaping California
Get up to speed with our Essential California newsletter, sent six days a week.
You may occasionally receive promotional content from the Los Angeles Times.