Homeless veteran count rises 6% in L.A., posing hurdle for Garcetti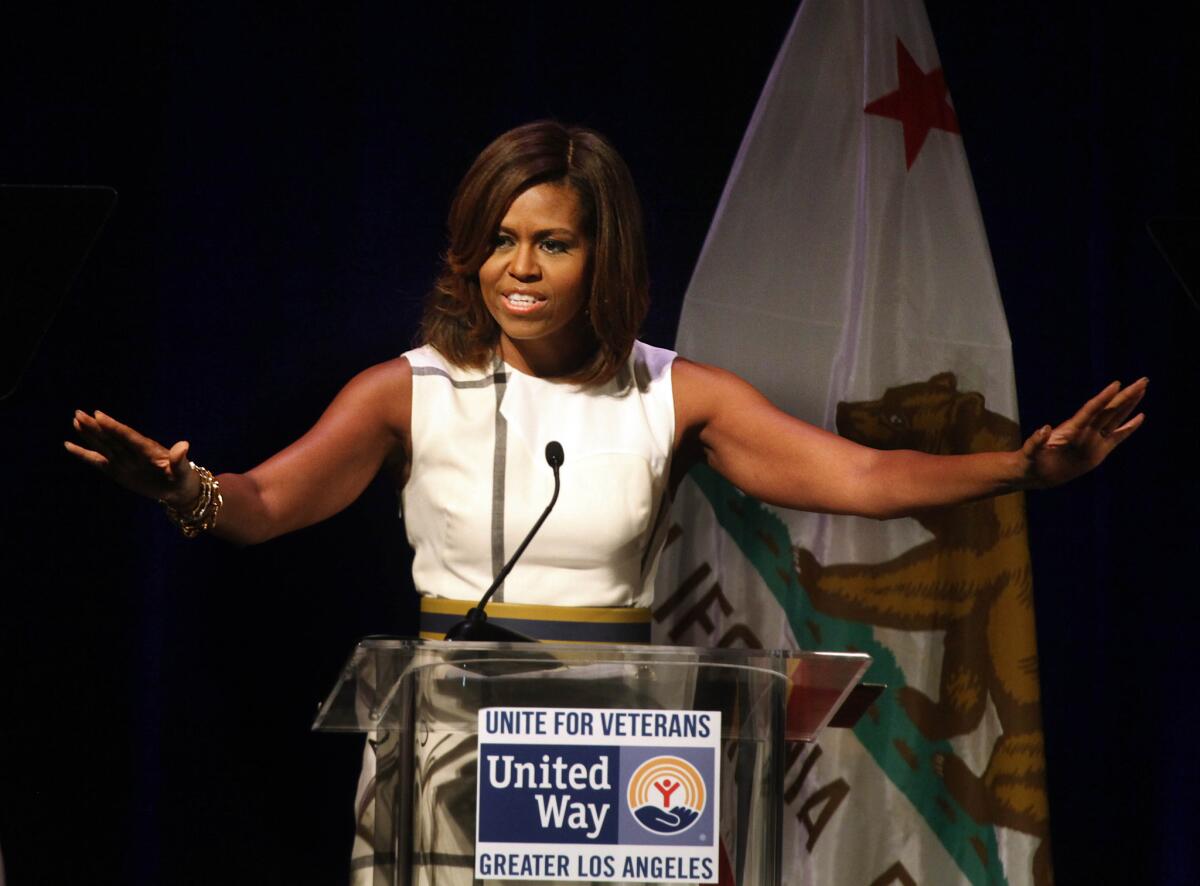 The population of homeless veterans in Los Angeles rose 6% in the last two years, according to figures released Wednesday, casting doubt on whether Mayor Eric Garcetti can meet his pledge to get every service member off the streets by year's end.
"We're behind," said Vince Kane, special assistant to U.S. Department of Veterans Affairs Secretary Robert A. McDonald. "In L.A., we got off to a slow start."
In January, 18 months into his first term, Garcetti said he was more than halfway to his goal. But the new numbers show how difficult reaching it will be.
The county has long had the largest concentration of homeless veterans in the country — 4,343 in the latest count. Two-thirds of them, or 2,733, live in the city.
Garcetti said in a written statement that Los Angeles had housed thousands of veterans this year, and he remains confident he can achieve his goal by 2016.
Figures released Monday by the Los Angeles Homeless Services Authority showed homelessness overall had risen 12% in both the city and county since 2013.
The figures provide a snapshot, based in large part on a three-day street count in January. But it is not a static population — thousands of people, including veterans, fall in and out of homelessness throughout the year.
Officials said they failed to take into account how fast new veterans were landing on the streets.
"In 2013, three veterans were becoming homeless each day," said Christine Margiotta, head of Home for Good, a public-private homeless services partnership. "Now, as we look at these figures, we recognize 10 become homeless each day."
The county has housed 7,500 veterans since 2013, Kane said, but it hasn't been enough to stanch the rising tide.
"It's fair to say we didn't make the right assumptions," he said, "but it doesn't change what we have to do."
Since the count, the Obama administration has roughly doubled funding to the county, offering $105 million in homeless grants and services, according to the U.S. Department of Veterans Affairs.
"Now is the real push," Kane said.
While the city's homeless veteran numbers went up, the countywide total dropped 6%. Much of the decline came in Long Beach, which reported a 58% decrease in homeless veterans.
Susan Price, who runs Long Beach's homeless services, said the city has a central service intake center and a 26-acre former naval base property, called Century Villages at Cabrillo, with 500 emergency, transitional and permanent beds where homeless veterans can be placed.
"When there's a vacancy we can place somebody there right away," she said.
Congress and local elected officials for decades blocked permanent housing on the VA's sprawling West Los Angeles campus, instead leasing land for UCLA's baseball stadium, a hotel laundry and an exotic bird sanctuary.
A federal judge in 2013 declared the leases illegal, and the VA in February, as part of a legal settlement, agreed to open the 387-acre expanse to permanent and "bridge" housing to bring people off the street temporarily. McDonald assigned Kane to oversee the effort.
Margiotta said a push is underway to get landlords in the city to rent to veterans. Veterans with federal vouchers in hand can't find places that will rent at subsidized rates, she said.
Gary Blasi, a retired UCLA law professor who is working on the VA land settlement, said local elected officials aren't pushing hard enough on the homelessness issue.
"I have seen local government act when there is a sense of urgency, and I don't see evidence of that," he said Wednesday. "Nor have I seen a motion by the City Council to have the huge amount of apartment construction going on include low-income housing."
More than 400 mayors, seven governors and other local officials have signed on to the Obama administration's challenge to end veteran homelessness by 2016. In January, New Orleans became the first to declare success.
Some activists dismissed the pledge as a PR ploy. "It's a marketing gimmick," said General Jeff Page, a skid row activist.
Twitter: @geholland
Sign up for Essential California for news, features and recommendations from the L.A. Times and beyond in your inbox six days a week.
You may occasionally receive promotional content from the Los Angeles Times.