Metro agrees to buy 95 electric buses, in the first step toward an emissions-free fleet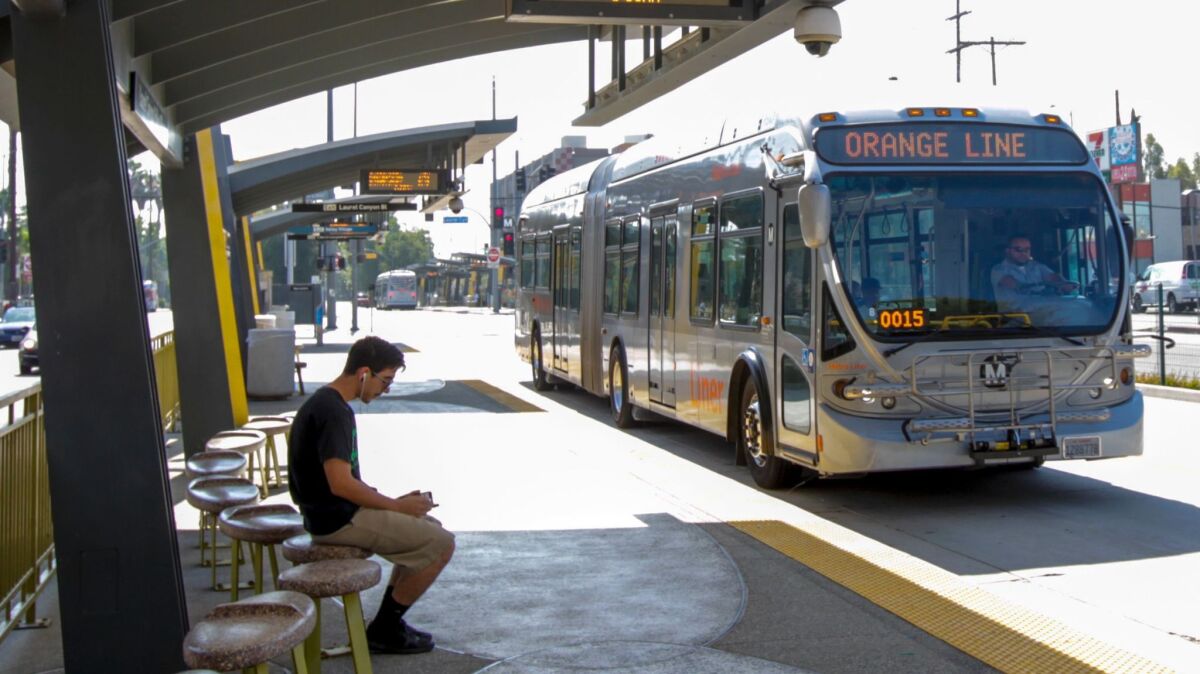 In the first step toward a new goal of eliminating tailpipe emissions by 2030, the Metropolitan Transportation Authority agreed Thursday to spend more than $138 million to buy 95 electric buses that will run on two Los Angeles County busways.
The purchases from New Flyer of America Inc. and BYD are among the largest of any U.S. transit agency, and will establish Metro as a proving ground for a new technology that is still relatively untested.
Environmental advocates cheered Metro's investment as a way to lead the nation in adopting a new technology that could help reduce transportation emissions and create local jobs.
When the electric buses begin running, they will represent less than 5% of Metro's fleet, but will at least double the number of electric buses in use in California.
"As the federal government moves backward, here in Los Angeles, we are moving forward," said Los Angeles City Councilman and Metro director Mike Bonin at a downtown rally before the vote. "They are moving us into a dark past. We are moving into a bright future."
Behind him, advocates from the Sierra Club and several labor unions gathered, holding signs and chanting, "Natural gas is in the past — electric buses, here to last."
Though the technology has evolved in recent years, battery-powered buses still can't travel as far as their natural gas-powered counterparts, which can run 400 miles on a tank. In a recent report, Metro employees said that electric buses as they exist today pose "significant risks to service and operation."
To address technology questions and concerns about how far the vehicles can travel, Metro's first electric buses will only run along the Orange Line busway in the San Fernando Valley and in the 29-mile Silver Line carpool lane along the Harbor and San Bernardino freeways. Both routes will have chargers where buses can stop if their batteries run low.
The board unanimously approved a $66-million budget to electrify the Silver Line, including buying 60 electric buses from BYD, installing chargers along the route, and updating wiring to handle higher wattages. The line should be finished by 2021, officials said.
Metro directors also voted to establish a budget of $72 million for replacing the Orange Line's buses. That includes $51 million for 35 electric buses from New Flyer, and $7.8 million for charging stations at both ends of the line. The route should be fully electric by 2020, officials said.
The New Flyer contract, which was approved 7 to 3 after a lengthy discussion over which company should be awarded the business, is contingent on New Flyer reaching a binding agreement for local hiring. Three board members pushed to give the contract to BYD instead, arguing that it was important to support local jobs at its Lancaster facility.
Metro also awarded a $26.5-million contract to Cummins Westport to build and deliver a new type of natural gas engine known as "near zero." Gas advocates have said the engines will provide more immediate air-quality benefits than gradually transitioning to zero-emission technology.
For more transportation news, follow @laura_nelson on Twitter.
ALSO
L.A. reverses course on lane reductions that 'most people outright hated'
Man killed Newport Beach urologist over prostate surgery, prosecutors say
Man found dead in Hollywood motel room after SWAT standoff, LAPD says
---
Life is stressful. Our weekly mental wellness newsletter can help.
You may occasionally receive promotional content from the Los Angeles Times.