Man killed Newport Beach urologist over prostate surgery, prosecutors say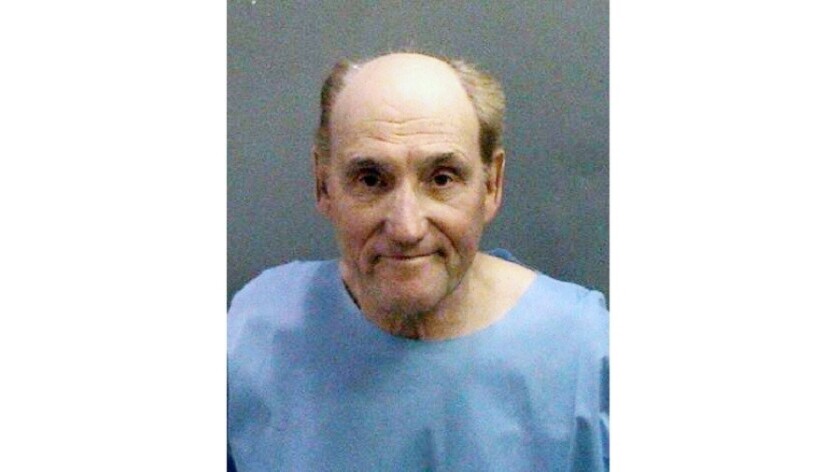 As he spiraled into obsession, Stanwood Elkus increasingly traced many of his woes to what he called a botched prostate surgery at the Long Beach VA in 1992.
The Lake Elsinore man, who served briefly in the Marine Corps, blamed the operation for diminished sex drive, incontinence, erectile dysfunction, and the loss of a steady girlfriend.
For decades he railed interminably to neighbors and anyone else who would listen. He would show up to urologists' offices with a stack of medical records, a litany of angry complaints and a tape recording of an ex-girlfriend discussing his sexual inadequacy.
His rage focused on Newport Beach urologist Ronald Gilbert, who had seen Elkus at the VA and recommended the surgery but had not performed it himself.
On Jan. 22, 2013, Elkus drove to Gilbert's Newport Beach office and made an appointment under a fake name, "Allen Gold," then returned for the appointment six days later and shot the doctor to death, prosecutor Matt Murphy told jurors Thursday in opening statements at Elkus' trial in Orange County Superior Court in Santa Ana.
Murphy said Elkus shot the doctor 10 times with a .45-caliber Glock 21 he had recently purchased.
Murphy said that in 1992, when Elkus was 54, VA doctors diagnosed him with a urethral stricture and recommended surgery, though soon after the surgery Elkus returned to the hospital and demanded that doctors remove his catheter, against medical advice.
Murphy said Elkus sought out doctors for years, ranted about his medical problems and refused their advice.
"This goes on at hospital after hospital, year after year, for decades," Murphy said, adding that Elkus wrote letters to the VA wishing people dead.
Around 2 p.m. on Jan. 28, 2013, Elkus checked in at Gilbert's office at Orange Coast Urology under his fake name and was led to an examination room, where he waited for the doctor, the prosecutor said.
Elkus shot the doctor at such close range and with such a powerful gun that many of the 10 bullets passed through him, Murphy said.
"He knew exactly what he was doing," Murphy told jurors.
The prosecutor said that Elkus later told police, "Ever seen a 75-year-old murderer before?" and warned officers about the dangers of urologists and gynecologists.
Elkus called his nephew from a police holding cell, said he had shot a doctor, and tried to have his assets transferred into the name of his sister, the prosecutor said.
Elkus, now 79 and hunched forward in a wheelchair as he sits behind a large Bible at the defense table, faces life in prison without parole if convicted of one count of first-degree murder. He has pleaded not guilty by reason of insanity.
Elkus' defense attorney, Colleen O'Hara, did not dispute that her client killed the doctor but told jurors that he had experienced a "descent into psychosis."
She said he suffered from depression, dementia, impairment of his brain's frontal lobes, and brain-damage-related aggression and loss of inhibitions.
"He felt that he was pushed to do a surgery that perhaps he didn't need," O'Hara said of his obsession with the prostate procedure. She said the VA eventually told him that he had never had a urethral stricture and therefore didn't need the surgery, which Elkus believed had been "botched."
Through the years, she said, Elkus saw psychologists and sought out religious texts for guidance, including the Bible, the Koran and the Book of Mormon.
"He understood that he was going crazy and he was trying to get help," O'Hara told jurors. "He was doing whatever he could to heal his mind."
O'Hara said Elkus had not intended to harm the doctor when he made the appointment with him on Jan. 22 but had begun taking the antidepressant Lexapro days later, which she said weakened his inhibitions.
She described the drug as "the final trigger for what happened in the case," and told jurors that he committed the shooting under "involuntary intoxication."
Countering the argument for the defendant's mental incapacity, Murphy said Elkus, a retired barber, had lived alone and independently, and handled the rent-collection and maintenance on multiple properties that he owned.
Gemma Robles, who worked as Gilbert's medical assistant, testified that Elkus was the first patient after lunch on the day of the shooting. She said she took Elkus' vital signs in Exam Room No. 2 and inputted his medical information. He removed three jackets.
Robles said she told him that Dr. Gilbert would be with him soon. "He just looked up at me and smiled," she said of Elkus.
Soon afterward she heard a loud banging from the exam room "like something was being banged on metal." She hurried to the room and knocked on the door. Elkus opened it. On the floor was the bloodied victim.
"The patient just stood in front of me very calmly and said, 'I'm insane, call the police,'" Robles said.
christopher.goffard@latimes.com
Twitter: @LATChrisGoffard
ALSO
Witness distances herself from strong testimony she previously gave against Durst in murder case
1 dead, 2 others hospitalized after authorities find white powder in Santa Ana apartment
Inmates in O.C. jailbreak last year recorded video of their escape
---
For reporting and exclusive analysis from bureau chief John Myers, get our California Politics newsletter.
You may occasionally receive promotional content from the Los Angeles Times.