Mistrial declared in sanity phase of convicted Hollywood arsonist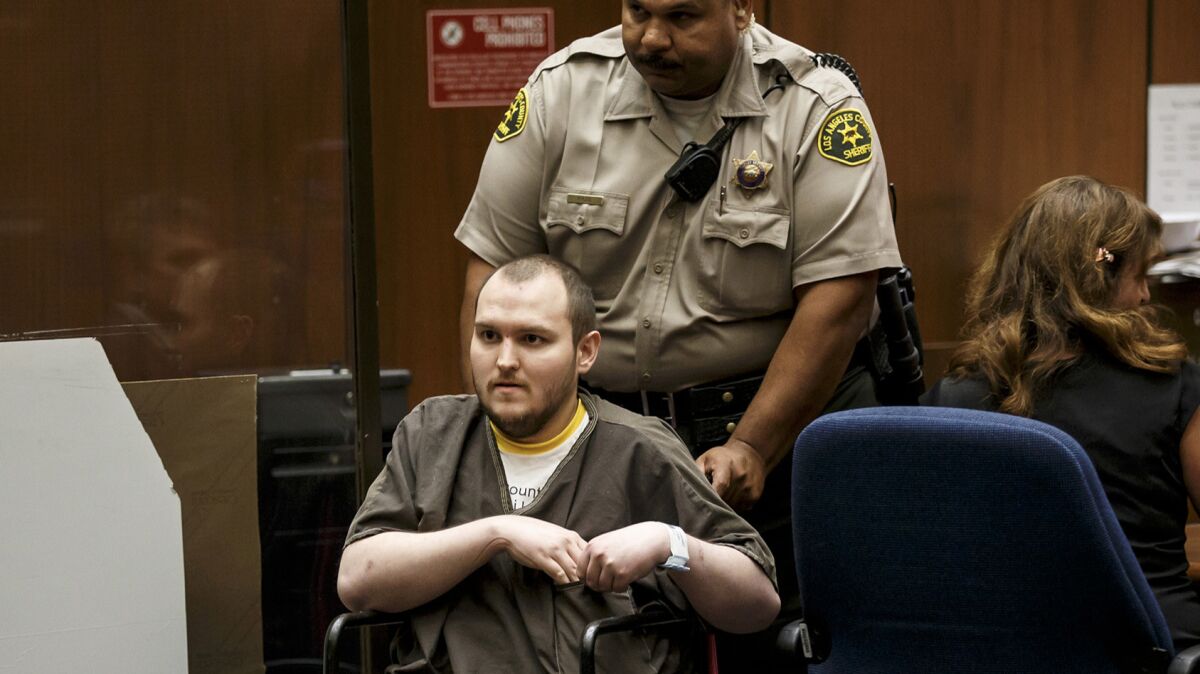 A judge Friday declared a mistrial in the sanity phase of the trial of a German man convicted of being a serial arsonist responsible for setting at least 50 fires across Hollywood and neighboring areas five years ago.
After two days of deliberations, a jury of six men and six women said they were deadlocked and unable to resolve whether Harry Burkhart, 29, was sane or insane at the time he set ablaze carports, garages and driveways from Christmas 2011 through New Year's 2012.
On Sept. 1, the same jury convicted Burkhart of 47 arson-related felony counts and two counts of possession of an incendiary device.
After the first day of deliberations in the sanity phase, the jury informed Los Angeles Superior Court Judge George G. Lomeli they might deadlocked. They then requested that testimony of a psychologist for the defense be read back to them. By Friday afternoon, the panel declared they could not agree on a finding.
Lomeli ordered a new hearing Oct. 13 to determine how the case should proceed.
Burkhart's attorney Steve Schoenfield had the burden of proving his client was insane during the arson spree.
This week, jurors heard that Burkhart had a long history of mental illness and that when US authorities took his mother into custody on a warrant for a crime in Germany, the separation caused psychological trauma.
Burkhart, a German national who was born in Chechnya, was arrested at 3 a.m. pm Jan. 2, 2012, after a reserve sheriff's deputy stopped a minivan near the Sunset Strip in West Hollywood. The driver appeared to match a grainy video of the suspect. Officials found fire-starter sticks in the vehicle, police said.
At the time of the arson attacks, Burkhart was already suspected of burning down his family home in Germany's Schwalm-Eder district, north of Frankfurt. His mother, Dorothee, had escaped from handcuffs while in German custody on fraud allegations and fled with her son to Canada before entering the United States. Authorities captured her in Los Angeles.
Schoenfield told jurors that Burkhart is "profoundly mentally impaired," and has been diagnosed with autism spectrum disorder.
He argued that medical records showed a lengthy history of "serious mental disease."
But Deputy Dist. Atty. Sean Carney has insisted that Burkhart ignited the fires — mostly under cars in carports — as revenge against authorities for detaining his mother.
"Harry Burkhart came like a thief in the night; He came 51 times," Carney said. "He wanted the effect of terrorizing the city."
Carney argued that Burkhart carefully avoided capture after the arson attacks and knew that what he was doing was legally and morally wrong.
Carney noted that Burkhart was "able to start and stop at times of his choosing."
Burkhart's mental state has been at issue since his arrest and indictment in the case. He faces up to 89 years in prison.
Follow @lacrimes on Twitter
The stories shaping California
Get up to speed with our Essential California newsletter, sent six days a week.
You may occasionally receive promotional content from the Los Angeles Times.