Cal State Stanislaus to investigate white supremacist student who punched woman in Berkeley melee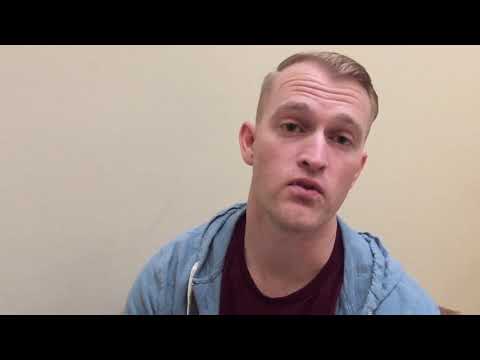 Nathan Damigo, a former Marine corporal and the founder of a white nationalist organization, is an increasingly sought-after voice in the so-called alt-right movement. (Brian van der Brug / Los Angeles Times)
Cal State Stanislaus officials launched an "immediate investigation" this weekend after one of their students, white supremacist Nathan Damigo, was captured on video punching a woman in the face during a melee in Berkeley.
"The university has zero tolerance for the use of violence and we will take all of the necessary legal and disciplinary measures to ensure that all students and everyone on campus have a safe and secure environment," Cal State Stanislaus President Ellen Junn said in a statement Sunday.
Violent confrontations broke out in Berkeley on Saturday. Clashes between backers and critics of President Trump — and scuffles between self-described anti-fascists and white nationalists — resulted in 21 arrests and numerous injuries.
Damigo charged a diminutive woman who was involved in the fighting and punched her in the face, then ran away into the crowd.
Video of the punch went viral, with many on social media calling for Damigo's arrest and his expulsion from Cal State Stanislaus, where he is a social sciences student.
Actor Chris Evans, who plays Marvel's Nazi-punching superhero Captain America, tweeted video of Damigo's punch on Saturday, saying, "I hope I run into Nathan."
Damigo did not respond to requests for comment.
The presence of the 30-year-old former Marine corporal continues to present problems at Cal State Stanislaus.
Damigo is the founder of a white nationalist group called Identity Evropa, which posts fliers around college campuses nationwide with slogans like "Let's Become Great Again" and "Protect Your Heritage." In October, after Identity Evropa's material appeared at Cal State Stanislaus, someone responded by posting fliers on campus with Damigo's face and a warning that he was a "known white supremacist and violent offender."
Junn said in a statement at the time that while safety was her top priority, she believed in the freedom of speech on campus, even if it was offensive.
On Sunday, Junn said the university was in contact with "relevant officials and will take appropriate and timely actions to address this issue." She did not reference Damigo by name.
Janice Curtin, a spokeswoman for Cal State Stanislaus, said in an email to the Times on Monday that the university was not contacted by police but that Junn had received email and Twitter messages beginning Saturday.
As part of its investigation, the university's Police Department will be in contact with Berkeley police, she said. University leadership and campus legal counsel will be assembling teams to determine how to handle the situation, Curtin said.
Damigo, who was profiled by The Times in December, is an Iraq War veteran who was convicted of armed robbery after drunkenly pulling a gun on a La Mesa cabdriver he thought was Iraqi.
In November 2007, he had been home for a month after his second tour of duty and was suffering from severe post-traumatic stress disorder, drug and alcohol abuse and paranoia, according to San Diego County court records. A few days after the anniversary of a friend's combat death, he spent a night drinking and went for a walk with a gun. He came across the cabdriver, put a gun to his head and robbed the man of $43, records show.
He started reading books about race and identity in prison, he told The Times. He was greatly influenced, he said, by "My Awakening," the book by former Ku Klux Klan leader David Duke.
Richard B. Spencer, one of America's most prominent white nationalists, has come to Damigo's defense. Spencer was punched in the head by a black-clad person while being interviewed on Inauguration Day.
In a YouTube video, Spencer compared reaction to the video of him getting punched — which prompted the New York Times to ask, "Is it O.K. to punch a Nazi?" — to outrage over the video of Damigo punching the woman.
"This is not a situation where he randomly sucker-punched some woman," Spencer said. "In fact, there was a maelstrom going on that he was involved in."
Twitter: @haileybranson
ALSO
Apparent mountain lion enters bedroom and snatches barking dog
UC Berkeley student dies after falling from fourth-floor balcony near campus
Comedian Katt Williams ordered to complete anger management classes in Beverly Hills robbery case
Sign up for Essential California for news, features and recommendations from the L.A. Times and beyond in your inbox six days a week.
You may occasionally receive promotional content from the Los Angeles Times.