21 arrested as hundreds of Trump supporters and counter-protesters clash at Berkeley rally
Pro-Trump rally in Berkeley
Reporting from Berkeley —
Hundreds of pro-Trump demonstrators and counter-protesters clashed Saturday at a "Patriots Day" rally in Berkeley, the third time the groups engaged in violent confrontations on city streets in recent months.
Fistfights broke out near Martin Luther King Jr. Civic Center Park, where Trump supporters had scheduled a rally. Fireworks and smoke bombs were thrown into the crowd, and a few demonstrators were doused with pepper spray.

For the record:
9:12 p.m. Aug. 7, 2019An article in the April 16 California section quoted Oath Keepers founder Stewart Rhodes as saying, "I don't mind hitting" counter-protesters. Rhodes said he was referring not to anti-fascist demonstrators but to "the actual white nationalists who showed up and tried to co-opt the event." Also, it said Rhodes came from Montana with others. He met the others at the event and was the only Montanan.
Both groups threw rocks and sticks at each other and used a large trash bin as a battering ram as the crowd moved around the perimeter of the park. One bank boarded up its ATMs before the rally as a precaution.
About 250 police officers were deployed to the scene by mid-afternoon after officials sought assistance from the neighboring Oakland Police Department.
Twenty-one people were arrested, including some on suspicion of assault with a deadly weapon, according to Officer Byron White of the Berkeley Police Department. Eleven people were injured with at least six taken to a hospital for treatment, including one stabbing victim.
Police confiscated knives, stun guns and poles, White said.
Pepper spray is used as supporters of President Trump clash with protesters Saturday during Berkeley rally organized by the Trump supporters.
(David Butow / For The Times)
Fights break out between Trump supporters and protesters during a rally Saturday in Berkeley. At least 21 were arrested as punches, tear gas and rocks were thrown in the sporadic violence.
(JOSH EDELSON / AFP/Getty Images)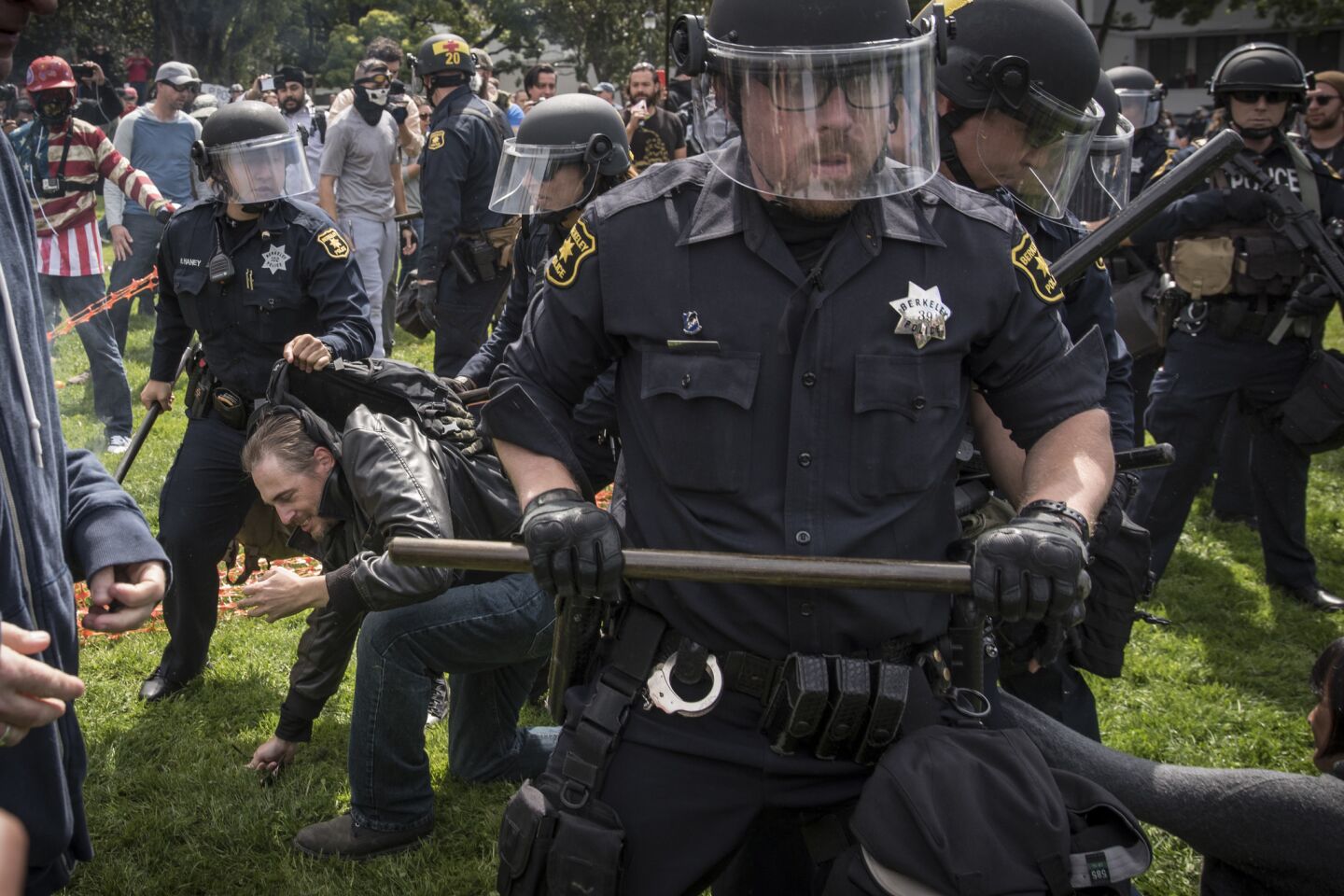 Supporters of President Trump clash with protesters during a Saturday rally in Berkeley.
(David Butow/for the Times)
A protester kicks trash removed from a can and set on fire during a pro-Trump rally Saturday in Berkeley.
(David Butow/for the Times)
A Trump supporter bloodied in clashes yells during a pro-Trump rally Saturday in Berkeley.
(David Butow/for the Times)
Stewart Rhodes, founder of the citizen militia group known as the Oath Keepers, said he came from Montana with about 50 others to protect Trump supporters. They were joined by bikers and others who vowed to fight members of an anti-fascist group if they crossed police barricades.
"I don't mind hitting" the counter-demonstrators, Rhodes said. "In fact, I would kind of enjoy it."
But Rhodes credited Berkeley police for new tactics that mostly kept the two sides apart and "our side chilled and relaxed," though sporadic fights broke out among both groups throughout the morning and afternoon.
"It's getting sporty," said Oath Keeper John Karriman, 59, who is from Missouri and was among the group's security leaders.
AJ Alegria, 31, of Sacramento said he also came to Berkeley to help defend Trump supporters. He said he pursued a counter-demonstrator down a side street and found himself surrounded by a dozen protesters in black masks who he said attacked him with sticks and pepper spray.
"These people create violence all the time... somebody has to stand up to them," said Alegria, who was injured in the fight. He was treated by Trump supporters who bandaged his head, washed off the pepper spray and gave him encouragement, saying, "You've earned your stripes, bro."
Alegria wasn't the only one injured.
"Stand up, America! Stand up!" shouted a Trump supporter in the middle of Center Street with a bandage on his head and streaks of blood on a sign that read "Stop Liberal Intolerance."
Brenna Lundy, 28, said she drove from San Francisco to attend what she thought was an organizing event against the alt-right. As the violence unfolded, she stayed and attempted to talk to some of the people shouting insults at her.
"So I genuinely wanted to talk. I am trying to talk to you," Lundy said to a woman screaming at her that "Obama hates blacks."
Another woman from the pro-Trump side came up to Lundy and, putting a hand to her ear, said, "Ask her why she hates white people."
Lundy looked confused. She gave up and turned away.
"This is more of a riot," she said.
Meanwhile, giving a speech at a well-secured end of the park, alt-right blogger Lauren Southern railed against societal change, Kim Kardashian and the media. She called on members of her movement to "realize Trump is only a foot in the door."
"We must become like them: subversive," she said of her opponents.
The rally, one of many held across the country, was sponsored by the pro-Trump group Liberty Revival Alliance. A regularly scheduled farmer's market, which is usually held adjacent to the park, was canceled as a precaution.
A single vendor showed up Saturday to sell organic produce. "Rain or shine or fascism, we will be here," said a young woman operating the cash register.
Berkeley Police Sgt. Andrew Frankel told CBS 5 that police would have extra patrols on duty in case things get out of hand. "We've staffed accordingly and are preparing for a number of different contingencies," he said.
About two dozen police officers showed up at the park early Saturday and set up a narrow entrance to control access. Those entering the park were prohibited from bringing the following items: metal pipes, baseball bats, poles, bricks, Mace, knives, rocks, glass bottles, eggs and Tasers.
Dave Gottfried, 58, a self-employed Berkeley artist, passed "empathy kisses," chocolate candy, out to both sides. He had hoped to "show empathy is the beginning of understanding."
"I feel we are going down the rabbit hole," he said.
Last month, 10 people were arrested and seven others injured at what was supposed to be a pro-Trump rally in the famously liberal community. In February, a scheduled appearance by conservative provocateur Milo Yiannopoulos was canceled amid a violent protest at UC Berkeley.
The unrest underscores the heightened political tensions that have taken hold since President Trump took office in January.
Meanwhile, several thousand anti-Trump protesters marched through downtown Los Angeles on Saturday to demand the president release his tax returns.
The peaceful demonstration was one of dozens of "tax marches," held in cities around the country on the traditional deadline for filing federal income tax returns.
Marchers filled blocks of closed-off streets as they walked from Pershing Square to City Hall, waving signs and chanting "Donald Trump has got to go."
Among their placard messages: "Prove you have nothing to hide," "Donald Ducks his Fair Share," "No 1040, no peace" and "I pay for your golf trips. Do you?"
ALSO
'Outrageously reckless:' Woman gets prison in road-rage killing of Navy officer on freeway
'He's saying the meanest things': Family whose dog went missing could be the target of a scammer
State will send more water to Southern California as it boosts deliveries to highest levels in 11 years
---
UPDATES:
6:35 p.m.: This story includes new information from police.
3:35 p.m.: This story was updated with new information from police about arrests.
2:55 p.m.: This story has been updated with more comments from demonstrators.
2:05 p.m.: This story has been updated with more details about clash between demonstrators.
12:30 p.m.: This article has been updated with comments from some demonstrators.
11:45 a.m. This story has been updated with new information from the scene.
11 a.m.: This story has been updated with new information from police and demonstrators.
This story was originally posted at 9:05 a.m.
The stories shaping California
Get up to speed with our Essential California newsletter, sent six days a week.
You may occasionally receive promotional content from the Los Angeles Times.