'We're gonna make it': Community rallies to mark 25th anniversary of the L.A. riots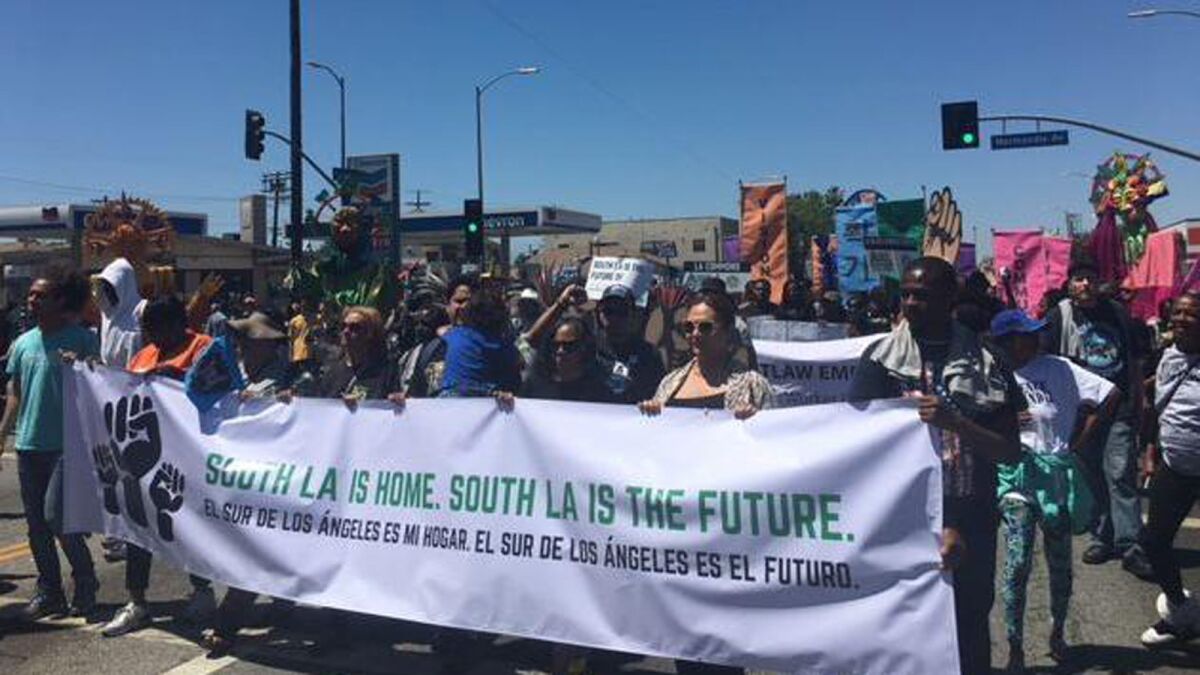 Hundreds of residents, activists and community leaders marched through the streets of South Los Angeles on Saturday to commemorate the 25th anniversary of the 1992 Los Angeles riots.
The day began with a rally at the intersection of Florence and Normandie avenues, where the riots began exactly a quarter-century ago. The crowd then marched east on Florence, before turning south on Vermont Avenue to 81st Street, where participants gathered for Future Fest.
Full Coverage: L.A. Riots: 25 Years Later »
"Future Fest is a celebration of our resilience, of our history, but more so it's a celebration of the future and looking forward to the next 25 years and the work that we all hope to do to improve South L.A.," said Eric Ares, a community organizer with the Los Angeles Community Action Network. "The work's not done."
Ares was 9 when the riots broke out. For the first two nights of the violence and looting, his family huddled inside their home, even when the electricity went out, he said. When he finally did leave his house, Ares remembered seeing plumes of smoke rising from different parts of the city.
On Saturday, residents gathered at a nearby park and talked about the riots, which were spurred by the acquittal of four white Los Angeles police officers in the roadside beating of Rodney King, a black motorist.
"I have a vivid memory of people gathering at the park saying, 'We're not going to let them do this to us anymore. We have to fight back to protect our lives and our families,' " Ares said. "It planted a seed of consciousness."
William Holloway stood near his purple lowrider bike at the infamous intersection. The longtime South L.A. resident was in his 30s during the riots.
The unrest in the community had been building over the years, so it was not a surprise when rioting erupted after the verdicts, he said.
"It was expected to the degree that there was a whole bunch of issues that hadn't been resolved in the community," said Holloway, 59. "Lack of funding, education-wise, the policing — a whole lot of other stuff that boiled down to making this particular uprising stand out more than normal."
Holloway recalled going to his uncle's beauty college on Manchester Avenue, waiting for the jury's decision in the case.
"You could feel the tension in the air," he said. "You could feel it, that if this verdict wasn't going to be a verdict of guilt, something wasn't going to be right."
Still, Holloway knew what was coming.
"I knew in my heart of hearts that they were going to let them police go," he said, pounding his hand against his chest.
The intersection where he now stood now had been the focal point of everything 25 years earlier, he recalled.
"From that point on it just spread like a wildfire," he said. "To go back 25 years, I can see all the smoke, I can see the people getting jumped on, I can see the stores getting looted ... I can see where the people were tired of being suppressed."
He remembers walking to the corner of Manchester and Vermont after the verdict was announced and saying, "It's fixing to go down."
"It was a boiling pot, and it just boiled over," he said.
Eugene Jenkins, 44, another longtime South L.A. resident, said he was 19 and lived on Normandie at the time of the riots.
"It was crazy right here," he said, looking at the intersection where crowds gathered Saturday. "It was all bad on this corner." When the verdicts were announced, he said, it stunned the community.
"L.A. all went up in flames," said Jenkins, who still lives nearby. "From this corner it went all the way through L.A."
Jenkins remembers store owners with guns on the roofs of their businesses protecting their property.
"They were burning buildings; you couldn't even really breathe," he said. "Police sirens everywhere, all you heard was sirens everywhere. Everything was on fire…. It was something unrealistic to see."
At the afternoon festival, Lora Dene King helped release dozens of white balloons up into the sky — to commemorate those who lost their lives during the riots.
Afterward, the daughter of Rodney King joined the crowd in raising her right fist above her head for 10 seconds of silence.
When she spoke earlier to the crowd, she stressed the importance of building the self-esteem of the community's young people and working together with others.
"My question to all of you guys is, 'Can we get along?' " she asked the crowd, echoing the famous words of her father. "That means not being prejudiced against any religion, race, whatever. It means solutions ... solutions are the main thing and the youth."
"Yes I'm angry — with a smile — because we're still at the same place," she concluded. "But we're gonna make it."
Twitter: @brittny_mejia
ALSO
Vacant lots dotting South L.A. are a painful reminder of L.A. riots
Robin Abcarian: As gentrification pushed blacks out of a seaside enclave, some used the Rodney King verdicts as an excuse to push back
Former Dodgers officials recall home game when 1992 L.A. riots erupted
---
UPDATES:
4:40 p.m.: This article was updated with comments from Rodney King's daughter.
12:45 p.m.: This article was updated with the march starting.
11:50 a.m.: This article was updated with more comments from participants.
10:40 a.m.: This article was updated with comments from participants of the rally and march.
This article was originally published at 9:15 a.m.
The stories shaping California
Get up to speed with our Essential California newsletter, sent six days a week.
You may occasionally receive promotional content from the Los Angeles Times.