Bird and Lime deactivate scooter services in Santa Monica for a day in protest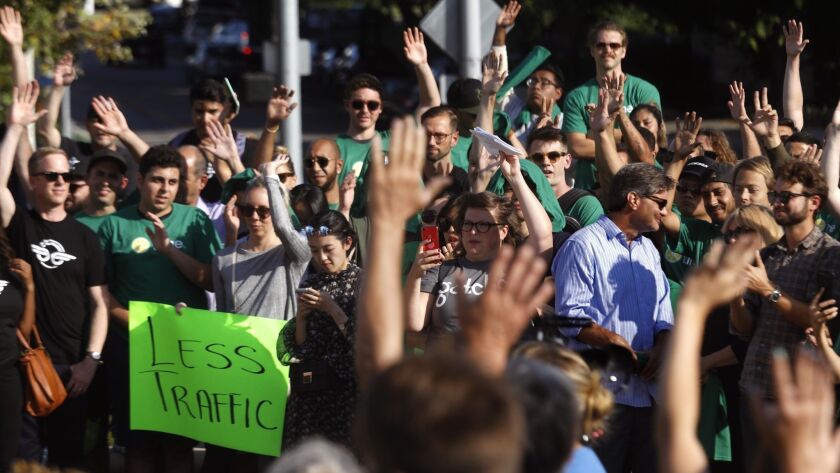 Scooter-sharing companies Bird and Lime abruptly deactivated their devices in Santa Monica on Tuesday and supporters swarmed City Hall in an act of protest.
The move comes after a City Council committee failed to recommend the companies for Santa Monica's electric scooter pilot program, which has been framed as a way to help the city craft regulations around the pay-per-minute devices.
Instead, a selection committee endorsed Lyft and Uber-owned Jump.
As part of their so-called Day Without A Scooter campaign, Bird and Lime have asked riders to protest the committee recommendation outside Santa Monica City Hall on Tuesday night, just before a scheduled council meeting.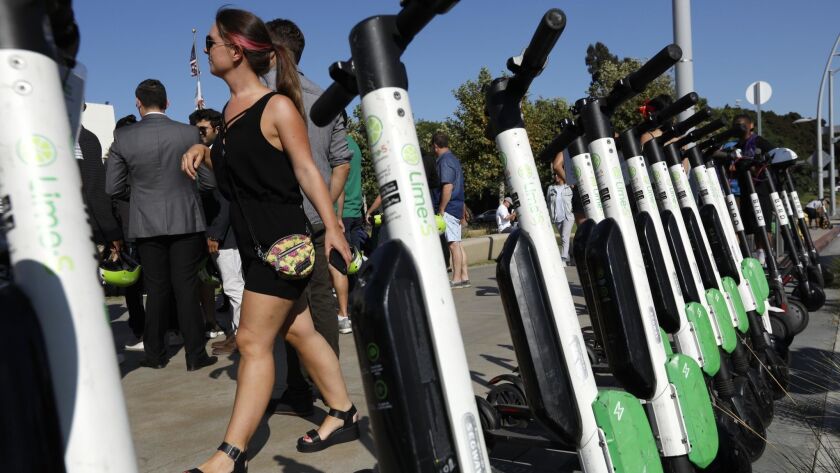 "We've taken our fleet offline until 4:30 p.m. locally in order to rally your support in opposition to the council's recommendation," Lime said on Twitter. "Don't let a #LifeWithoutScooters be the future."
The rally attracted a sizable crowd, with scores of people in black and green Bird and Lime shirts that were being doled out — free — by employees. In an email to customers, Lime offered a $5 credit to anyone who attended the rally, which many people seemed to think was a protest of an all-out scooter ban rather than a protest of the selection committee's recommendation.
Karla Lima came to the rally from Beverly Hills, where a six-month scooter ban was put in place last month. The music video editor has been riding the devices several times a week for four months — despite the ban, she still finds them all over the city — and she says she appreciates how eco-friendly they are. She hasn't had to use her car all week.
Lima says she supports regulating the scooters. But Bird deserves some loyalty from Santa Monica, she said, given that it was the first company to provide the service within the city.
"Why not use these two companies already here?" she said.
Dick Stusser, a retired Santa Monica resident, said he came to the rally to show his support for scooters as an eco-friendly mode of transportation, but not necessarily to advocate for these two companies.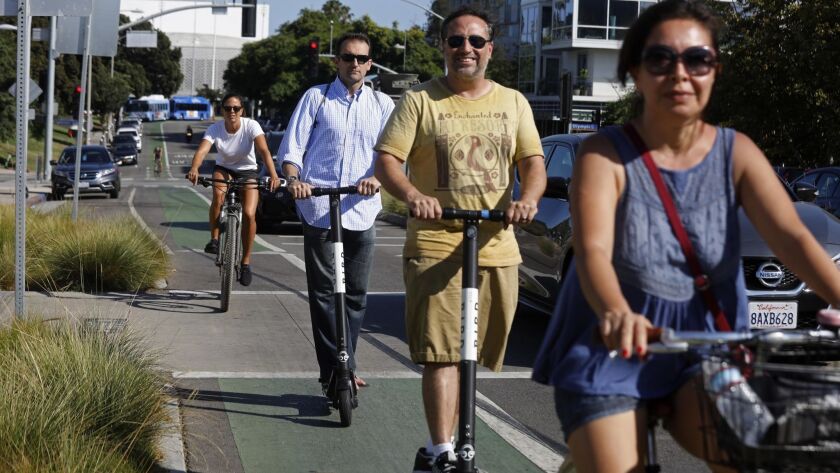 "In some ways, Bird and Lime set themselves up to be in the situation that they're in," he said, holding a complimentary Lime shirt. "They jumped in front of themselves a bit, and didn't go through what most enterprises need to go through to set up a business in a city."
He added: "It's too bad, because they have a great product here."
Scooter cynics also showed up.
Santa Monica resident Leah Mendelsohn attended on behalf of Safer Santa Monica, a citizen group formed in protest of the electric scooters. Mendelsohn, who has lived in the city since 1979, held a white sign that read, "Ban all motorized scooters."
She says she walks seven miles each day and has been nearly hit by the scooters, which can travel up to 15 mph, several times. She is upset that residents were not able to vote on the Birds before they descended upon Santa Monica.
"I feel the city is responsible for us being safe over anything else," she said, shielding her eyes from the afternoon sun. "My enjoyment of living in my city has been ruined by these things, and I'm not the only person who feels this way."
At the rally, young women in Bird shirts twerked on a row of scooters while laughing passersby recorded videos. A hip hop trio stood in front of the crowd, rubber chickens in hand, and spit rhymes about the scooters until a Bird representative asked them to stop.
"Don't be putting all your eggs in one basket, Santa Monica," one of the rappers yelled into a microphone.
"Uber, you can take a Lyft out of Santa Monica," another rapper chimed in.
People who charge the scooters for extra cash — juicers, as they're called by Lime — said the companies have allowed them to collect disposable income.
Lime representatives said its scooters were locked in Santa Monica until 4:30 p.m. Tuesday. Bird did not say whether its scooters were locked or the company removed them from the city entirely. Both companies planned to resume services in Santa Monica on Wednesday.
At its meeting Tuesday, the council wasn't planning to discuss the scooters, according to Santa Monica spokeswoman Constance Farrell, but the issue could be brought up during the public comment period.
"It's important to note that the city has not done anything to stop or suspend operations of shared mobility vendors," Farrell told The Times. "Those are decisions being made by the companies themselves."
The scooters, which flooded Santa Monica in September, have become hugely popular; officials estimate that there are between 1,000 and 2,000 on city streets. However, the scooters have also engendered concern and vitriol among those who say the devices are dangerous and poorly regulated.
In response to this backlash, Santa Monica officials passed an emergency ordinance earlier this year to regulate electric scooters, ultimately requiring Bird to apply for a conditional vending permit.
The city's 16-month scooter pilot program, slated to begin Sept. 17, goes a step further: It will require scooter vendors to pay the city a $20,000 annual operator fee — plus $130 a year for each of its scooters — and would initially cap the number of rental scooters in the city at 1,500.
The city will award contracts to two companies as part of the initiative. On Friday, the pilot program's selection committee announced that it would not recommend Bird or Lime, but instead Lyft and Uber-owned Jump, which do not yet operate e-scooter services.
To make its recommendation, the selection committee — made up of city staffers and a Santa Monica police lieutenant — scored each company on seven categories, including public safety, community engagement and compliance with the law.
Both Bird and Lime performed poorly in the law compliance and public education categories. Lyft scored highest in those areas.
The recommendations are just that, Farrell said. The city's planning and community development director, David Martin, will make the final decision based on applications, the committee's endorsements and public feedback, which can be submitted to Martin through Friday.
In a prepared statement about the Santa Monica scooter suspension, Bird bristled at the idea that two companies associated with controversial ride-hailing services applied for the pilot, saying that it demonstrated "the desperate lengths CO2 polluting companies will go to for the purpose of undermining clean energy competition."
laura.newberry@latimes.com | Twitter: @LauraMNewberry
---
UPDATES:
8:15 p.m.: This article was updated with information and interviews from Tuesday's rally.
This article was originally published at 5:15 p.m.
---
The stories shaping California
Get up to speed with our Essential California newsletter, sent six days a week.
You may occasionally receive promotional content from the Los Angeles Times.