Q&A: Millions of shade balls helping protect California's precious water
On Monday, Mayor Eric Garcetti was at the Los Angeles Reservoir to mark the addition of 20,000 of the small balls to the lake. 
Can 96 million balls improve water quality?
Los Angeles is about to find out. On Monday, Mayor Eric Garcetti was at the Los Angeles Reservoir to mark the addition of 20,000 of the small balls to the lake.
But what exactly are those balls and how will they help?
Interested in the stories shaping California? Sign up for the free Essential California newsletter >>
What are those black things in the Los Angeles Reservoir?
They're 96 million shade balls. Shade balls are used to protect water quality, prevent algae growth and slow evaporation from the city's reservoirs. The L.A. Reservoir is the Department of Water and Power's largest in-basin facility. Its surface is 175 acres, and it holds more than 3.3 billion gallons of water. The shade balls are expected to save 300 million gallons a year from evaporating from this particular reservoir.
Why is this project in the news now?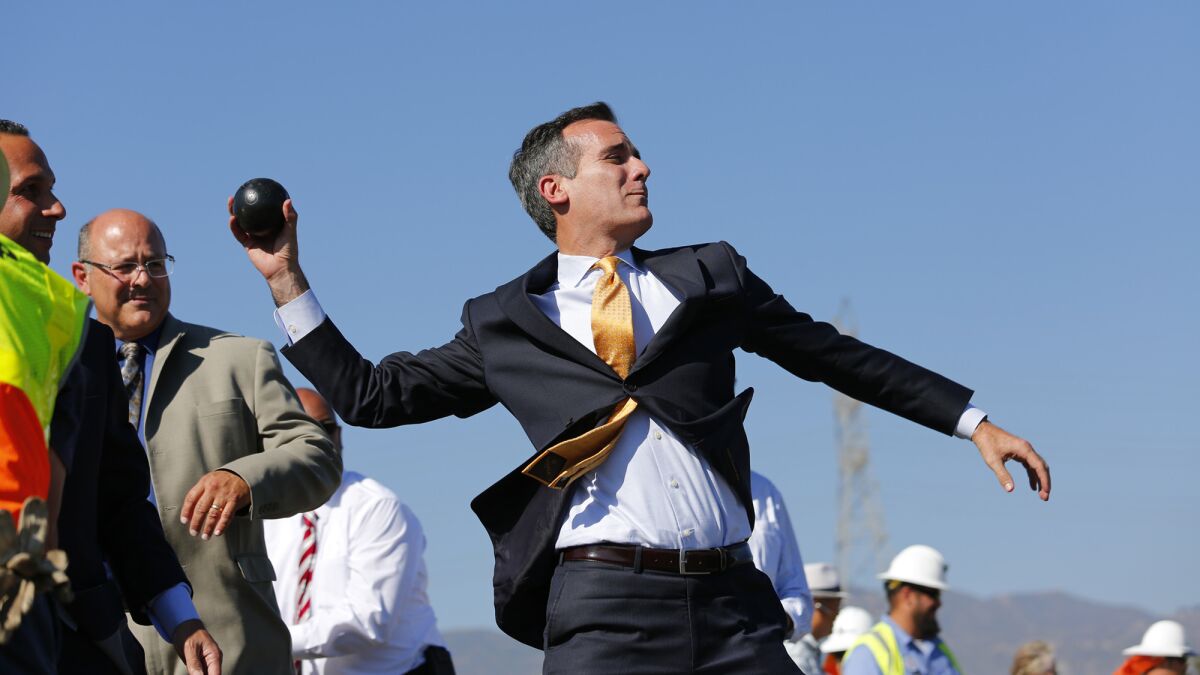 Garcetti helped DWP officials release the final 20,000 shade balls into the reservoir Monday. "In the midst of California's historic drought, it takes bold ingenuity to maximize my goals for water conservation. This effort by LADWP is emblematic of the kind of the creative thinking we need to meet those challenges," Garcetti said.
So, how much did this project cost? Weren't there alternatives to placing millions of plastic balls in the water?
The project cost $34.5 million, which comes to about 36 cents per shade ball. Artisan Screen Printing, a company based in Azusa, supplied 89.6 million of the balls. The remaining 6.4 million came from XavierC LLC in Glendora.
Because of the size of the reservoir, DWP could not install one protective cover. Instead, utility officials would have had to divide the reservoir in two and install two separate covers at a cost of $300 million.
Is it safe to put that plastic in our water?
DWP says this is perfectly safe. The 4-inch-diameter balls are made from high-density polyethylene, which is the same material you would find in a one-gallon milk jug. This plastic is approved to come into contact with drinking water.
The balls do not emit any chemicals, according to the DWP. They should last 10 years. At some point, they will lose their structural integrity and could split at the seams.
Why are the balls black?
Carbon black was added to the plastic to stabilize the balls in UV light from the sun.
Is this the first time DWP has used shade balls in a reservoir?
No. In fact, it's been a fairly common practice for the utility since 2008. The Upper Stone, Elysian and Ivanhoe reservoirs all have shade balls to protect their water quality and prevent evaporation.
Who came up with the idea for shade balls?
Shade balls are the brainchild of Brian White, who was a biologist with the utility. He based the idea on "bird balls" that he observed in waterways near airport runways.
ALSO:
5 days of extreme heat on tap for Southern California
You've been watering your trees all wrong: A drought expert explains how to get it right
Treasures revealed as California drought drains lakes
UPDATES
12:19 p.m.: The article has been updated throughout with additional details and background.
Aug 12, 11:22 a.m. This article has been updated with additional details.
This article was originally published Aug. 11 at 1:36 p.m.
The stories shaping California
Get up to speed with our Essential California newsletter, sent six days a week.
You may occasionally receive promotional content from the Los Angeles Times.