Suspect in L.A. street race that kills two turns self in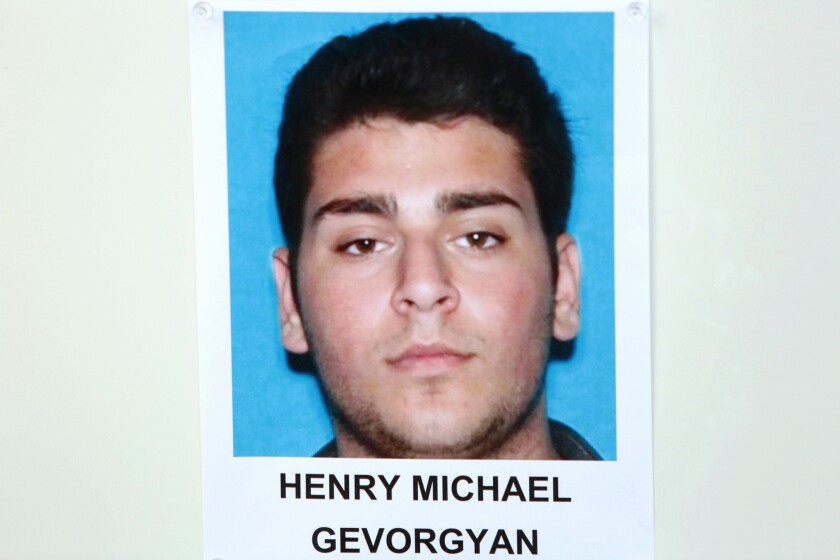 A suspect in this week's fatal Chatsworth street racing crash surrendered to police on Saturday, authorities said.
Henry Michael Gevorgyan, 21, surrendered at the Los Angeles Police Department's Central Division station, LAPD Cmdr. Andrew Smith said. Gevorgyan had been identified this week as the driver of a Ford Mustang that spun out of control and plowed into a crowd near Canoga Avenue and Plummer Street, killing two people and seriously injuring another.
Police had urged Gevorgyan to surrender, saying they planned to file murder charges against him. Smith said detectives with the LAPD's Valley Traffic Division were headed downtown to interview Gevorgyan.
"He's being detained at the station now," Smith said. "I would assume he'll be booked at Central at some point later tonight."
The street racing crash occurred early Thursday morning. Investigators said the Mustang was speeding west on Plummer when the driver lost control and the car swerved, striking people on the sidewalk. The car hit the curb and spun 180 degrees after hitting a berm and a utility pole before coming to rest on the sidewalk.
The driver of a second racing vehicle also fled. Police did not immediately have information on whether that motorist had been identified or apprehended.
Follow @DavidZahniser for what's happening at Los Angeles City Hall
---